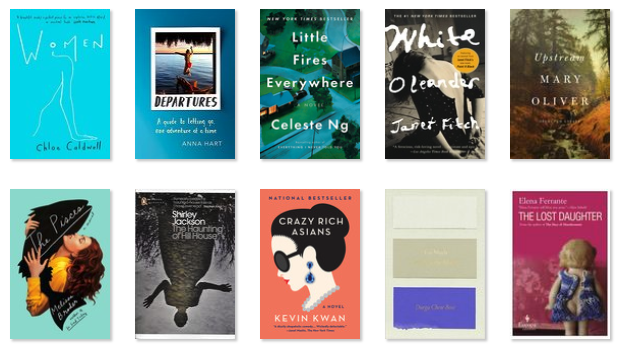 Every year I take part in the 52 books challenge, and I track my progress here.
Check out the archives: 2017 | 2016 | 2015 | 2014 | 2013 | 2012 | 2011 | 2010 | 2009
You can also follow me on Goodreads and watch my video reviews on YouTube.
January
1. The Lost Daughter by Elena Ferrante
2. Too Much and Not The Mood by Durga Chew-Bose
3. Crazy Rich Asians by Kevin Kwan
4. The Haunting of Hill House by Shirley Jackson
February
5. The Pisces by Melissa Broder
6. Upstream by Mary Oliver
7. White Oleander by Janet Fitch
March
8. Little Fires Everywhere by Celeste Ng
9. Departures by Anna Hart
10. Women by Chloe Caldwell
11. My Name is Lucy Barton by Elizabeth Strout
April
12. Letter From Birmingham Jail by Martin Luther King Jr. (Penguin Modern)
13. The Breakthrough by Daphne Du Maurier (Penguin Modern)
14. The Custard Heart by Dorothy Parker (Penguin Modern)
15. Notes on Nationalism by George Orwell (Penguin Modern)
16. The Veiled Woman by Anaïs Nin (Penguin Modern)
17. Till September, Petronella by Jean Rhys (Penguin Modern)
18. Conversations with Friends by Sally Rooney
19. Petite Fleur by Iosi Havilio
May
20. Such Small Hands by Andrés Barba
A mesmerising novella about an orphaned girl and the increasingly creepy games she creates for herself and the other children at the orphanage. I read this in one sitting and the exact plot has left me, but the feeling it garnered has not.
21. About to Leave by Fran Menses
A great little graphic travel memoir by an illustrator who I follow online. It's based on her sketchbook diary that she made on her honeymoon trip from Santiago, Chile, to Berlin, Cologne, Paris, Boston and New York.
22. The Black Ball by Ralph Ellison
An excellent trio of short stories from the American author. Some of his descriptions kept making me go back and re-read them.
23. Eat Pray Love by Elizabeth Gilbert
Curiosity got the better of me after all these years. If you can suspend your disbelief and roll on past the philosophies you don't share with the author, it's an enjoyable experience. Even if, like me, you're far less sentimental than she is, Liz makes for good company.
24. Things I Don't Want to Know by Deborah Levy
The first of what Levy calls her "living memoirs," and billed as a response to George Orwell's essay "Why I Write". It doesn't directly respond to Orwell so much as it uses his chapter headings as prompts. The sections on motherhood and patriarchy were very illuminating for me. The rest, I enjoyed enough to want to read her next book. (Spoiler: I did, keep scrolling.)
25. M Train by Patti Smith
I bought this book a few days after we arrived in California after our permanent move, on the same day I realised that many of my childhood favourites and some other books I'd shipped did not arrive with the shredded box. It was meant to cheer me up; instead, it sat on a shelf for over 18 months. But I'm glad I saved it for the moment that I read it in. She drinks coffee, travels, and ruminates over books and art over the course of about a year, throwing in memories from earlier life here and there. Towards the end she explores grief and losing a partner, and it's clear form her writing it's something one never gets over. I found it really moving.
26. The Guardians by Sarah Manguso
I read this in one day, in couple of sittings, and I just didn't get into it. I hate to say that a grief memoir left me cold, but it did. I've never lost a friend, so I'm going to hold onto it and perhaps it will mean more to me in future.
27. The Guernsey Literary and Potato Peel Pie Society by Mary Ann Shaffer, Annie Barrows
I'm a sucker for an epistolary novel. For the most part, I really enjoyed this book, but it really focused on pairing off the main character where it needn't have. I expected it o be twee but found it warm and often charming. The dynamics between the islanders were well drawn and entertaining. Some of the antics in the final quarter or so were a bit much, though. Overall I enjoyed it as a nightly read and I'd recommend it to most readers.
28. Ties by Domenico Starnone
On its surface, this book seems right up my alley. Righteous female anger? Check. A marriage in crisis? Check. An embittered, nasty, deliciously unlikeable daughter who loves cats? Check. But I wasn't entirely convinced by this book, and was frustrated that it lingered longer on the clueless husband character and his seeming ignorance to the damage he caused in his life. But it did succeed in getting me frustrated and angry, which was perhaps its aim.
29. The Female Persuasion by Meg Wolitzer
I found this book so exhausting. The characters are difficult to care about, everything is so long in the tooth, each character's perspective loops around on plot you've already learned. It's not without its merits, and something kept me reading, but I couldn't be bothered to pick it back up most of the time. If you're looking for a Meg Wolitzer book to read, start with The Interesting instead.
30. The Cost of Living by Deborah Levy
I really enjoyed taking a wander around in Deborah Levy's mind. I love this kind of memoir: set in a moment in time, addressing the mundane as well as the remarkable. She has a unique knack for powerful metaphors. I can't wait for part three.
31. Black Swans by Eve Babitz
My favourite Babitz so far. I don't know why it's categorised as fictional short stories when they are memoir essays; I'm guessing it's to avoid legal issues since she references real people. Regardless, I enjoyed it even more than Slow Days, Fast Company. Free Tibet is an amazing piece, and the title story/essay is also great. There are a few less interesting ones in the middle, but for the most part I love stepping into Eve's shoes and taking a walk around in her mind and her world.
32. Tin Man by Sarah Winman
33. Daydream and Drunkenness of a Young Lady (Penguin Modern) by Clarice Lispector
Based on reviews from book bloggers I read online whose taste I share, I thought I'd fall head over heels for Clarice Lispector. Alas, I did not. I think I was distracted by the brevity of this collection and didn't focus enough on these stories, to be honest. I was pretty struck by the description of a woman on a train, trying to hold onto her shopping as she's pitched about. I'm still going to pursue another one of her books, but I'm not sure which.
July
34. Human Acts by Han Kang
Han Kang takes an interesting approach to expressing the brutality of the violent military response to a student uprising in South Korea. She lingers on the physical violence and broken bodies of student victims and those who are trying to pick up the pieces. What wasn't clear was what the students were fighting for, and why the government took such a heavy-handed response to it. I felt I was lacking a lot of context, and lost track of which character was which after a time. Sometimes the changes in tone and style between chapters were a welcome change, other times I wanted to spend more time in the part of the story that had just ended. A mixed bag, for me.
36. Calypso by David Sedaris
I'd read quite a few of these pieces, and heard a few more performed in person, before reading this book but i enjoyed revisiting them again. They're not as uproarious or grotesque as some of his earlier work, but some of those aspects still shine through. Where some of his earlier books focused on his travels and people he meets, much more of this collection is centred around family life and the deaths of his mother (many years ago) and sister (more recently). They're meditative and more somber in tone but just as incisive and occasionally silly as his earlier work. If you're a Sedaris fan, don't sit this one out.
37. The Outrun by Amy Liptrot
Easily my favourite book of the year so far. I loved the blend of memoir and the themes of returning home, rebuilding, and coping with difficult circumstances (in this case, alcoholism). The descriptions of Orkney were calming and it was compelling and informative. Don't make the mistake I did and put it off for too long. I know I'll read it again.
38. The Children of Men by P.D. James
I read this with the intention of comparing it with the 2006 film adaptation. Having done that, my thoughts on the book are a little infected by that comparison. The concept is far more fleshed out here, and feels realistic – we're already facing the end of our species; but in P.D. James' Britain, it's more certain, and they've been dealing with it for longer. I was fascinated by the world-building and fairly compelled by Theo's backstory, but I wasn't convinced by his actions and was fairly bored by his journey. I know James wrote a lot of mysteries, and I felt like she most wanted to write clever conversations when what I wanted to read were Theo's genuine thoughts. A great idea, not super well executed (or perhaps just a little poorly-aged).
39. The Vigilante (Penguin Modern) by John Steinbeck
Three short stories by John Steinbeck. He writes with such clarity. The first story, The Vigilante, of two men discussing the aftermath of a lynching, was mundane and chilling – perfectly executed. I wasn't very interested in The Snake. The third story, The Chrysanthemums, is one of his Salinas stories, about a farmer's wife who longs to embrace her masculine side. This one was also quietly devastating.
40. The Missing Girl (Penguin Modern) by Shirley Jackson
Three short stories by the master herself. The Missing Girl, Journey with a Lady, and Nightmare. The title story stuck with me most, particularly for its harrowing final line. Like The Vigilante by Steinbeck above, it's another lesson in the mundane horror.
41. The Terrible by Yrsa Daley-Ward
42. WILD by Joma West
August
42. The Vanishing Princess by Jenny Diski
43. The Song of Achilles by Madeline Miller
44. Herland by Charlotte Perkins-Gilman
45. Hot Milk by Deborah Levy
46. Tonight I'm Someone Else by Chelsea Hodson
47. The Idiot by Elif Batuman
48. Colorless Tsukuru Tazaki and His Years of Pilgrimage by Haruki Murakami
49. Early Work by Andrew Martin
September
50. Outline by Rachel Cusk
51. The Sixties by Jenny Diski
52. The Seven Husbands of Evelyn Hugo by Taylor Jenkins Reid
53. Normal People by Sally Rooney
54. My Year of Rest and Relaxation by Otessa Moshfegh
55. The Remains of the Day by Kazuo Ishiguro
56. The Last Samurai by Helen DeWitt
October
57. A Bestiary by Lily Hoang
58. An Absolutely Remarkable Thing by Hank Green
59. Swimming Home by Deborah Levy
60. Rules of Civility by Amor Towles
61. Devotion by Patti Smith
62. Sadie by Courtney Summers
November
63. Ghost Wall by Sarah Moss
December
64. Family History by Dani Shapiro
65. Asymmetry by Lisa Halliday
66. Some Trick by Helen DeWitt
67. Sidewalks by Valeria Luiselli
68. Sleepless Nights by Elizabeth Hardwick