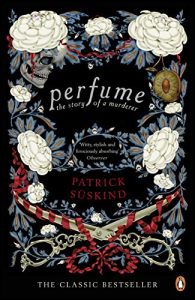 Perfume is the story of Jean-Baptiste Grenouille, an orphan of 18th Century Paris. Rejected by many a wet maid, the solitary outcast finds his way through life as an apprentice and wanderer. His superior sense of smell soon leads him into the beguiling world of perfumery, with myriad consequences.
Süskind's refreshing omnipresent narrator is not afraid to change angles, focusing on the story from a different character's viewpoint. Similarly, when characters move in and out of the protagonist's life, their sub-story is tied up, satisfying our curiosities and allowing us to move on with Grenouille. When events take place that involve him, it is often not mentioned explicitly but, through the eyes of our demi-protagonists, we can deduce his involvement.
Despite his incontrovertible aromatic talents, the ogre-esque Grenouille is an odourless outcast and near-servant whose passions are distilled into something more sinister. His homicidal tendencies are no secret (its subtitle is "The Story of a Murderer"), yet Süskind paints Grenouille with such subtle nuance that his actions never appear threatening, nor could we describe Grenouille as a sympathetic character.
True to its name, the book is replete with olfactory visions and odorous descriptions of the world that surrounds Grenouille. Guiding us through a sensory experience of life in Paris and beyond, Suskind expertly weaves together a storyworld of aromatic brilliance.