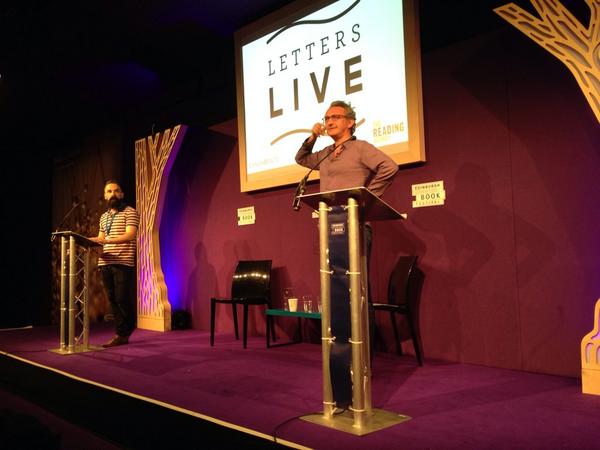 Last night I attended the fifth Letters Live event at Edinburgh International Book Festival.
The event is a celebration of the written word – particularly the almost lost art of letter writing.
Run by Canongate, the event features stories from two of the publisher's recent books, Letters of Note compiled by Shaun Usher, and To The Letter by Simon Garfield.
In essence, it comprises of a handful of actors and writers taking turns to read their favourite books from the Letters of Note collection, as well as performances of a series of correspondence that's reproduced in To The Letter, between an infantryman and his girlfriend – Christopher and Bessie – during WWII.
Though I must admit I was at odds with the tone at times – mourning the losing the art of letter writing seems a little over-romaticised to me – the bulk of these letters were incredible in their own ways, from the profound to the indignant to the downright hilarious.
Major kudos in particular to Patrick Kennedy and Lisa Dwan for bringing Christopher and Bessie to life with their heartfelt readings. Some would have made great movie monologues in the wartime-set films of Powell and Pressburger (think A Matter of Life and Death and you're most of the way there). The selection of the pair's letters feature in To The Letter and another book of their correspondence is coming soon. (Haud me back!)
Jackie Kay made some excellent selections, notably the copywriter-turned-screenwriter Robert Pirosh's memorable I Like Words letter, and Robert Burns' incensed letter to a critic – "thou faithful recorder of barbarous idiom" – our Bard's answer to Shakespeare's insults.
Also hurling abuse was Mark Twain in a letter to a quack doctor – an idiot of the 33rd degree.
Meanwhile laughs were served by him, Matt Stone, and British Ambassador Sir Archibald Clark Kerr, whose cheering letter to his pal Lord Reginald Pembroke is thoroughly incongruously and unexpectedly hilarious.
It was a wonderful night. Keep an eye on the Canongate website for updates and if you plan to buy one of the books please consider using the affiliate links above.
More about Letters of Note coming soon.
Meantime, do you have a favourite piece of correspondence?