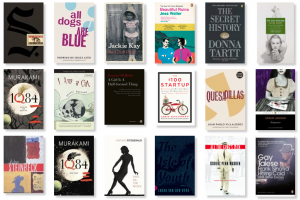 Every year I take part in the 52 books challenge, and I track my progress here.
Check out the archives: 2013 | 2012 | 2011 | 2010 | 2009
You can also follow me on GoodReads and watch my video reviews on YouTube.
January
1. Swamplandia by Karen Russell
★★★★★ – This was a November buddy read with Kevin which bled over into January – and we haven't even caught up to chat about it yet. I'd heard nothing but raves about Karen Russell and her crazy short stories, and this was promising. It was sweet and often touching, as books with child narrators go, with some lovely prose; but the late switch in narrative voice was jarring and it didn't ever recover from that point for me. I'll give her short fiction a go, though.
2. So Good They Can't Ignore You by Cal Newport
★★★★★ – This one wasn't a life- or mind-changer for me, but it could be for you. Newport's thesis is a rejection of the passion hypothesis, and it's a convincing and well illustrated. He elucidates some great points clearly and succinctly (though occasionally ad nauseum) — so its strength is in its structure and reinforcement above all else. While his form is fairly one-note and occasionally dry, it has definitely given me some personal takeaways on how to think about my work and progression. If you're young and/or starting out on your own path, or are chronically dissatisfied at work, though? This is an absolute must-read.
3. Remote: No Office Required by David Heinemeier Hansson
★★★★★ – This book probably preaches to a very self-selecting group – myself included. While I work from home for the majority of each week, this is a super quick read and gives some great tips for working remotely as part of a team. Those 37 Signals guys know their shit.
4. Maggie Cassidy by Jack Kerouac
★★★★★ – I love me some Kerouac, but this definitely read like a first attempt. Kerouac requires patience, a bit of a run-up, time to settle in to his rhythms. But that doesn't stop his sexism from being kind of – no, totally, horribly grating. That aside, when its good, it's really, really good, and following at its natural pace can feel all too fleeting. One for the fans, not the best place to start.
5. Ask the Dust by John Fante
★★★★★ – This book seemed to come out of nowhere. It was a book club pick, and Fante's a big inspiration of Bukowski's, so it's writerly angst and grumpy dudes all round. something about his prose really sparked for me, and I can hardly resist 1930s Hollywood, so ultimately it quickly became my read of the year so far. I immediately went out and bought the Quartet of Fante's 4 novels based around the same character. Safe to say would recommend this one.
6. Red Dust Road by Jackie Kay
★★★★★ – This is poet and author Jackie Kay's memoir about finding her birth parents in adulthood. It's sumptuous and lyrical, filled with sadness and disappointment but also a great sense of honesty and generosity. While I'm sure some of it is constructed, it always rang true and had a real element of life's messiness about it. A great read.
February
7. The Examined Life: How We Lose and Find Ourselves by Stephen Grosz
★★★★★– This collection of brief insights and anecdotes from a seasoned psychoanalyst was an interesting read. I enjoyed the episodic style and insights Grosz brought together and the ways in which he encourages you to imagine and explore his process. A few stories are resolved far too neatly, but as a casual read this is a great way to understand psychoanalysis beyond the "how does that make you feel?" movie tropes that we see so often. Very accomplished.
8. Manage Your Day-to-Day edited by Jocelyn Glei
★★★★★ – Let's be honest, if you're into reading productivity blogs, you'll have heard most of this advice before. However it's nicely packaged, well designed, and quick to read. Can't argue with that.
9. The Heart is a Lonely Hunter by Carson McCullers
★★★★★ – Another book club pick, and one that I had been meaning to read for a long time. It's hardly a page-turner, but its various character view-points are impressively broad and the story of a disconnected small town within demonstrates a deep understanding of humanity. I wish I'd had a bit more time to appreciate it fully.
March
10. S. by Doug Dorst & JJ Abrams
★★★★★ – For all the things this novel is trying to do, the vital point is that it is not redefining the novel. While that's not necessarily a strike against it, it does put the whole thing in perspective. The main novel story is ok, but I wouldn't have read it alone. The intrigue and mystery, for me, was way overblown. The characters scribbling in the margins were compelling enough, but probably wouldn't have held up on their own either. Listen in to my full review with Sasha and Iain here.
11. Sum: Tales from the Afterlives by David Eagleman
★★★★★ – This is basically a book of very short stories, all speculative fiction pieces about the afterlife. There were a few nice stories in here which, for the most part, were very well written – but only a very few really resonated with me. Its heavy Judeo-Christian leaning made it feel a bit uninventive. Your mileage may vary.
12. Frank Sinatra Has a Cold & Other Essays by Gay Talese
★★★★★ – Can't deny, this guy was one of the best of his time. I especially enjoyed Mr. Bad News – one of his personal favourites – about the New York Times' obituary writer of the day. (I also enjoyed Longform's interview with Margalait Fox, their current one, about a week prior.) If you like longform journalism, give this ago. (Here's another blog post I wrote about it, too.)
13. Hangsaman by Shirley Jackson
★★★★★ –  I selected this for book club, and was less engaged in the reading than in the chat about it afterwards. There's so much going on beneath the surface here that I already have my sights set on my next Jackson read.
14. My Misspent Youth by Meghan Daum
★★★★★ – Megan Daum came of age a full generation before me, around the time when I was in high school, but there was so much in here to which I could relate. I loved the overarching theme of admiring things – never looking beyond its surface, and for the most part the stories actually formed behind that unifying idea. (Unlike most essay collections which claim to do so, start to, then don't.) She gets it. I read this in only a few sittings, and will likely read it again.
15. Sleep Donation by Karen Russell
★★★★★– One of the best novellas I've read. Need I say more?
April
16. Slouching Towards Bethlehem by Joan Didion
★★★★★ – Impossible, right? Well, the mediocre (by way of my lack of interest in the subject matter) are way overshadowed by the great in this collection. I'm going straight on to Where I Am From – and you should read her, too.
17. Flowers for Algernon by Daniel Keyes
★★★★★ – This is one of those books where you feel like you're missing something that everyone else found. It's incredibly well-written, in the first act it's practically an allegory for a guide to character building; but something vital was missing for me. The whole "I'm a human being" thing fell flat, and there was a lack of tension outside of the character Charlie's self. His internal turmoil is clear but he never challenges anyone around him, which for me would have blown the whole thing open. Ultimately, unfortunately, this one is quite one-note.
18. All Dogs Are Blue by Rodrigo de Souza Leão
★★★★★ – A remarkable book by a remarkable author. I think it deserves a re-read with greater context. The publisher, And Other Stories, sells it better than I can — go find it.
19. Every Day is for the Thief by Teju Cole
★★★★★ – A fantastic, thoughtful and compelling novella about a personal journey and, ultimately, global advancement. Review coming soon.
20. The Vacationers by Emma Straub
★★★★★ – This is one of those books that makes me question my rating system. It's perfectly good, well-written and the characters are solid. But it's also quite generic, unsurprising, and safe. My understanding was that Emma Straub is one of those NYC up-and-coming literary darlings. This is more of a beach read dressed up as literary fiction. There was some nice point of view work in here, but since there are 6 main characters there isn't much room for growth or resolutions that feel very real-world believable. As a holiday diversion, though, it certainly passes the time.
May
21. The Woman Upstairs by Claire Messaud
★★★★★ – I really enjoyed this one, despite high expectations. It's been slightly overhyped as an unlikeable narrator novel, a woman of a certain age (well, approaching it) who looks back over her obsessive relationship with a family that moves to her town. She's a teacher and an artist, reflecting on the struggles of being regular. Though the narrator's anger was perhaps most lauded, it didn't quite match the heights of Zoë Heller's Notes on a Scandal for me. Nevertheless, it's detailed, compelling, and grapples with some interesting issues.
22. Show Your Work! by Austin Kleon
★★★★★ – Great advice for all artists, writers, and other creative types. Kleon is great at boiling down details to a very fine point. There's almost nothing to highlight and quote here because you'd end up highlighting and quoting the whole thing. He gets to the heart of a lot of the things I tell and practice for my clients. If they read and took on the advice in this as well as Kleon does, I'd be out of a job. Worth a read.
23. The Rental Heart and Other Fairytales by Kirsty Logan
★★★★★ – A fantastic short story collection, ideal for those who love fantasy and fantastic realism.
24. All the Birds, Singing by Evie Wyld
★★★★★ – You've heard about this one, right? The power of this book is in its structure – with one thread moving forwards in time following a farmer with a dark past; the other extolling that past, but moving backwards in time with each chapter. It was at times tough to follow and a little messy, but massively emotionally resonant. Also features a courser take on the life of a female character, which made it all the more refreshing.
June
Nada!
July
25. The Secret History by Donna Tartt
★★★★★ – Donna Tartt has been everywhere since the release and award-wining marathon for her latest book, The Goldfinch – so it was about time I read this. Despite the hype, this was a really tense and gripping read. Perhaps not the best choice for a stressful month. It's well-written, well paced, and delightfully unreliably narrated. Recommended.
26. We Were Liars by E. Lockhart
★★★★★ – This is one of the most hyped books of the summer – so proceed with caution. Aimed at a YA audience, it is one of the swifter and more cinematic books of recent YA fame, and fully deserves its place. It's punchy, told with a great voice. E. Lockhard writes with verve and an off-beat style that brings some dystopian-style excitement to a contemporary read. It unfolds well, and though I wasn't as shocked by the ending as most people seem to be, I was glad to have picked this up.
27. The War of the Worlds by H.G. Wells
★★★★★ – This is a really tricky one to review. It's an excellent novel, far beyond its time, and has influenced every generation that followed. It's been adapted into a spooky radio play that allegedly drove people from their homes, and a pretty scary film adaptation. It isn't overly moralising, it asks us to consider our own humanity, and it's solidly written. But maaan, it's all so over-familiar that I found it really difficult to get through. What it lacks in excitement to a modern-day reader it makes up for in being, for its time, truly innovative.
28. Death and the Penguin by Andrey Kurkov
★★★★★ – A short, dark, and funny wee novel about a writer and his pet penguin. Who knew writing obituaries could be so damn dangerous? A lot of the big moments in this book are underplayed, if not completely skimmed over, which is a technique I'm oddly drawn to. You'll find yourself ahead of the main character at some points, but it culminates in a truly satisfying ending.
29. Men Explain Things to Me by Rebecca Solnit
★★★★★ – An excellent, well-elucidated and thoughtfully written essay collection from Rebecca Solnit. Though she's the author of a dozen or so books, I'd never read more than an essay from her. In this collection of essays about women and their place in the world, her arguments are solid. She also makes excellent use of data – often to chilling effect. Definitely a worthwhile candidate for those taking part in #ReadWomen2014.
August
30. J by Howard Jacobson
★★★★★ – This felt like Jacobson's attempt at dystopic fiction… except with the literary fiction bias against genre. For my full review, click over to The List Magazine.
31. Gone Girl by Gillian Flynn
★★★★★ – I finally got around to this one in time for David Fincher's film adaptation. It's fast-paced, fun to read, and kind of ridiculous. I really enjoyed it. Read my full review here.
32. The Antidote by Oliver Burkeman
★★★★★ – The Antidote is billed as a self-help book for people who can't stand self-help – and it really sticks the landing. I read this book as a literary guinea pig for Canongage's Nudge Your World project, in which I tried to live by the book's rules and insights. Click here to read my blogs about the book.
33. The Opposite of Loneliness by Marina Keegan
★★★★★ – This is a collection of stories and essays by Marina Keegan – a promising young writer who sadly died in a car accident shortly after graduating from Yale. As Anne Fadiman writes in the introduction, Marina was a 22 year-old writer who wrote like a 22 year-old writer. And she was a particularly good one. Read my full review of the book here.
34. On the Shortness of Life by Seneca
★★★★★ – After having it on my shelf for years, and Seneca being mentioned frequently in The Antidote, I read this book with plans to write about it. I read it, and it was absolutely brilliant, so I"m going to have to read it again before I can really write about it. Next time I pick up a book like this one, I'll bring a pencil.
35. The Braindead Megaphone by George Saunders
★★★★★ – This essay collection was published in 2009 and contains essays from as far back as 2003, so some topics were a little out-dated. Saunders writes with great verve and a sprinkling of self-deprecation that never quite veers off into indulgence. His reporting is solid and quick-moving, and his reflections on literature are a delight. Well worth a read.
36. Friendship by Emily Gould
★★★★★ – I'm still on the fence about this one. On one hand, it's a decent tale of friendship centred around two twenty-something New Yorkers whose lives aren't going quite as they planned them. On the other, the main conceit of the plot plays out in a higgledy-piggledy fashion and isn't particularly believable. Gould has a good ear for dialogue and the characters, their motivations, and the troubles they face mostly play out well, but something about it didn't quite land. In fact, it stayed with me… but not in a good way. The final few pages are really unsatisfying, which kind of ruined it in the end. But hey, it was better than The Vacationers.
37. More Baths, Less Talking by Nick Hornby
★★★★★ – This book is a selection of monthly columns that Nick Hornby writes for The Believer magazine. It's been ongoing for over 10 years now, and this covers much of 2010-11. For each column he outlines the books he's bought that month, and the books he's read, before going into detail. I enjoyed his style, a sort of diary format linked with insights from his life in general, mingling in various topics. It's nothing groundbreaking, but it's a nice lazy read. The full collection is out in paperback later this month so I'll definitely be picking it up.
38. Dear Committee Members by Julie Schumacher
★★★★★ – Dear Committee Members is a novel comprising of letters of recommendation which, as the tagline states, "puts the pissed back into epistolary". The book follows a perturbed middle-aged male academic and his manoeuvrings. It's a great use of the form, cleverly written, and quite funny at points. I did tire of the character's voice, though, and while the author does well to hint at his flaws he was difficult to identify with. Still – long live the epistolary novels, one of my favourite forms.
September
39. Harry's Last Stand by Harry Leslie Smith
★★★★★ – Harry Leslie Smith is 91 years old and he's been writing stirring articles about politics for the past few years. He brings a unique and thoughtful perspective to the current era of recession, austerity, and low voter turn-out. I'd seen Harry on Leena's YouTube channel and knew this wouldn't be an old man yells at cloud situation – and indeed his is an historic perspective believing in change for the better and a repeat of the post-war move to social responsibility. The structure is a little tortuous, though understandably so as he's attempting to fit together personal and national history with prewritten work while trying to reach a younger audience. I read this with the Scottish referendum in mind, with hope that his past experiences would come to pass again in our under-represented country. It's well worth a read before the next general election.
40. The Double by Fyodor Dostoyevsky
★★★★★ – I decided to read this after watching Richard Ayoyade's film adaptation back in February. It's one of Dostoyevsky's shorter works and was mysteriously difficult to find in public domain formats. Regardless, it's a strange, disorienting and often funny read. A bit annoying to be honest, but certainly a great work of prose. Made me want to read some PG Wodehouse, who no doubt loved this.
41. Just Kids by Patti Smith
★★★★★ – People rave about this book – and it's as beautifully and sumptuously written as they all say. It's a remarkable piece of prose, beginning with the coming-of-age New York art scene tale and gradually tapering off into more trying adult experiences. I am not very familiar with very few of the New York arts darlings she cites, but enjoyed meandering through her world nevertheless. I'm not one for this genre, but would venture that this is the rock and roll memoir for folk who aren't into rock and roll memoir.
42. A Study in Scarlet by Sir Arthur Conan Doyle
★★★★★ – My first Sherlock Holmes novel! I vaguely remember The Hound of the Baskervilles knocking around in English classrooms at school, but my only forays into mystery/detective fiction so far have been a couple of Raymond Chandler novels. I'm not much one for procedurals but Holmes' deductions are pretty fun to follow and, although the background story here meanders off for a good third of the page-length, I'm encouraged to continue. I may even go and meet Poirot next.
43. Bad Feminist by Roxane Gay
★★★★★ – If you've seen my latest Reading Week (#26) then you'll know that I love Roxane Gay. This was the honorary first read of The Essayist Project, and there's some remarkable work in here. I especially enjoyed her visitations with pop culture like her personal essays on Sweet Valley High and her participation in national Scrabble championships. A few essays are geared to online and end somewhat abruptly, or describe very specific events that probably won't hold historical relevance. Overall though her writing – she – is so genuine that it's like spending time with a smart friend. I highly recommend it.
44. A Death in the Family by James Agee
★★★★★ – I know James Agee primarily as a non-fiction writer. He wrote my favourite essay, Comedy's Greatest Era, but he was also a novelist and poet. A Death in the Family earned him a post-humous Pulitzer Prize – a rare feat – and the kicker is that he hadn't even finished it. Fortunately for the reader, this is edited with a light hand, placing sections where they imagined things were intended to fit. The story is fairly clear from the title, and he captures the long moment with mundanity and repetition that reach deep into the characters psyches. It's a pretty wonderful read – do give it a go.
45. And the Heart Says Whatever by Emily Gould
★★★★★ – Another essay collection, and this time one that I'm a little bit undecided about. I'll extoll my thoughts in a future longform post.
October
46. The Amazing Adventures of Kavalier & Clay by Michael Chabon
★★★★★ – I can see why the comic book nerds love this one. This is a big book in more ways than one. It's a love letter to comics, a family drama, a touch of the war novel. Chabon's prose is wonderfully descriptive and thoroughly engaging. There were some slow points here for me but overall it deserves the generous praise it so often garners.
47. Under the Skin by Michel Faber
★★★★★ – This is a great novel. It's short and slow yet expansive and rich. It engages in questions of ethics without pushing an agenda and plays with our notions of what makes a human, human. Highly recommended.
48. Not That Kind of Girl by Lena Dunham
★★★★★ – I tried to suppress my expectations for this book, but it turned out to be a bit of a disappointment. While I'd have loved for her to write a piece of cultural writing about her process, her art, her wowrk, and the issues within it… this is a different beast entirely. While she writes with a certain flair, it lacks depth, and it fits into the celeb non-self-help self-help genre a little too neatly for someone who usually pushes back against mainstream thinking. More on this soon.
November
49. Wild: From Lost to Found on the Pacific Crest Trail by Cheryl Strayed
★★★★★ – I've mixed feelings about this book. On one hand, it's tragically sad and thoughtful and uplifting – much like Dear Sugar. On the other, there ended up being a lot more about working through physical pain than emotional. I liked it, but I didn't love it.
50. The Perpetual Race of Achilles & the Tortoise by Jorges Luis Borges
★★★★★ – Dude knew what was up. Loved his film criticism (except the part where he straight up tells you what Rosebud means in Citizen Kane in the second paragraph of his review), and was utterly lost in some of his chat about translation. For the most part, though, a level to aspire to.
51. The Rosie Project by Graeme Simsion
★★★★★ – This is basically a rom-com movie in film form. A nice enough diversion, I suppose.
52. The Empathy Exams by Leslie Jamison
★★★★★ – Hi, have we met? Of course I utterly loved this collection. Deeper thoughts will come soon. Eventually.

December
53. Mongol by Uuganaa Ramsay
★★★★★ – For the most part, Mongol a straight autobiography of Uuganaa Ramsay's life growing up in outer Mongolia and the path that brought her to living in Scotland. Ramsay's writing is clear and engaging, not prone to frills, and at times heartbreaking. It's a delight to read about her lifestyle and customs in Mongolia. Having read a BBC article she wrote about the use of the word 'Mongol' and other terms derived from 'Mongolia' to describe people with disabilities like Down's Syndrome, I thought this would be a more political read. Though it isn't, it goes a long way to impart the humanity of the people if affects, on both sides of that coin.
54. In Cold Blood by Truman Capote
★★★★★ – It took me about 6 years to get around to reading this in full. Some parts were worth it, others not. Honestly? I think listening to Serial was the only thing that really spurred me to finish it.
55. An Amorous Discourse in the Suburbs of Hell by Deborah Levy
★★★★★ – I don't read much poetry, so am at a loss for how to discuss this one. It's strange and interesting and curiously uplifting.
56. Here They Come by Yannick Murphy
★★★★★ – I picked this up on a whim at City Lights trusting in the McSweeney's logo on the cover. It's a lyrical and stylistically written wee novel, following a young teen girl in her life in 1970s New York. Murphy's is a remarkably observant author, giving a deeper and wider perspective of a troubled family life through the eyes of its emotionally ignorant protagonist. Impressive stuff in the moment, but it hasn't really lingered in my mind.
57. A Room of One's Own by Virginia Woolf
★★★★★ – Virginia just had shit figured out, man. I looked it up and her room of one's own plus £500 per year now equates to £27,400. Shame it takes me working full time and a dollop of good luck to make that much. Maybe some day, Woolfy.
58. Valley of the Dolls by Jacqueline Susann
★★★★★ – All I knew of this book was that it seemed like a treasured, if possibly trashy, modern classic. And it was a delight. The book follows 3 friends – one an upwardly mobile small-towner turned secretary and her two show-business pals. It spans 20+ years and pretty much should've been in the Pulitzer category. It's character and plot-driven with a hint of feminist subtext, and totally satisfying.
59. Yes Please by Amy Poehler
★★★★★ – I almost passed this one over but after hearing so much hype around it, and finding myself with a cheap Audible credit, I decided to give it a go on audiobook. It's fun and pretty light and quick-paced. As with all collections of this type there are some wanderings into childhood and early working life that wear thin if you're not a huge fan of the person in question. But she does take pains to present her career in a way that never discounts the hustle involved, and she throws in a few gems of advice along the way. That's quite enough about your kids, though, lady. Jeez.
60. Station Eleven by Emily St John Mandel
★★★★★ – Just when you think the world doesn't need another post-apocalypse virus novel, this one comes out of left field to knock you on your ass. It takes a little while to get into this one, but the characters are vibrant and confused and engaging to follow and the weaving of various narrative strands is pretty remarkable. After all the hype, I'm as surprised as you are to learn that this one is well worth a read.