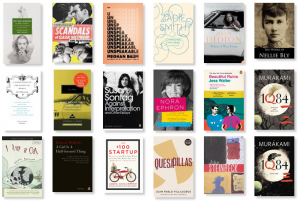 Every year I take part in the 52 books challenge, and I track my progress here.
Check out the archives: 2014 | 2013 | 2012 | 2011 | 2010 | 2009
You can also follow me on GoodReads and watch my video reviews on YouTube.
January
1. Open City by Teju Cole
★★★★★ – I really enjoy Teju Cole's second novel, Every Day is for the Thief, last year, so I went back to this, his first. His style is languid and meditative and intelligent, though a bit high-minded for me at points. I'm a hi-lo culture kinda girl, and there isn't much lo here. However he writes interactions between strangers in a really thoughtful way and opens the reader up to a wealth of new experiences. For that, I'll always wade through the high brow art chat.
2. This is the Story of a Happy Marriage by Ann Patchett
★★★★★ – I've never read Patchett before, which seems ridiculous to me now. Though she's primarily a fiction writer, she's also a magazine writer by trade. This essay collection covers love, life and writing with articles published throughout her career. Some pieces are remarkable, particularly the two pieces she was commissioned to write while preparing the collection: the title essay and The Getaway Car. Just divine. More on this soon as part of The Essayist Project series.
3. The Maltese Falcon by Dashiel Hammet
★★★★★ – I'm not a big crime/mystery reader, but I make a little time for a noir once in awhile. After reading 2 by Chandler, it was Hammett's turn. This one is tightly written and atmospheric, with stripped back prose and exacting actions. Like all crimes I've read I got a bit lost in the middle. It's solid but not an all-timer for me.
4. Dept. of Speculation by Jenny Offill
★★★★★ – This novel reads kind of like a personal essay in This Recording or The Hairpin, taking seemingly random elements and rolling them together into a milieu throughout. Some of its New Yorkiness grates, but overall this was a quick and engrossing read.
February
5. As For Me & My House by Sinclair Ross
★★★★★ – One of my first full forays into #CanLit! I read and made a video about this book with Hello Hemlock – my friends Jess and Jason's CanLit book club. It's a slow burner with a wily female protagonist in the Depression era with strong themes and a really confining atmosphere.
6. Giovanni's Room by James Baldwin
★★★★★ – What prose! What beauty! And it's all over so quickly. This novella follows a young American in Paris and his many affairs – one in particular with a barman named Giovanni. It's sumptuous and heartbreaking and an all-round punch in the face.
7. Ready Player One by Ernest Cline
★★★★★ – The digital world of Ready Player One is fun, silly, and inventive – but its author and narrator are often a little too pleased with themselves. It's fun enough and well structured but, well, that's about it.
March
8. The First Bad Man by Miranda July
★★★★★ – I read an interview with Miranda July where she said that writing a novel was like having unlimited filmed coverage to edit and re-edit a scene – and that's kind of how this reads. There's a perfectionism to her sharp observation, like each moment is slowed down to allow us to take in the world as her perceptive character sees it. There's a delicate balance here between how this first-person narrator sees herself, how we perceive her, and how others see her. I've never read anything quite like it. An impressive debut.
9. The Bling Ring by Nancy Jo Sales
★★★★★ – This is my version of a trashy hungover Sunday morning read. It's a time capsule of a recent but bygone era filled with recession anxiety and the pain of yearning for fame. Nancy Jo Sales is excellent at shining the veneer and tearing it down in one fell swoop, but 200 pages over-stretches the real story here by quite a margin.
10. The Last Treasure Hunt by Jane Alexander
★★★★★ – A Scottish debut, this is the story of a rekindled love affair unconventionally told. Contains some nice ideas and lovely observations – some of which aren't quite realised. Review to come in The List.
11. The Girl on the Train by Paula Hawkins
★★★★★ – More yawn, girl than Gone Girl.
12. The Immortal Life of Henrietta Lacks by Rebecca Skloot
★★★★★ – A powerful mix of biography and popular science which tells the story of Henrietta Lacks – a working black woman whose rapidly-dividing cancer cells were taken without her permission and eventually came to drive a billion-dollar industry. A thoughtful and empathetic approach to a subject based in science and ethics.
13. Bonjour Tristesse by Francoise Sagan
★★★★★ – Oppressive heat, insufferable rich people and languid afternoons. What more could you want in a novella? A little more oomph maybe, but this one's worth an hour or two of your time.
14. Boy by Roald Dahl
★★★★★ – This was So. Fucking. Delightful. Dahl tells thes tory of his younger years through a series of absolutely true anecdotes which vary from the utterly hilarious to the downright terrifying. Life is just richer when there are Roald Dahl books to be read.
15. Going Solo by Roald Dahl
★★★★★ – More memoir here, this time in his later years from his early twenties in East Africa and into his RAF service during the Second World War. Fewer laughs to be had here, but his stories of day-to-day African life to flying blind are never short of absolutely remarkable.
April
16. Hausfrau by Jill Alexander Essbaum
★★★★★ – Though it's frequently compared to recent "unlikeable women" books like The Woman Upstairs by Claire Messaud, Hausfrau is the story of a woman who can't seem to help but do terrible things. As the American expat in Switzerland embarks on one affair after another, regretting but submitting to her malfeasance, Essbaum cultivates empathy around this woman at odds with her world, almost willingly trapped. Threads of her past and psychotherapy sessions are woven in to complete this yarn that's more woman on the edge of a nervous breakdown than evil adulteress.
17. The Strange Library by Haruki Murakami
★★★★★ – We have the rise of ebooks to thank for books like this gorgeous hardback edition from Vintage. The short story contained within was written for children in 197*, and is now accompanied by an array of images and designs from the British Library to complement the tale. The story itself is quintessentially Murakami: a boy, strange animals, an unreachable girl and a mysterious situation.
18. In Praise of Messy Lives by Katie Roiphe
★★★★★ – I went into this expecting personal essays and got a few of those, but largely literary and cultural criticism along with a smattering of profiles. She presents a self-selecting world – one of single moms and wealth so surface level and so confident in assuming knowledge on the part of the reader that it doesn't seem worth the effort. I was utterly disinterested. Her criticism, though, is sharp, meticulously detailed and well-delivered. It's well worth a read for these alone.
19. Small Gods by Terry Pratchett
★★★★★ – Small Gods is my second foray into the Discworld – a place I'm a little at odds with as a reader. I find the initial exposition of the stories tricky, overwhelmed by the names; and have usually lost interest a little over two-thirds of the way through as the adventure ramps up. What I do enjoy, though, are the marauding away from plot and into often delightful and funny moments of scene setting and character interference. Not my favourite genre, but a fun dalliance every once in awhile.
20. Fishnet by Kirstin Innes
★★★★★ – Quite a fabulous debut. Fishnet is exactly the kind of book I wish there were more of: female-driven, literary, taking on a character's journey through a big-issue life change with straight empathy and respect. The protagonist, Fiona, is self-aware, at times weak, thoughtful, and grows and changes in her mind and her behaviour in a way that's rarely so well executed outside of the classic "coming of age" or bildungsroman. A wee gem.
21. It was snowing butterflies by Charles Darwin (Penguin Little Black Classics #67)
Aren't these Little Black Classics cute? This one is a excerpt from Darwin's Voyage of the Beagle – a great wee taster of the book without having to wade through 400+ pages of Victorian prose. Lovely stuff.
May
22. The Gracekeepers by Kirsty Logan
★★★★★ – A stunning debut from Scottish author Kirsty Logan. Gorgeous prose, a fully realised world and an excellent cast of characters. You can hear me interview Kirsty on Bookish Blether Episode 8.
23. All I Know Now by Carrie Hope Fletcher
I read this because I thought it might be a good candidate for The Essayist Project but… it wasn't. It's directed at teens, particularly Carrie's fans or 'Hopefuls', and didn't have much bearing outside of that. It definitely could've used a heavier edit and some sections should've been totally restructured. But it's giving that audience something they want, so, hey.
24. One Summer: America, 1927 by Bill Bryson
★★★★★ – I listened to this as an audiobook and literally developed some wrinkles in the process. It's that good old Bill Bryson thing with rich detail and inadvertently hilarious moments… but it wasn't his strongest work. He ties himself in knots over the connections between some subjects, and it's kinda horrible about women. So a history book, basically.
25. Smoke Gets in Your Eyes by Caitlin Doughty
★★★★★ – If you're curious about the subject of death, you'll love this. Part general non-fiction, part-memoir, it's mortician Caitlin Doughty reflecting on her career journey, what made her interested in death, and some great analysis on our culture's tendency to shun dealing with death and corpses. A great read.
26. All My Friends are Superheroes by Andrew Kaufman
★★★★★ – This came highly recommended and it was a very sweet – if a little insubstantial – read. It's essentially a short fairytale along with some humorous bios of some people with unconventional superpowers. I'd have liked a bit more world-building, but at face value it's a fun wee read.
27. This One is Mine by Maria Semple
★★★★★ – Semple's debut novel, this was published a few years before her break-out Where'd You Go Bernadette (which I loved). It centres around a bored wealthy housewife, her asshole husband and his oddball sister who would definitely be played by Amy Sedaris on screen. Semple brings her TV comedy chops to some brilliantly realised scenes, but the characters' unlikability uncharacteristically kept me from really investing in the story. So-so.
28. Bream Gives Me Hiccups by Jesse Eisenberg
★★★★★ – As a surprise to either everyone or no-one, this is an absolutely brilliant collection. His sharply observed restaurant reviews-cum-diaries by an eighth grader are as strong as his pithy dialogue scenes. His pathos is absolutely heart-in-mouth, and no sooner do you allow yourself to laugh than he sticks the knife in. Just fantastic. Look out for this one when it's released in September.
29. The Lover by Marguerite Duras
★★★★★ – Magnifique.
30. Signs Preceding the End of the World by Yuri Herrera
★★★★★ – This stunning short novel is difficult to get a firm grip on. I'm still not sure exactly what I read, or whether I fully understood it, but I loved it anyway. It's lyrical, it's gripping, and it takes you on a fantastic journey. What more could you possibly want?
June
31. The Folded Clock: A Diary by Heidi Julavits
★★★★★ – I've discussed this book on and off in Reading Week – and it's probably one of my favourite books of 2015 so far. The diary format makes for a great writing prompt and the balance between self-indulgence and outward curiosity kept me engaged. This is the kind of book I think I'd want to write.
32. An Astronaut's Guide to Life on Earth by Chris Hadfield (Audiobook)
★★★★★ – I finally finished another audiobook! My trend so far has been to devour the first half, listen on-and-off for a few weeks, get fed up and forget about it for awhile, then make a conscious effort to power through the rest. Hadfield is personable and charming company, but his stories do verge into the repetitive. Overall, though, a it's rather lovely and diverting listen.
July
33. Valley Fever by Katherine Taylor
★★★★★ – A fairly mediocre novel about a country-turned-city girl who returns to her farming family in Central California and gradually finds a place. It's engaging enough but lacks a drama, though I did enjoy reading about all the familiar places.
34. Spinster by Kate Bolick
★★★★★ – This was a total right-place right-time kind of book. I loved the rich historical context she gives to place the writers she admires and describe the society and the issues they faced. I loved her personal insights into writing, her descriptions of languid and frenetic days as a reader and aspiring writer. I even put up with the really cheesy self-assessments. I loved it, unabashedly. In fact it's the kind of book I think I would write – though perhaps with a little less self-obsession.
35. Travels in the Land of Serpents and Pearls by Marco Polo (Little Black Classic)
★★★★★ – This is a bizarre read. Prose style, totally straight. Stories told, utterly bonkers.
36. A Slip Under the Microscope by H.G. Wells (Little Black Classic)
★★★★★ – An excellent pair of short stories. I think maybe I need to read more H.G. Wells! The first story is a mystery told through a man's reminisces on the past, which was heavy with possible readings. The title story was set at a university full of posh kids and focused, as such stories often do, around the poor boy and his romance and academic aspirations. Great sense of suspense – loved it.
37. Oranges are Not the Only Fruit by Jeanette Winterson
★★★★★ – A bit of a shielded memoir, this novel focuses on the coming-of-age of a young woman brought up in a religious household who comes do discover she's gay and how the community reacts. It swings between hilarious and heartbreaking. It also features some forays into fairytale, which I wasn't particularly gripped by. But it's a great book overall.
38. Walking by Henry David Thoreau
★★★★★ – What a pretentious willy this guy was.
39. The Reckoning by Edith Wharton (Little Black Classic)
★★★★★ – Edith Wharton always seemed like a certain type of readers' kind of book. I didn't believe that kind of reader was me, but now I'm wholly convinced.
40. Circe and the Cyclops by Homer (Little Black Classic)
★★★★★ – Excerpts from Homer's The Odyssey. Some stunning scenes here, though not the most readable translation. I couldn't quite get the rhythm right in my mind. I think my copy of the full text is a more readable translation, so I'm keener to get to that now.
August
41. Good Behaviour by Molly Keane
★★★★★ – This book club pick is a satirical regency novel set in Ireland. It's most commonly described as a dark comedy, and Keane plays a lot with the first persona narrator's voice and her understanding of the world. It's outrageous and tragic and really rather silly at points. Very well drawn, but not entirely my cup of tea. Probably one for people who love classics and enjoy a good unreliable narrator.
42. Something Childish but Very Natural by Katherine Mansfield
★★★★★ – Mansfield has been on my TBR for the longest time, and I began this slim volume from the Penguin Great Loves series during the 7 in 7 Readathon. Her prose style is beautiful and she sketches in characters with a light touch. Again, not entirely my scene, but I could see why people enjoy her work so much.
43. Between the World and Me by Ta-Nehisi Coates (Audiobook)
★★★★★ – Totally switching gears here. Between the World and Me is written in the form of a letter to his son about the experience of growing up as a black man in the United States. Though he's been compared with James Baldwin, his secular viewpoint brings an immediacy and poignancy to his discussions about the destruction of black bodies that's prevalent today. He questions the need to forgive oppressors, and challenges traditional, religious thinking around the value of a life. His prose is lyrical and decidedly contemporary in comparison with his literary forefathers. Ta-Nehisi Coates' book is so important in this moment in history, and you'll probably want to read it more than once.
44. Strange Weather in Tokyo by Hiromi Kawakami
★★★★★ – I received this book in my Willoughby Book Club subscription and found it a little disappointing. The plot is thin, which is fine unless there's plenty to flesh it out, but there wasn't much to build upon. It's ostensibly a love story, but the characters were flimsy and inconsistent and there's little chemistry to speak of. As a reading experience, it felt like being on a bus that's taking the long way around. A bit of a snore.
45. Life Among the Savages by Shirley Jackson
★★★★★ – This is definitely a book for the Shirley Jackson completists. Though I've only read a handful of her novels and short stories, I absolutely loved it. She writes about domestic life with humour, charm, and a sprinkling of farce. She has such a great personality, and although I enjoyed her own daily observations over the scenes with her children, I'm keen to read the follow up, Raising Demons.
46. Hear the Wind Sing by Haruki Murakami
★★★★★ – Murakami's debut has finally been released in English outside of Japan! Make no mistake, this isn't up to his current standards but, as a debut, you can see why it was picked from a pile of hundreds to win a prize back in the late 1970s. His voice is fully formed, some of his tropes can already be detected, and I loved the voice of a pretentious 21 year-old aspiring author. This was like revisiting an old friend.
47. Territorial Rights by Muriel Spark
★★★★★ – A spry farce, this novel is billed as being about a character named Richard who falls in love and galavants around Venice. What follows is more of an ensemble mystery thriller. I devoured this in a day – more out of ease than delight – but it was diverting enough.
48. The Dinner by Herman Koch
★★★★★ – Here's a book I'd heard a lot about and found to be much darker than I'd anticipated. It begins as an extended internal monologue, and it builds well towards a surprising and twisted conclusion. I didn't love the voice, though, and it doesn't make you complicit as a reader – which might have sealed the deal for me. Again, a quick and engaging read but I didn't love it.
49. The Driver's Seat by Muriel Spark
★★★★★ – After a slight misfire with Territorial Rights, I turned to the Muriel Spark novel that I really wanted to read. This is how you write a damn novella. It's descriptive, mysterious, engaging and thrilling, topped of with an unforeseeable ending. I was absolutely riveted.
50. The Trick is to Keep Breathing by Janice Galloway
★★★★★ – Doesn't this have the greatest title? It's an experimental novel that reads like a mental health memoir or, more accurately, a diary. It's observant, sometimes depressing, and cuts close to the bone. I feel utterly under-equipped to discuss it well. But I'd recommend that you read it.
51. Pinball, 1973 by Haruki Murakami
★★★★★ – Murakami's second novel, this book focuses on the same main character as Hear the Wind Sing and his friend nicknamed the Rat. It bounces betwen the characters without much direction, except towards the titular pinball machine. It's fine, but it didn't capture my imagination.
52. Quesadillas by Juan Pablo Villalobos
★★★★★ – Villalobos' language and characters just leaps off the page. Quesadillas is a hilarious, biting satire of life in Mexico. Like his previous novella, Down the Rabbit Hole, it's narrated by a teen at war with the world, but this time his main character is more worldly and determined to get what he's owed. It's an excellent translation, too. I found a lot to love here.
September
53. The Dumb House by John Burnside
★★★★★ – A creepy, educated, sinister unreliable narrator and a twisted set of events give me so much to mull over here. The prose is delectable, the story unravels in sick and horrifying ways, and yet it's an absolutely compulsive read. Highly recommended (if you like that sort of thing).
54. The Fishermen by Chigozie Obioma
★★★★★ – Let's just say: The Dumb House was a tough act to follow. This Cain and Abel story has a lot of heart, and I loved spending time with the characters. It gets off to a slow start, though, and I found my interest waned between dramatic turns. Pretty good, but not outstanding for me.
55. The Bind by William Goldsmith
★★★★★ – A gorgeous watercolour and ink graphic novel. The artwork is stunning and the story is a family drama about book-binders that manages to balance earnestness and drama with wry wit. I gave this 5 stars because I don't know what else I could want from a graphic novel – except maybe for it to be longer.
56. Citizen: An American Lyric by Claudia Rankine
★★★★★ – This book is quite experimental, and some types of writing worked well while others left me a little cold. Rankine lays out situations in a second person narrative, largely extolling microagressions, and I found them to be really well-written and hard-hitting. On the other end of the spectrum, the edited TV scripts didn't form in my mind, and I'd rather have seen them visually. Either way it's a really important book for our time, and I'd urge you to give it a go.
57. Jellyfish by Janice Galloway
★★★★★ – Probably one of the most viscerally engaging short story collections I've ever read. Galloway covers family, relationships, and life in its quiet moments with an incredible and unique observation.
58. Morvern Callar by Alan Warner
★★★★★ – Readers will either love or hate spending over 200 pages in Morvern's mind. I found her difficult to get along with at first, but ultimately utterly engrossing. A distinctive voice, a haunting subject and an excellently observed slice of life.
59. My Dear Bessie by Chris Barker / Simon Garfield
★★★★★ – I've been reading this very gradually over the course of almost a year. It's very sweet and warm with some great gems, and the family afterwords are lovely too. It could definitely have been edited down more, though, and there's far less Bessie than billed. I imagine this one would be a better experience on audio.
60. Satin Island by Tom McCarthy
★★★★★ – My Goodreads review got a lot of love. It read simply, "Flashes of brilliance amid interminable shite." The more I think about this book, the less impressed I am by it. This piece also points out how McCarthy distilled down the entire book into one short article, which she in turn boiled down to a few key paragraphs. It's less death of the author, more death of the character – and how dull he is. While there are some glimmers of great ideas, overall this book is utterly tiresome.
61. Sidewalks by Valeria Luiselli
★★★★★ – A wonderful essay collection that I can't describe as well as I'd like. She's concerned with maps, travel, and movement around cities with a healthy dose of voyeurism. If we share a taste in non-fiction, you really ought to read this.
62. The Guilty by Juan Villoro
★★★★★ – 3 nudging towards 3.5. I love Villoro's style of writing, His descriptions and phrasings. I short story paints characters in surprising detail – but I Could not quite get to grips With them Because they were so concerned With almost celebrating and preserving masculinity. There's more to this in hindsight, but in the reading I struggled to spend time with His Men. It's a good collection, and an antidote to a lot of ubiquitous American thinking, but something fell short for me.
63. Barbara The Slut and Other People by Lauren Holmes
★★★★★ – A fantastic wee collection focusing on, but not pandering to, twenty-something life. I loved the characters, the incidental nature of their troubles, the unapologetic approach to their flaws and uncertainties. Holmes does a great job of making the mundane engaging and putting the reader into the mindset of the character. Highly recommended.