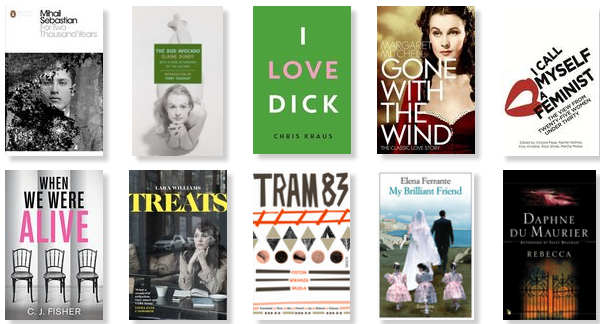 Every year I take part in the 52 books challenge, and I track my progress here.
Check out the archives: 2015 | 2014 | 2013 | 2012 | 2011 | 2010 | 2009
You can also follow me on Goodreads and watch my video reviews on YouTube.
January
1. Bret Easton Ellis & The Other Dogs by Lina Wolff
★★★★★ – I'm really torn about how to rate this book. I loved the prose, and the characters (for the first 2/3rds), and the tension and drama that existed between them. But it feels more like a stitched-together short story collection than a novel. There was no arc, no through-line, and the final third felt hijacked by a character I didn't want to hear from. The mundane details stretched to boring and it felt disjointed with only a few closing paragraphs to tie it all back together. As I read it, it didn't work, but I can also spin it in a way where it does work. When it's good, it's very very good. When it's bad, it's a slog. I think I'll have to call it a 3.5.


2. Beautiful Ruins by Jess Walter
★★★★★ – I enjoyed this read immensely – the characters and complex interplay between their histories, the new surprises along the way, and the clever phrasing a and life truths peppered throughout. Unfortunately the final act let it down with too much past history and lazy "Where they are now" exposition in place of active storytelling.


3. The Prime of Miss Jean Brodie by Muriel Spark (re-read)
★★★★★ – I wasn't particularly enamoured of the sotry during this re-read, but the craft in storytelling is undeniable. The precise repetitions and careful reveals are engaging. She straight up tells you the who but keeps you waiting for the what. It's masterful. But for me it's overshadowed by The Driver's Seat.


4. Rebecca by Daphne du Maurier
★★★★★ – It has taken me a long time to get around to this – and I'm glad I finally did. It was absolutely fantastic. Absorbing, exciting, tense, moody. It veers towards melodrama and a few scenes are overwrought (I burst out laughing at the biggest reveal in the book) – but it's definitely going to be one of my books of the year.


5. My Brilliant Friend by Elena Ferrante
★★★★★ – I had read and liked but didn't love Ferrante's Days of Abandonment. Meanwhile, this book and its successors in The Neapolitan Novels quadrilogy have been so fêted, particularly in the past year, that I was afraid I'd suffer from over-hype. I needn't have worried. The unrushed rhythm and meter of the storytelling in this book lulled me in. It has a simple, linear plot but intricate interplay between characters and character arcs – its world-building is as detailed a high fantasy. I'll be rushing to read the rest.


February
6. Tram 83 by Fiston Mwanza Mujila
★★★★★ – This was the only book I finished in February! After reading rave reviews from a handful of literary websites, I set this as a book club choice. It begins well with strong language, verve, and discomfiting rhythm fit for the jazz bar setting. Beyond the sentence level, though, it lacked structure, I was often confused between the two main characters, and the plot didn't pick up until the beginning of the third act. The book has since been long-listed for the Man Booker International Prize, so perhaps you'll hear some reviews to the contrary soon.


March
7. Treats by Lara Williams
★★★★★ – I loved this contemporary short story collection that captures so many aspects of the twenty-something experience. Read my full review for The List Magazine here.


8. When We Were Alive by Chelsea Fisher
★★★★★ – A promising debut about life, death, war and family. I loved the warmth of the relationships and insights into the human condition – and I'll even forgive it for mentioning my literary bugbear, World War II. Read my full review for The Big Issue Magazine here.


9. The Lonely City by Olivia Laing
★★★★★ – A gorgeous blend of memoir and art criticism. Laing takes on loneliness and appears to win. I wish I could have taken my time with this one. Read my full review for The Big Issue Magazine here.


10. I Call Myself a Feminist by various
★★★★★ – A collection of 25 short articles from 25 women under 30 about why they identify as feminists. This is squarely aimed at entry-level feminists but I found plenty to enjoy. As a collection its strength builds towards latter half. Though efforts were made to make this a diverse and intersectional group of voices I found it lacked any meaningful take on class, and the quotes between articles which seemed to attempt to bolster this were often weak or completely out of context. Not meant for me, but ok nonetheless.


11. Gone With The Wind by Margaret Mitchell
★★★★★ – I seldom reach for long books, particularly epic classics. But now I understand why the people who love this book will happily re-read it once every few years. It's absolutely dazzling from start to finish, seeming to incorporate generations of history and human experience in the span of under a decade. I really, really loved it.


12. I Love Dick by Chris Kraus
★★★★★ – I thought I'd love this book. Sadly I was wrong. The only reason I persevered with its dull, disjointed plot and exasperating self-awareness is that, once in awhile, there'd be a line that made me want to air punch. So I'm going to put those together and the rest of this reading experience behind me.


13. For Two Thousand Years by Mikhail Sebastian
★★★★★ – When this book club pick was presented I wasn't sure what to expect. Sebastian was a Jewish Romanian author and this book is his first autobiographical novel and a philosophical take on the Jewish experience during the interwar years. It's so thoroughly didactic he practically eschews plot altogether, but many turns of phrase really shone for me. Rather abstract for my taste, but engaging nonetheless.


14. The Dud Avocado by Elaine Dundy
★★★★★ – This was my second whack at The Dud Avocado, and I liked it a little more than the first time around but also came across many of the same problems. Its narrator, Sally Jay, is charismatic, funny and has a unique voice. But sometimes she is a bore. the sum of its best parts would amount to an F Scott Fitzgerald Jazz Age short story reimagined in the 1950s – but I think I'll remember those aspects fondly.


April
15. The Dead Ladies Project by Jessa Crispin
★★★★★


16. Ancillary Justice by Ann Leckie
★★★★★


17-19. 1Q84 by Haruki Murakami
★★★★★


May
20. The Story of My Teeth by Valeria Luiselli
★★★★★


21. The Vegetarian by Han Kang
★★★★★


22. The Transmigration of Bodies by Yuri Herrera
★★★★★


23. Daphnis & Chloe by Longus
★★★★★
June
24. The Girls by Emma Cline
★★★★★


25. Big Magic by Elizabeth Gilbert
★★★★★


26. Shrill by Lindy West
★★★★★


27. Housekeeping by Marilynne Robinson
★★★★★


28. White Sands by Geoff Dyer
★★★★★


29. The Bed Moved by Rebecca Schiff
★★★★★


30. By Grand Central Station I Sat Down & Wept by Elizabeth Smart
★★★★★


31. The Invention of Hugo Cabret by Brian Selznick
★★★★★


July
32. Cat is Art Spelled Wrong by Various
★★★★★ – An entire essay collection about cats is kind of a big ask – and this is representative of that ask. The idea for this book was born out of the Minneapolis Cat Video Festival, and thought ambitious, it didn't quite confer the passion and excitement that its authors obviously felt for cat videos and internet-related cat curiosities. It includes essays of the type you might expect – personal stories, scholarly takes on internet-cat culture, and some others I don't really remember at this point. Some stood out, others didn't. This one is definitely for the hardcore purveyors of online cat curiosities.


33. The Argonauts by Maggie Nelson
★★★★★ – The Argonauts is something else. Maggie Nelson looks at a period of change in her and her partner's lives – when she was pregnant, and he was transitioning. The style shifts throughout, at different points addressing her partner, taking on discursive turns, and moments of straight memoir. She looks at her own experiences, discusses her thoughts and concerns about approaching motherhood in a far-from-trite tone, and peppers in gender theory and ideas about love and relationships from various sources. I feel like my own writing can't do it justice – it's just wonderful.


34. The Geek Feminist Revolution by Kameron Hurley
★★★★★ – I wasn't familiar with Kameron Hurley until this book came out and I was swayed by friends' reviews. Hurley's known for her SFF novels, including The God's War trilogy, and for her blog which mixes personal experiences and feminist missives. This collection is a topical array of pieces on internet and pop culture, systemic misogyny in the arts, and personal experiences. Her prose is simple and effective and her arguments clear, though with so many short pieces crammed into one collection there was quite a bit of overlap. She can be incisive, but sometimes her declarative tone felt overbearing for me as a reader; my anger hadn't the stamina to sustain through 300-plus pages. A very accomplished collection, but one that I felt could have been slightly better curated.


35. Skating to Antarctica by Jenny Diski
★★★★★ – A fantastic memoir from the late Jenny Diski. She takes on two moments in her life: the story of her childhood, living with difficult parents, and an adult trip to Antarctica in search of a great white nothingness. Her patented style that loops threads from past to present is mesmerising, and her missives on the simple act of seeing are food for thought in today's camera-ready culture. Diski buoys the reader along with lulling descriptions of nothing happening and chest-tightening tales of the past. One to check out if you haven't already.


36. Sudden Death by Álvaro Enrigue, translated by Natalie Wimmer
★★★★★ – You need only read the synopsis of this book to know that its author has bags of personality. It's off-the-wall yet grounded, something I've been absolutely loving in Mexican literature lately. The story is stuffed full of historical figures – Carvaggio and de Cuevedo having a tense, hungover tennis match; Anne Bolyn's executioner stealing her hair to make tennis balls; Hernán Cortés and his Mayan translator-lover fixing on some conquering – and it's impressively thought-through and wonderfully ridiculous.


37. The Seamstress and the Wind by César Aira, translated by Rosalie Knecht
★★★★★ – Ever read a book in which the wind falls in love? Didn't think so. One of Aira's earlier works, this was recently re-issued by & Other Stories, whose publicist thought I'd like the book's "considered bonkers-ness". She was right. The book follows two narrative strands: the kidnapped boy of a seamstress and his father giving chase, and an author in a Paris café who interjects with his interior monologue on the art of writing. The narrative and meta-narrative fight it out, and the results are, well, bonkers, but considered.


38. Sugarland: A Jazz Age Mystery by Martha Conway
★★★★★ – This isn't a book I'd have read myself – it was a book club pick. It follows three women – musician Eve Riser, a bootlegger's sister named Lena, and a night club singer named Chickie. I didn't find much to love here. There are far too many characters, the characterisation is trite and repetitive, and the entire plot sits alongside the real story where far more interesting things must be happening. Long, built-up chases lead to uninspired endings, and we never encounter any real mystery as suggested in the subtitle. Disappointing.


39. Act of God by Jill Ciment
★★★★★ – RA recent release from Pushkin Press, this little novel follows middle-aged twin sisters, Edith and Kat, whose Brooklyn apartment is overtaken by a mysterious fluorescent fungas. They and an upstairs neighbour's Russian au-pair turned squatter are turned out onto the streets, and mild antics and a surprisingly soft emotional touches ensue. A tad forgettable, but a sweet little story nonetheless.


August
40. A General Theory of Oblivion by José Eduardo Agualusa, translated by Daniel Hahn
★★★★★ – When the Angolan Civil War breaks out, an older woman named Ludo bricks herself into her apartment and fends for herself for 30 years, writing poetry on the walls until a young boy finds her and they strike up an unlikely friendship. That's the synopsis you're given – and there's plenty going on besides, but it's here where this novel's heart lies. I've not much to say beyond that; it was just fine.


41. The Tidal Zone by Sarah Moss
★★★★★ – I'm a sucker for a well-written interior monologue, and this book really did it for me. It follows Adam, a part-time academic and stay-at-home dad whose daughter collapses at school one day. It rocks his life, bringing worries and helicopter parenting tendencies to the fore. Moss's voices are utterly credible and she successfully brews up a potent blend of thoughts, actions, worries, and a personal intellectual life within Adam's mind.


42. Stranger on a Train by Jenny Diski
★★★★★ – This has to sit on the top shelf as one of my favourite books. Diski brings together travel and memoir with these stories of stranger's lives and her own in a mode that's circular but also gives a sense of forward momentum. Moments from her journeys across the US by train harken back to her teen years being treated for mental illness, making unlikely friendships, and reading on London's Circle Line for as many hours as the days allowed. She confers her own story with the benefit of hindsight and of empathy and acceptance, and the shared tales of her fellow passengers with warmth, humour, and understanding. Just a gem.


43. Play it As it Lays by Joan Didion
★★★★★ – I've been describing this one as a great book that I didn't enjoy reading. Didion captures the bleak aridity of the American West, the veneer of glitz that barely coneals the misery and shallowness beneath. Her characters are spiteful, self-serving, careless people, chipping the glamorous sheen away where your F Scott Fitzgeralds would lay it on thick. It reads like a movie, but kicks like a book. I hated it, but it's excellent.


44. The Comet Seekers by by Helen Sedgwick
★★★★★ – Arranged around celestial events, this novel follows comet seekers and romantics Roisin and Francois. It's structurally sound but often focuses its details in the wrong places. Who are these people, beyond believers in ghosts and watchers of celestial events? They're full of interests but lack clear motivation, and fall frustratingly often into immature habits of failed decision-making and simple interpersonal understanding. The implication appears to be that conversation doesn't drive relationships, and it takes a little too long for its subtle complexities to take hold. I was more often impressed by its mechanics than involved in its story though, overall, it is good for a debut.


September
45. The Lesser Bohemians by Eimear McBride
★★★★★ – Grief and joy, lust and love entangle in this sophomore novel from Eimear McBride as a new drama student falls for an older actor. Bad habits form as their lives grow together towards routine and troubled pasts simmer to the surface. It's written in snatches that mirror thoughts, and we don't learn the characters' names until well into the novel, all elements which contribute to this richly told story. (I'll link to my Big Issue review once it's live.)


46. The Long-Winded Lady by Maeve Brennan
★★★★★ – I first read about Irish author and 1960s New Yorker contributor Maeve Brennan in the book Spinster by Kate Bolick. In her columns, Brennan takes you on all kinds of excursions – walks through the city streets, into restaurants, people-watching in cafés as the city tears down its classic brownstones and erects some of the massive edifices we see there today. I've been a long-time fan of Sadie Stein's blog post series for the Paris Review blog called Our Daily Correspondent and this book must be one of its precursors. Both capture the same kind of feelings: nostalgia, irreverence, capturing a moment to create a slice of life that you can put yourself into. Lovely stuff. 


47. Where Am I Now? by Mara Wilson
★★★★★ – You probably know her best as the child actress who played Matilda and the littlest sister in Mrs Doubtfire, but Mara Wilson's been working on a career as a writer, playwright, and voice actress in the intervening years. This memoir in essays takes us through some of her formative years and roles. She comments upon her upbringing and how it differs and converges with a typical middle-class American childhood. I was particularly taken with some of her essays about recent experiences. She writes wonderfully about her love for her sister and the mother she lost at a young age, and of some of the struggles and joy she's had in her life. It probably won't blow you away, but it's worth a read.


48. Negroland: A Memoir by Margo Jefferson
★★★★★ – Best known as a New York Times critic, Margo Jefferson's memoir of growing up in the 1950s black elite is her first foray into the genre. In a variety of styles from the poetic to the academic, she extolls her experiences. She shares knowing winks with other black people, the process of being socialised by her mother, learning to navigate modes of expression at school and in early adulthood, and touches on many of the key figures in emancipation, civil rights, and beyond. It's a striking read and a point of view that's worth seeking out.


October
49. I'll Tell You in Person by Chloe Caldwell
★★★★★ – Chloe Caldwell's personal essays take on events in her life from giving up singing to her relationship with heroin spurred by late-onset acne. She brings a lightness and humour to serious issues and a light hand to sweet pieces about the value of friends, family, and memories. Most striking for me was how much I related with her – largely because she wrote this collection while she was the same age I am now. I also took a lot from the essays about the value of her relationships, as a woman in her late 20s, with women in their 40s.


50. Don't by Jenny Diski
★★★★★ – Diski's reviews from the London Review of Books haven't all stood the test of time since 1995-95 – but many of her dry comments and insights are worthwhile reading til this day. More than that, though, the personal essays in this collection still shine as she takes raw lived experience and peppers it over days spent home alone, writing retreats, and holidays. Many of these pieces read almost as practice for her later memoirs. This collection is currently out of print and probably best reserved for the Diski completists (like me!).


51. The Road Through The Wall by Shirley Jackson
★★★★★ – You're never quite sure what Shirley Jackson is up to until she's finished. The Road Through The Wall tells the story of utopian 1940s suburbia. The men go to work, the women stay home and perform housework, and the children of mixed ages play in the street. Tiny incidents cause big scandals and everyone knows, but remains anxious about, their standing in the local hierarchy. These characters are so concerned with politeness and norms that it overwhelms their fragile personalities, and the sense of impending doom that follows is a pastiche of suburbia that perfectly captured that idyllic moment in history. This is the kind of book I wish I could've read when it was first published.


52. Hold Back the Stars by Katie Khan
★★★★★ – This engrossing and exciting debut novel follows a couple of astronauts – Carys and Max – as they fall through space with only 90 minutes of oxygen in their packs. This is being billed as Gravity meets One Day, which captures its spirit but says nothing of the excellent speculative fiction aspect of the book. As Carys and Max reflect on their pasts, the world-building of a near future that involves young people rotating jobs and countries every third year and societal restrictions based on current anthropological research feels utterly plausible. Though the plot didn't always go the way I wanted it to, there are tons of excellent details and threads that drop out and pick up again in great synchronicity. This is one to pre-order before its January 2017 release!


November
December
Coming soon…