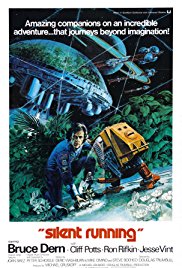 The Classic: Silent Running (1971)
Director: Douglas Trumbull
Starring: Bruce Dern
No Excuses:
Douglas Trumbull's hugely influential debut hit Silent Running is a staple sci-fi for those who know their C3POs from their Johnny 5s. Now earning its 40th Anniversary re-release, the film that introduced us to cinema's favourite drones – Huey, Dewey and Louie – is making a triumphant return in Blu-Ray form.
Synopsis:
In the no-longer-distant future, botanist Freeman Lowell orbits the earth on board the Valley Forge – a vast greenhouse dome which cultivates edible crops to be converted into modern space-food. Waiting to be tasked to return home to earth to defoliate the planet, he and his crew are called upon to destroy Valley Forge's greenhouses and return the ships to commercial use.
The Review:
Trumbull's very own space odyssey returns to cinematic form in this Blu-Ray re-release, with lush forests and cure wildlife set against the infinite backdrop of space. Bruce Dern's passionate Lowell seldom raises his voice above a whisper, but becomes the master and commander of his own little corner of the universe and small staff of willing droids. It's a sparse but touching tale that has lent its message to films as recent as Wall-E and Moon.
The Verdict:
On second viewing, Huey and Dewey became by far my favourite characters. The interactions between Lowell and his loyal worker droids is complemented by stunning visual effects, which in this latest Blu-Ray incarnation are crisp and colourful as ever. It's a delightful 3-hander (mostly) with whom you'll be over the moon (a-thank-you) to spend some quality time.
Favourite Quote:
[As Huey and Dewey perform their tree planting actions in the wrong order:]
"Well, that's pitiful. Pitiful! That's exactly the opposite of what it's supposed to be."
Further Reading for Experts:
Almost Human – a discussion of robots on film over at The Big Picture Magazine.
Animation Comes to Life – Huey, Dewey and Louie feature alongside Wall-E and other animated droids in my long essay on anthropomorphised robots on film.
Silent Running will be re-released on Blu-Ray on Monday 19 November.