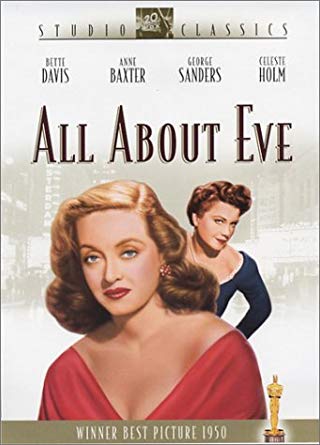 The Classic: All About Eve (1950)
Director: Joseph L. Mankiewicz
Starring: Bette Davis, Anne Baxter, George Sanders, Celeste Holm
The Excuse:
I don't even know how this happened. I started hearing about All About Eve when I studied All About My Mother – twice! – at university, as much of the plot is borrowed in homage. After languishing at the top of my Netflix queue for quite some time, I bought the DVD to celebrate Bette Davis' birthday. Then waited a month. Then, finally, sat down to watch it.
The Review:
The title is fairly self-explanatory – but who is Eve? She's a timid, sweet, and morbidly obsessed fan of Margo Channing (Bette Davis) played by Anne Baxter. After attending every performance of Margo's Broadway play, the star's best friend and wife of the playwright Karen (Celeste Holm) takes the girl under her wing and introduces the pair. Eve quickly adopts the role of PA and, making her presence felt, soon begins to make Margo feel uncomfortable. Using her charm and innocence to tease favours and bend unsuspecting do-gooders to her will.
Entangling herself in the theatre world of mutually beneficial contracts and friendly sharing project sharing, Eve works her way into the inner circle, though she's fooling no-one. A sparkling turn from Marilyn Monroe offsets the drama with a gently humorous vigour, keeping the tone of the film spright and fluid. Though their moves are inevitable, as the story unfurls like a fated red carpet the showbiz bitchiness makes for a rollicking journey into obsessive ambition as the characters cling to each other for balance. It really is a bumpy ride.
The Verdict:
Wowza. Reading about Bette Davis' performances, it's easy to believe that things have been a little overstated. Watching her, though, it's easy to become confounded by her intense swaying, gestures of unleashed fury, and inglorious eye-flashes. If you've never ventured back as far as the 60s (hands up!), the closest comparison I can glean is Marisa Tomei's emphatically ticking biological clock monologue from My Cousin Vinny (1992). The writing is spectacular and the comebacks drip with sincere contempt. It's everything you thought you were in high school with the added mishap of adulthood.
Favourite Quote:
"Fasten your seatbelts, it's going to be a bumpy night."
Further Viewing for Experts:

What are your thoughts on All About Eve?