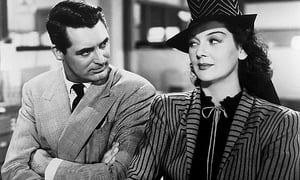 The Classic: His Girl Friday (1940)
Director: Howard Hawks
Starring: Rosalind Russell, Cary Grant
The Excuse:
This one was brought to my attention a few months ago. It's free to watch on LoveFilm online and Netflix instant. I finally got around to it.
The Review:
Fast paced, verbose, and practically fizzling with on-screen chemistry, this absolutely grabbed me. Set back in the days where journalism was a noble profession doing which you could get away with murder, it's a pre-noir comedy with dialogue faster than the Gilmore Girls could ever dream to achieve.
Rosalind Russell stars as Hildy Johnson, a keen journalist and independent woman. Having recently divorced the editor of Chicago's biggest morning newspaper, Walter Burns (Cary Grant), she returns to the paper to inform Walter that she is to marry an insurance broker by the name of Bruce Baldwin.
Walter  quickly launches a full-frontal assault upon their marital plans in order to steer Hildy back into journalism and his arms. With two hours left until Hildy and Bruce depart from Chicago, Walter's scheme snowballs until the laughs are as numerous as the declarations of, "Operator!", and "Hold the wire!"
The Verdict:
Russell and Grant are a perfect match. The blistering speed at which their lines are delivered is matched by the swiftly paced and unencumbered plot. Bruce bounces back and forth like a yo-yo as Grant careens in and out of the story with charisma. If one film turns you on to the charms of Mr Grant, this has to be it.
Favourite Quote:
It's a dead tie between these two.
"Diabetes! I ought to know better than to hire anybody with a disease!"
"Oh, good evening madam. Now listen, you ten-cent glamour girl. You can't keep Butch away from his duty!… What's that?… You say that again, I'll come over there and kick you in the teeth!… Say, what kind of language is that? Now look here you. – eeeehhhh!"
Further Viewing for Experts:
How about the ENTIRE FILM on YOUTUBE?!