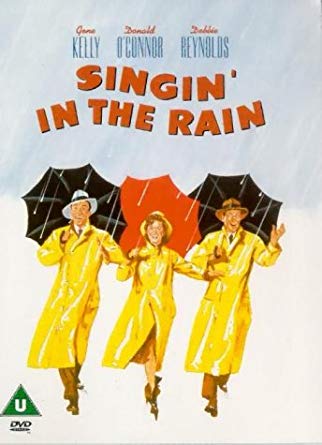 The Classic: Singin' in the Rain (1952)
Director: Gene Kelly, Stanley Donen
Starring: Gene Kelly, Donald O'Connor, Debbie Reynolds
The Excuse: Would you believe me if I said that I didn't realise Singin' in the Rain was a classic? Everyone knows the song, and that iconic scene (don't make me describe it!); but how often does anyone actually recommend this film? If you're me, once, about 6 months ago. Graham is responsible for this one. I also vied to see it at the cinema last month (it was January's Monday Classic) — but sadly I discovered it had been playing after it had already finished.
The Review:
So the wonderful folk at LoveFilm have finally bestowed upon me the technicolour classic Singin' in the Rain… and good gosh is it cheerful! They sure don't make them like this anymore. Just think, the early 1950s audience got this, and we get… a remake of Fame?! Ludicrous.
I don't know about you, but I didn't know the story until now, so let's begin there. Set right on the cusp of the sound era, the film takes place in Hollywood. The protagonist, Don Lockwood (Gene Kelly) is  the industry's latest heartthrob – the biggest new movie star who plays opposite lead starlet Lina Lamont (Jean Hagen) in all the big pictures.  Donald O'Conner is Cosmo, Don's best friend and would-be double act partner. With the coming of sound, Lina's terrible voice and inability to work under the new conditions throw their latest picture into turmoil. To save the film, Cosmo hatches a plan to use Don's girlfriend Kathy's (Debbie Reynolds) voice dubbed over Lina's.  As with any musical, pepper in some catchy numbers and you've got a hit.
If you're one of those people who dislike characters bursting into song and miraculously performing identical choreography, this film is not for you. If that's your thing, though, they've struck gold. Gene Kelly and Donald O'Connor's performances are unrivalled: never missing a beat, their steps perfectly in sync. If you could stick them in 1906 you'd have had the greatest vaudeville show imaginable. It's colourful, it's quick, and it's plain good fun. It does slow a little in the middle – I can't say I was a fan of the film-within-the-film musical number – but the rest of the songs make up for the lag.
When you're watching it, take a look at the dancer in Gotta Dance. Is it just me or she the absolute spitting image of Elizabeth Banks?
The Verdict:
I already knew what I was missing with the musical numbers, having watched them online over and over again. Put it all together, though, and you've got the perfect rainy day movie. Classic!
Favourite Quote: "I cyaaan't staaan' 'im!"
Further Viewing for Experts:
The obvious choice here was Joseph Gordon-Levitt's opening monologue on SNL, where he recreated the Make 'Em Laugh scene on set. Unfortunately, NBC have their evil copyright spies all over YouTube, and there is n'ery a clip of it to be found. Wump wump!
[Image from LoveFilm website.]