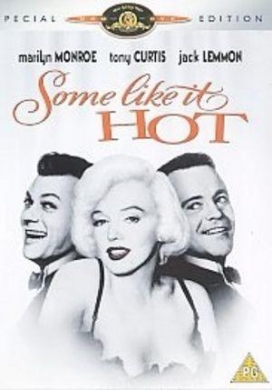 The Classic: Some Like it Hot (1959)
Director: Billy Wilder
Starring: Marilyn Monroe, Jack Lemmon, Tony Curtis
The Excuse:
I have definitely seen the first half before – I can't remember where or why I didn't see the whole thing. It has taken me quite some time to get back around to it. Consider this the first in a Marilyn Monroeathon.
The Review:
Oh, Billy Wilder, you don't half know what you're doing. Having started out as a screenwriter in Germany, he is one of many iconic filmmakers who fled to America before WWII. He began to direct in the mid-1940s, during the film noir era. Set during 1930s prohibition, Some Like it Hot is a throwback to the classic Hollywood B-movie.
It's the tale of two penniless Chicago musicians, Joe and Jerry. Desperate for a gig and making a swift departure after witnessing an altercation, the gents dress up as ladies to become part of an all-female orchestra on its way to Florida. Along the way, they meet Sugar Kane Kowalczky, a vivacious girl who always gets the furry end of the lollipop and longs to meet a gentle millionaire who will have her for his wife. As you can imagine, antics ensue.
In some ways it is amazing how much this tantalizing film gets away with. From the suggestive jazz overtones to Monroe's skin-tight, low-cut ensembles, it's explicit and fun in a way that is rarely seen post-1950s.
The Verdict:
I love a 1930s classic. Infused that Hollywood magic with Wilder's sharp wit and brilliant performances, gin cocktails, and that inimitable wahhhing of jazz trumpets, and you've got me hooked. I also have a sneaking suspicion that Tony Curtis' sardonic Boston brogue was reappropriated by Tom Hanks for Catch Me if You Can. Most excellent.
Favourite Quote:
"Story of my life. I always get the fuzzy end of the lollipop."
Further Viewing for Experts:

Nobody said being a girl was easy…