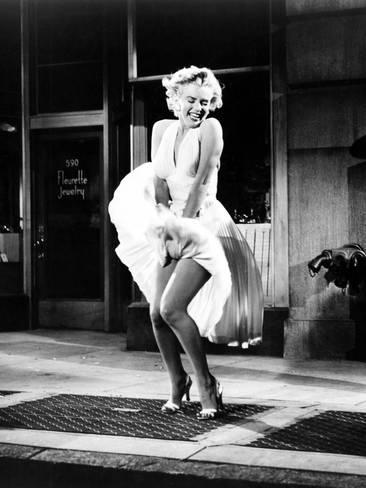 The Classic: The Seven Year Itch (1955)
Starring:
Marilyn Monroe, Tom Ewell
Another Wilder-Monroe collaboration. Tom MacKenzie (Tom Ewell) stars as a book publisher in his late-30s who has sent his wife and son to Maine for the summer to get out of the steamy New York heat. For all of 6 hours he is able to resist the summer temptations of whiskey, cigarettes and girls. That is, until he meets his new neighbour. The golden screen goddess co-stars as the nameless Girl. The gorgeous 22 year-old's bubbly naïveté entrances Tom, innocently goading him into hosting soirees with her. He soon abandons his best intentions and it becomes clear that MacKenzie is more than a little paranoid schizophrenic.
The majority of the film is a two-hander, with Tom and the Girl drinking and finding ways to escape the summer heat. The rest invariably involves Tom nattering away to himself, swinging wildly between convictions of his solidarity and becoming strangled by his paranoia.
It certainly has its memorable moments; however the hour and a half felt like much longer. Once again, Wilder's panache for wit and dialogue drove the film, but it didn't hold my attention. It's not one of my favourites, but is definitely worth watching.
Tom MacKenzie
: What blonde in the kitchen?
Richard Sherman: Wouldn't you like to know! Maybe it's Marilyn Monroe!
Further Viewing for Experts: