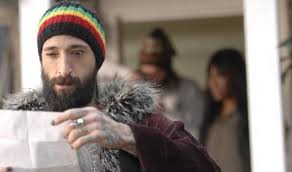 Probably the most exhausting day I've had yet!
Despite predictions of rain, the sun continues its stunning conquest upon Edinburgh, and a few tan lines are beginning to show. Not really, as we're all sitting in the dark enjoying the screenings…
The day began with HIGH School, a comedy in which top-of-the-class Henry (Matt Bush) reconnects with his burn-out friend Travis (Sean Marquette) and do what Travis does best – get high. Soon after, the principal of their school announces that he is mandating a drug test of the entire student body. The only logical conclusion? Everybody must get stoned. Adrien Brody gives an outlandish performance as Crazy Ed, their drug dealer. The chaos that ensues is hilarious, with plenty of laughs peppered throughout. With a straight-laced Michael Chiklis as the school Principle and Colin Hanks getting loose as the cool vice-dean, it's The Girl Next Door with drugs instead of porn.
I also caught Peepli Live, a satire based in India where poverty is rife and farmers begin to contemplate suicide for a government payout that will settle their debts. One farmer decides that this will resolve his problems and announces that he will die for his family, sparking a massive media circus in his small village. Although inspired by statistics of farmer suicide rates, it felt as though something was lost in translation. Peepli certainly had its funny moments, but went on a little too long. Some great gags, though, and full of Indian charm.
The biggest and best part of my day was meeting Pixar! I practically skipped down to the Caledonian Hotel to interview senior animators Bobby Podesta and Mike Venturini. They are a fantastic pair and their passion for animation is outstanding, which is always lovely to see. The interview will be online shortly!
Day 6 includes screenings of The Kid and The Good Heart starring Brian Cox and Paul Dano.
As always, you can find my live updates on Twitter @robotnic.