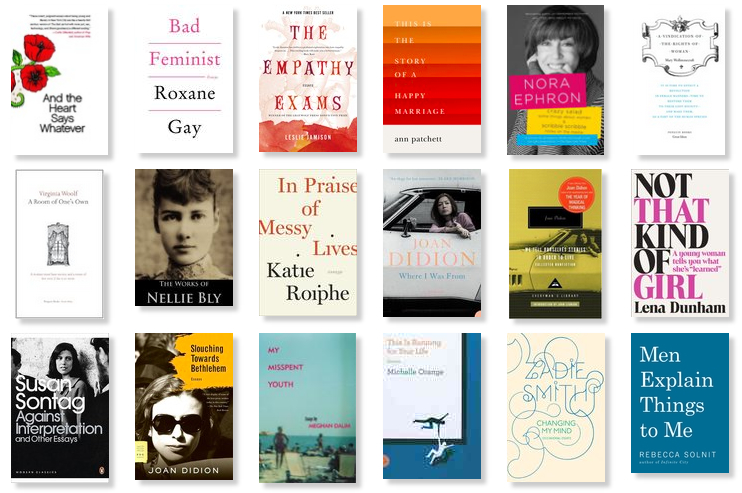 As I announced a couple of weeks ago, I'm embarking upon a project to read collections of essays by women. I'm calling it The Essayist Project.
When I began this endeavour, I wasn't sure what I'd find – or even how I'd go about it. I'm playing it by ear and building an idea about how to go about my mission as I go.
While I already gave a bit of background and some reading intentions, I wanted to elucidate the events that brought me here and give a bit of my essay-reading history.
On Style
First off, I intend to write about each essay collection (or occasionally single essays) in the order I read them. My intention is to make selections from various time periods and to make comparative observations as they appear. Hopefully this way I can build up a picture of the genre over time without trying to create any kind of comprehensive history. (Plus, if that was the goal? I'd never see it through.)
In terms of writing, I must credit Nick Hornby, whose Believer column inspired me to write about my reading experiences in a form beyond the capsule review. I happily swiped my way through the first edition, More Baths, Less Talking on Oyster this summer, and quickly ran out to buy the anthology, 10 Years in the Tub, as soon as I was in a shop (and a country) that stocked it. And, fittingly:
Surely we all occasionally buy books because of a daydream we're having – a little fantasy about the people we might turn into one day, when our lives are different, quieter, more introspective, and when all the urgent reading, whatever that might be, has been done."
– Nick Hornby, More Baths, Less Talking
My Reading History
So, what have I read so far? Until this year, mostly comedic memoir, to be honest. I had a Chelsea Handler binge several years ago when I was getting back into reading. I tore through Augusten Burroughs and David Sedaris' offerings over the course of a year or two. Later, having run out, I read and quite enjoyed Tina Fey's Bossypants at the time of release, and slogged through Mindy Kaling's disappointing Is Everyone Hanging out Without Me? Perhaps this is unfair, but so few humour memoirists can come near Augusten Burroughs and the beloved David Sedaris. Well, all except Nora Ephron, whose two books I Remember Nothing and I Feel Bad About My Neck I devoured in under 48 hours in 2012. She is, for me, a master of the form. (Even if Wallflower at the Orgy is a bit impenetrable for philistines like me who dgaf about the 70s.)
After realising I'd only read a handful of non-fiction books in 2013 – most of them memoir – I stepped up my game a bit. Susan Orlean's writings and Gay Talese's Frank Sinatra Has a Cold were a formative read, and led me into a huge binge of the Longform podcast, which in turn introduced me to tons of contemporary reporters and essayists.
I picked up Meghan Daum's My Misspent Youth through a recommendation of an internet followee of an internet followee, and raced through her collection, too. Her strength of character and deprecating brand of nostalgia puts you right into the moment. I especially related to her story of a long-distance relationship in the early AOL era of the internet. Though 10 years removed (in time and, more significantly, in technology) from my own early days online, so much was familiar. Unfortunately her LA Times column put me off – tis a far different job to be paid for your opinion than it is to be paid to have opinions, and lately she's fallen into the latter camp. Nevertheless, I'll keenly await her coming book The Unspeakable.
Then it was on to the great Joan Didion. After being entranced by On Keeping a Notebook, Slouching Towards Bethlehem was the revelation that everyone says it is. To wit:
We were on her terrace by the sea, and we were finishing the wine left from lunch, trying to get what sun there was, a California winter sun. The woman whose husband was born the night the Titanic went down wanted to rent her house, wanted to go back to her children in Paris. I remember wishing that I could afford the house, which cost $1,000 a month. "Someday you will," she said lazily. "Someday it all comes."
– Joan Didion, 'On Keeping a Notebook'
This year I've also taken in Rebecca Solnit's Men Explain Things To Me – a factual, sharp and tactful take on casual, learned and performed misogyny in many aspects of life. For the original essay, she's credited with coining the term "mansplaining" – which I'm sure we'll all continue to use for longer than we'd wish to. It's a fascinating, deeply angering and often chilling read. You can read the interview that led me to it here.
Finally, before beginning this quest in earnest I read Marina Keegan's posthumous hit, The Opposite of Loneliness. Here's my review.
First Up
I've begun reading, so now all there is to do is to start writing. As mentioned above, I'll be tackling each one in order. Look out for my thoughts on Bad Feminist by Roxane Gay and Emily Gould's And The Heart Says Whatever  in the coming weeks.
Do you have any particular reading challenges on the go?
Got any recommendations for me? Questions or comments about the project? Drop me a comment below or tweet me with your thoughts!