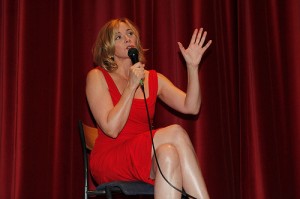 Meet Monica Velour is a new take on the mature American woman role for Sex and the City girl Kim Cattrall. Visiting Scotland on a special guest appearance to the Edinburgh International Film Festival, I caught up with her to discuss the role. Transforming herself into ex-1970s porn star Monica Velour's self-ego Linda Romanoli saw her gain 20lbs and peel back the layers of a lady of the late-night movies who is past her best. "You really have to be on your toes in independent films. It was an amazing opportunity to do a transformation that I've never had a chance to do before."
Pursued by Tobe, a compulsive high-school graduate with a penchant for 1970s porn and its biggest star, Monica Velour. Making a pilgrimage across the Midwest to meet her at an Indiana strip club, a stark introduction that revelas the reality of her sad existence.
"I started to create this character with Keith [Bearden, director] from the bottom up. The way she speaks, the way she looks, the way she talks, her body language, what her life has been like before – really creating a life other than what was in the script. She smokes, she does drugs, she's had this kind of life, she's burned out. Everything about that so informed what we were going for in terms of this woman's given circumstances."
Though her celebrity status has long since faded, Tobe's feeble pursuits marry the downtrodden with the downright weird, lending a smattering of to comic moments to proceedings.
Despite some tough subject matter, the film is imbued with a real feeling of heart. "The humanity of the story was not that she was a porn star or a stripper or any of that – it was that she was a mother fighting for the custody of her daughter. She's got great humour, a dignity and strength."
Cattrall's performance is the highlight of the film, festival fodder with clever asides but not quite enough oomph to push it into cinemas. Now released on DVD, the best way to Meet Monica Velour is at your rental website of choice.
Meet Monica Velour is available to buy now on DVD.