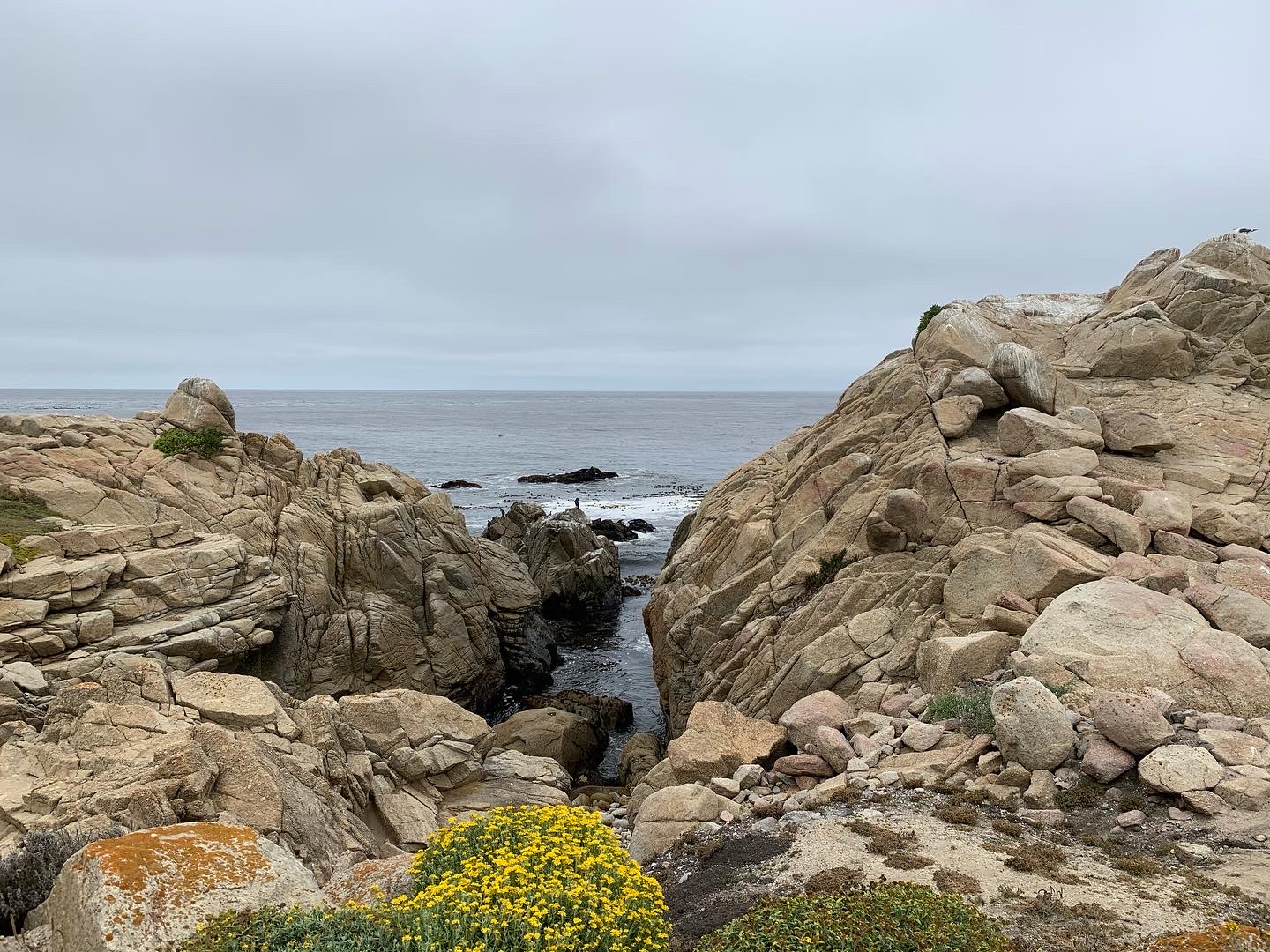 Hey, friends.
Sorry it's been a few weeks since I wrote to you. I kept intending to, but these past two weeks I've been dogged by a recurring neck-and-shoulder issue. Another personal outcome of what Leah Finnegan is calling The Saddening. It appears to be on the mend now. Although I've been trying to do 3-4 hours a week of yoga all year, it's been too hot to walk and I've taken to sitting on the couch a lot more than I used to. There used to be more errands to run, more reasons to walk a few hundred steps before sitting in a different chair. Maybe those smartwatch alerts that bully you into getting up to walk around are onto something after all.
How are you getting on? I feel a little more refreshed after finally getting out to the Monterey Bay for a wee day trip. My husband golfed and I took a walk on 17 Mile Drive and wandered around town for a few hours. It was a real salve.

---
SPACES & PLACES
Jean Hannah Edelstein, like me, lives in the US while her family lives in Glasgow, Scotland. "We've had the privilege of seeing immigration as a force for good in our families: for opportunity, adventure, variety. But now, we're reconsidering our choices in ways that we've never imagined we would." Phewph. We were a little more realistic, but that doesn't make it any easier.
Following a conversation with a friend about liminal spaces and "edgelands" (a concept from environmentalist Marion Shoard), I revisited Jenny Odell's how to do nothing from 2017. It's about rose gardens, public space, ways of working, and birding. She adapted it into a book shortly thereafter, though I haven't read it yet.
This one, from By Caroline Randall Williams, is very powerful: You Want a Confederate Monument? My Body Is a Confederate Monument.
America's First Female Recession. We knew from the beginning that women would be disproportionately affected by any recession/depression caused by this pandemic – but the numbers in this piece are just nuts. "In three months, women lost a decade's worth of economic advancement."
You may recall that my husband and I watch a lot of baseball. Plagueball has been… weird… but there was a little joy in it last week. San Francisco's stadium is right on the water at McCovey Cove, and several people hang out in kayaks hoping to catch balls that are hit out of the park over right field and into the water. There's one guy known as McCovey Dave who has caught the most "splash hits". Last week, he caught Mike Yastrzemski's first splash hit, taking a dive himself in the process. So the SF gate wrote a feature on him.
An Elegy for the Landline in Literature by Sophie Haigney
When things feel out of control, I like to take a longer view of history. If you do, too, check out this story about a 390-year-old bonsai tree that survived an atomic bomb. "One of the things that makes it so special is, if you imagine, somebody has attended to that tree every day since 1625," Sustic said. "I always like to say bonsai is like a verb. It's not a noun; it's doing."
---
WIT MONTH, IS IT?
August is Women in Translation month – or #WITMonth – which I can't help reading as "whit month?" ("Whit" being our charmingly slack-mouthed way of saying, "What" in Scotland, in case you aren't following.)
I don't generally prioritise reading to theme, but since I only had a couple of books by women in translation on my shelves I might as well give them a look. I've started A Girl's Story by Annie Ernaux, a French author whose work has been recently republished by Fitzcarraldo Editions. Her style of memoir is very insightful. She often scrutinises her memories and diaries side-by-side, interrogating them for key differences. Here, she refers to her past self in the third person and her present self in the first. She also references time and place alongside popular culture, making sights and sounds and the cultural ephemera in the air part of the atmosphere. (People loved The Years for this, I'm preferring A Girl's Story thus far.)
Next on my TBR is Garden by the Sea by Mercè Rodoreda, a Catalan author. I bought this after Michael replied to a previous Reading Week saying they were enjoying it. Thanks, Michael, for the tip!
Since then I've also bought another of Rodoreda's novels from Open Letter Books. They're offering 40% off all of their titles which are written by and/or translated by women. I went for:
Four by Four by Sara Mesa, translated by Katie Whittemore
War, So Much War by Mercè Rodoreda, translated by Maruxa Relaño & Martha Tennent
The Things We Don't Do by Andrés Neuman, translated by Nick Caistor & Lorenza Garcia
I can also recommend Alejandro Zambra's The Private Lives of Trees, translated by Megan MacDowell.
In related, here's an interview with Christina MacSweeney, who has translated all of Valeria Luiselli's wonderful work.
---
ON MY NIGHTSTAND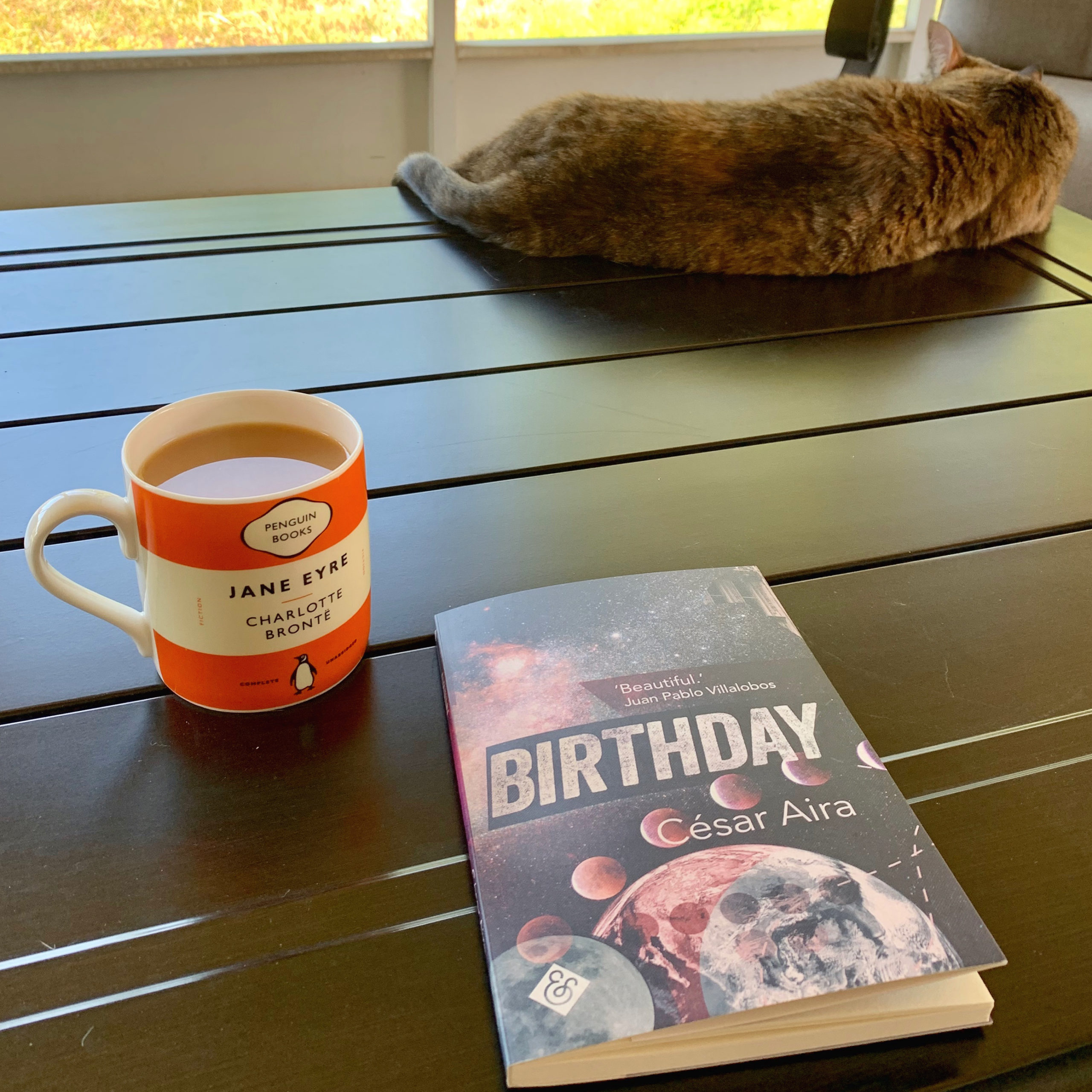 I've read loads this past month, but feel I lave little to show for it. This is, perhaps, partly because I started a reading journal where I can scribble down thoughts and have arguments with myself. It's been fun. We almost always agree. But it does reduce my urge to yell about books publicly a little.
Many of my recent reads have been slim little volumes. A few highlights? I loved Birthday by César Aira, translated by Chris Andrews. He wrote it on the occasion of his 50th birthday, he's now 71. I was expecting a novelita but it's a memoir about writing and gaps in knowledge. It reminded me a little of Patti Smith's Devotion, in which she travels and elucidates how she works. Similarly I quite enjoyed Zadie Smith's Intimations, a miniature collection of 6 essays written during lockdown. One comprises mostly of character vignettes, others take on various aspects of pandemic life.
Finally, I also picked up a reissue of Dorothy Strachey's (also billed as Dorothy Bussey) Olivia – an autobiographical novel about an English schoolgirl who goes to French finishing school and becomes infatuated with her teacher. The new edition has a touching introduction from André Aciman, who credits the book as his inspiration for Call Me By Your Name. It was a sumptuous read, very impassioned, and surprisingly dramatic for its length of precisely 100 pages. I really enjoyed it.

---
TIL NEXT TIME
Your turn! How's it going? What are you reading? Leave a reply or go ahead and tweet me.
Stay safe,
Nicola x