Swingles is a screenplay that is currently in development. Zach Braff has announced that he is to direct and star (in a supporting role) in the film alongside Cameron Diaz. These are my thoughts on the spec script.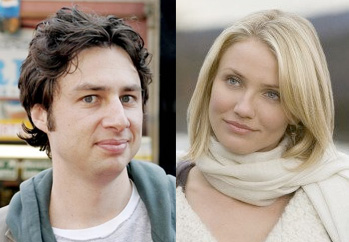 Hats off to Duncan Birmingham, as he has truly outdone himself with this one. It's He's Just Not That Into You with a dash of I Hope They Serve Beer in Hell (I don't even have to watch that one), wrapped up in the fuzzy blanket that is the safe and predictable rom-com formula. Pepper in the words, "Sexy", "Cute", and "Awesome" every time you introduce a nameless caricature of a character — all in various stages of undress — and what do you get? The recipe for a dinner-and-a-movie date film.
The idea behind this film is that you can treat your audience in the same way as you do your female lead. Introduce Max and his wingman Nathan, who love to barhop and pick up chicks. Enter Jessica and Sophie, a pair of New York thirty-somethings complete with shrinks, unfavourable relationship histories and insecurities by the bucketload. It's not long till their worlds collide, and Nathan and Sophie hit it off. In classic rom-com style, the two wingfolk are left to a match of "who can detest and outwit the other more in the space of five minutes?"
When Nathan and Sophie unexpectedly get together, decide to marry within 4 months, then announce that Sophie is pregnant, Jessica and Max are left to play the field alone. Or are they? Max quickly transforms into Justin Long's character in He's Just Not That Into You, and Jessica returns the favour. Realising that they make great wingmates, Jessica and Max play the field, shapeshifting their personalities to fit their prospective partners. Hence, Swingles. They soon come to learn much more about each other, and themselves, than they could ever have imagined. Can you guess what happens next?
Swingles is your typical Hollywood fluff, replete with dude-bro gay jokes, misogynistic trash-talking, and cheesy… pardon me, "romantic" quotations of The Accidental Tourist. Duncan Birmingham has clearly taken a great deal from his multiple viewings of When Harry Met Sally and re-runs of Entourage.
With Zach Braff on board, I have no doubt that it will be a massive hit.
[Image from slashfilm website.]