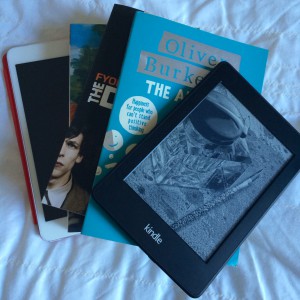 It's mid-August already and it seems that Scotland has already had the best of its summer weather.
However, on Monday I'm off to California for 3 weeks and the valley gets hot hot hot. Right now it's in the region of 40C / 100F.
With that in mind I've been out buying t-shirts and lighter layers to save myself from 20 days of the same orange t-shirt and my only well-fitting pair of shorts… and that gave me some thinking time to decide what I'll be reading on my trip.
I'm not big on your typical summer reading beach reads – but I do have some tips for you today.
In Progress 
Having a Kindle makes bringing books almost superfluous, but I will be bringing 2: Homer's The Odyssey and Ovid's Metamorphoses. I'm reading these throughout the month as part of a Classical Literature Readalong. I'm pretty far behind already but will catch up once I'm settled there.
I'm also currently reading The Antidote by Oliver Burkeman for #NudgeYourWorld – for which I've been flitting between audiobook and physical. It's a great audiobook – Oliver Burkeman narrates – but being able to go back to the paperback copy is great for note-taking purposes.
For the Journey
Apart from the above, I have another novel on the go which I'm looking forward to digging into on the plane: Gillian Flynn's Gone Girl.
I've read a few chapters and am really enjoying it so far, but between all the assigned reading I have on and wanting to save it for the journey, I imagine I'll get through most if not all of it by wheels down Monday evening.
I'm also a voracious iPad reader – as you'll know if you've ever taken a look at Reading Week (subscribe here!).
First up for the iPad, I have a New Yorker subscription with the latest issues downloaded. The New Yorker archive is open for the summer months, so I've also saved a bunch of profiles and longform articles to Pocket (my read it later app of choice) to work my way through.
Another subscription service I have and need to get a move on reading more from is The Atavist. It's longform journalism – the kind of thing you'd download as a Kindle Single – carefully curated and beautifully presented. The latest story is A Thousand Pounds of Dynamite.
After that I'll be scouring the rest of my Pocket haul, which mostly consists of links I've picked up via Twitter and haven't gotten around to reading yet.
On Deck
And when I arrive? Well, I'm not entirely sure yet… but these are all on my Kindle waiting to go:
In fiction:
Trilobites and Other Stories by Breece Pancake
Friendship by Emily Gould
This One is Mine by Maria Semple
In non-fiction:
The Empathy Exams by Leslie Jamison
While Girls by Hilton Als
While I'm there, I also hope to pick up a copy of Bad Feminist by Roxane Gay, which came out this week. I'll try to make it my honest book purchase of the trip. Honest.
What are you reading this summer?