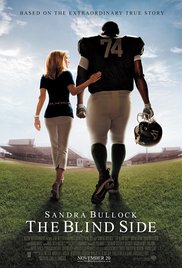 Watching and reviewing a film after it has received so much acclaim and a contested Oscar win (alongside a Raspberry Award for All About Steve) is a tough business.
The Blind Side has been lauded as being an American movie with all the sickly sweetness of a Hallmark card, but that analysis doesn't even begin to scratch the surface of this film. A number of delicate balances are held in place throughout this emotionally-charged and culturally complex film; a fact that doesn't seem to have gained much attention.
Based on a true story, The Blind Side is the story of Michael, or "Big Mike" – a burly, close-mouthed African-American. The 18 year-old child of 12 has a dark past and troubled history, but no-one wants to get close enough to find out what's going on behind his gentle-giant demeanour. Admitted into a private Christian school alongside a friend, the faculty take a chance on him but their belief in him, it seems, is limited. Enter Leeane, your atypical Southern belle with a strong disposition and a knack for getting her own way, and you have a matriarch on a mission.
Accepted into her home, and eventually her family, Michael soon becomes a successful student and sought-after American football player. Though it follows the model of a life-changing tale of overcoming adversity on the path to success, there is something of a silent voice of reason keeping its believability in check.
Bullock's performance is rightfully awarded, playing Leeane with a nuance and precision that is rarely seen in films that feature dichotomies of race. For much of the film Michael is more interesting, but it is Leeane's strength of will and the delicate vulnerability beneath her disposition that you walk away remembering most.
Though overlong, the film hits its points of tension with precision and grace, complementing the characters' relationships and struggles. The film really tests your belief in Leeane, but you're forced to stick by her whether you want to or not. Thought he film is never explicitly told through his eyes, we walk alongside Michael every step of the way.
The issues of race and religion are not contrasted beyond their natural importance, sparing us that saccharine Hallmark experience the synopsis of this film implies. These themes are comfortably present but not overt and never given undue importance within the narrative.
Although this is not a new story, the subtle grace with which it is told and the myriad of fantastic performances of all of the family members makes it a surprising and memorable film.