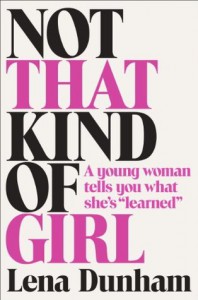 My hopes and expectations are so tied up with my feelings of this book that this cannot be considered a review. A response, if you will.
A Little Background
This book was announced to much critical whining. There were the usual attacks on Dunham's privilege. The scales of publishing's zero-sum game were being tipped in her favour with a $3.7 million advance. In short, the mainstream howled.
It did so in ways that it did not, may I point out, about Aziz Ansari's similar $3.5 million advance. Fortunately, Elisabeth Donnelly of Flavorwire has outlined this so I don't have to.
The book is no exception. Infinitely more has been written about Dunham than one could feasibly read; and almost none of it is as interesting as her work itself.
We've seen her try to take and respond to criticism and it has, at least in one example, failed. (I refer here to the charges of the show's lack of diversity followed by the show's conspicuous addition of a black boyfriend.) But has also reminded us that, as one woman, she and her work should not be burdened with the task of being all things to all women.
What I Expected vs What I Found
All this is to say that my hopes were that, being the writer of Girls, Lena Dunham would have powerful things to say. You know, the whole "a voice of a generation" thing.
Sure, her show portrays a microcosm of New York life. But this is the same reason why I expected more from her: something to elevate her in the current pool of celebrities writing half-assed humorous memoirs.
What happens here is that she reaches for a form and its pioneers and fails to bring it to a newer degree of relevance. To incorporate some insight into what it's like to be a young woman today. Instead it incorporates what Lena Dunham has learned about what it's like to be Lena Dunham today. And that should be far more engaging than it is.
As it goes, Not That Kind of Girl is not a great example of the form. Her levity and descriptions are romantic and fun, but they aren't backed up with anything I could grasp about what she's really "learned". That word, "learned", by the way? It appears just so on the cover – yes, in quotation marks – making it seem discomforting, discrediting. There's something really foreshadowing about that.
The same feeling creeps up again in the introductory chapter, in which Dunham writes a disclaimer: "I'm not a sexpert, psychologist or dietitian." That she has to do this, or feels she does, discredits this book which is allegedly devoted to the female experience. We ain't here for the dietary advice, luv. Its discreditation begins here and mars what follows all the way down.
I can't blame her for largely avoiding the topics for which she's discussed, to an extent. Her treatise on public body shaming (Sex Scenes, Nude Scenes, and Publicly Sharing Your Body) made me throw my hands up in relief. THIS is what I'd been waiting for, hoping for, bought this book for. Yet it's so short. It smacked of the same feeling as the black boyfriend scenario. When charged with it through art, she's not that great at responding to criticism. But this also gets to the crux of my feelings about the book.
What draws me to this book is not the possibility of Dunham's responses to think pieces and charges against her work. I don't want a response, I want to hear how those actions come about. Maybe that's unreasonable, but these are the experiences that make her stand out and which make her stories so bold and relevant to under-catered-for women in their mid-twenties.
I wanted a sniff at that honesty she has in discussing her approach to her work and her process that she brings so beautifully to interviews. Here's a brilliant example from the New Yorker Festival. Bringing this to a book would hold enormous value for readers who're looking for something like Girls in the literary sphere.
The Book On its Own Merits
Now here's where I try to move beyond what I've said and judge Not That Kind of Girl on its own merit.
It fits into the celebrity non-self-help self-help genre pretty damn comfortably. Dunham writes with verve, kicking up old tales from her past that many fans will probably love. She tackles sex and sexual abuse, the pains of growing up, and warm stories about her friends and family.
While those moments in time are well represented and sometimes entertaining, the writing was still threadbare. Many of the essays fail to reach a satisfying conclusion. Kickers and big reveals were plopped into the page as a final sentence, getting out of town without coming to a pertinent point. This made for a frustrating reading experience.
There's also a lot of filler here. It's that blog style book thing they've done with the likes of Alexa Chung and Lauren Conrad. It has an annotated email, several listicles, and even a What's In My Bag.
While the presentation is thoroughly and beautifully presented with chapter illustrations and tons of tiny details, that zine feel detracted more than it added for me. Rather than selling Dunham on her strong points, it creates a cutesy kitschy feel that feels infantalising.
Have you read Lena Dunham's Not That Kind of Girl? I'd love to hear your thoughts in a comment below, or you can tweet me @robotnic.
More in The Essayist Project:
Click through to read more articles from The Essayist Project series.
Buy the book:
To support The Essayist Project, please consider purchasing Not That Kind of Girl using these links:
Amazon | Book Depository