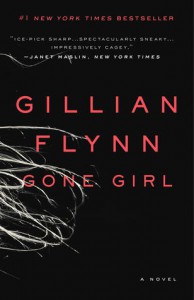 It's been getting all kinds of hype for about 2 years now, and David Fincher's film adaptation is on its way, so it was high time I read Gone Girl by Gillian Flynn.
The book follows a couple – Amy and Nick – upon Amy's disappearance from their home under suspicious circumstances.
This was about all I knew of the story, and all I'll reveal here. One minor confusing factor I'd heard was that the audiobook is narrated by male and female voices. The chapters flip back-and-forth between Nick's first person narratives and Amy's diary entries. This has been once of my favourite plot structure since I read About A Boy aged 13 – so it was already off to a great start
Gillian Flynn writes with verve, and plenty of nods to a clever reader. Much of it is there to flatter us, really. References to noir – check; grammar winks – check; the double-whammy of a married pair of writers – check. But hey, I love that shit.
Flynn knows her characters well – and one must with the intricate level of detail in this plot. It's a mystery and a character study rolled into one, with plenty of twists and reveals to keep one engaged and guessing. Like George RR Martin, she masterfully flips our like and dislike of particular characters. Better, even, as she transitions villains into sweethearts in a matter of pages.
Though I'm not a big reader of crime, at times it flaunts the genre at its most indulgent – often to frankly silly effect. These will be the kinds that Fincher will likely work out, unless he's going for something altogether more richly ridiculous than his usual fare.
Despite its occasional wanderings into the absurd, Flynn's delicate thread of marital animosity and voices of hatred and glee are expertly sickening, and one passage about the myth of the "Cool Girl" is one of the best things I've recently read.
Ultimately, Gone Girl is a quick and thrilling read, a cut above. Perfect for summer if you haven't picked it up yet.