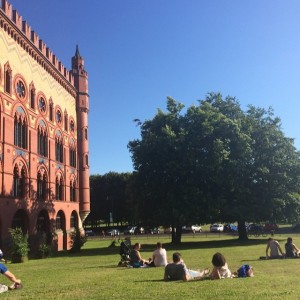 Happy July! The weather has been glorious here in Glasgow – which means plenty of excuses to sit outside in the sunshine when I really ought to be working.
How have you been enjoying the summer weather?
–– ARTS & CULTURE ––
Richard Linklater's 12-years-in-the-making Boyhood is out now and it's wonderful. Here's a nice review on Little White Lies.
A Prisoner's Reading List. 1,046 books over 10 years – and none since.
Alyssa Rosenberg takes on that post-Elliot Rodgers debate. Some great film and gendered culture analysis here. Ann Hornaday v. Judd Apatow and how culture shapes our expectations of sex.
My friend Milo's Week of Trying Not to Try with Canongate Books. Their #NudgeYourWorld series challenges readers to live by the book for a week. I'm next.
–– DIGITAL ––
Is email newsletter writing the new blogging? Joanne McNeil suggests as much in this lovely piece: Tiny Letters to the Web We Miss. (Incidentally, I've been signing up to them like a crack fiend of late.)
Speaking of newsletters, hows about I recommend one per week? Here's the first: Today in Reassurances. I shan't explain; see for yourself.
How to be a smarter emoticon user – and further studies on emoji use (with a misleading headline).
A dude trolled Kickstarter with plans to make potato salad. He's raised in excess of $70,000. One New Yorker writer says he should keep every penny.
–– &c. ––
My friend Holly discovered a ghost town and took some really striking photos.
I want a Mod (90s portfolio for the 10s) sooo bad. About the design. Where to buy. Wish I had a spare £160 right now for the Writer Mod in Toffee Tan. Beautiful.
What have you been reading / coveting this week?