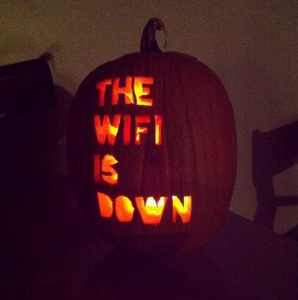 Happy Hallowe'en!
Worry not, there's no kitschy spooky shit here.
I spent last weekend in London and much of the week working til dark, so here are a few Internet snippets and a handful of awesome podcasts links for you to enjoy.
–– ARTS & CULTURE ––
An Isaac Asimov essay on creativity has been unearthed and published for the first time. He asks, "How Do People Get New Ideas?"
The author of a One Direction fan fiction that got 1 BILLION hits on Wattpad got a 3-book deal and a movie deal. Not bad, eh?
Race the Tube: Glasgow Style. Nevermind the guy that beat the Clockwork Orange from Buchanan Street to St Enoch Square (a 58-second ride); this dude has the right idea. (Okay spoiler alert it's a Tennant's ad. Clever, but.)
–– DIGITAL ––
It's been a podcasty week, so it has.
Maria Popova on the Tim Ferriss podcast. He's kind of a blowhard but I'll deal for the nerdy work process chat.
Mallory Ortberg on Reading Lives. She reads in the shower?!
Conor Friedersdorf of The Atlantic also has some tips for binge podcast listening.
Serial is quickly becoming one of my most anticipated podcasts each week. (Mine and everyone else's.) Although I have to agree with this point…
The problem with Serial is the guy sounds perfectly content to hang in jail so the stakes are low, low, low.

— Jessica Stanley (@dailydoseofjess) October 27, 2014
–– ON PAPER ––
This week I finished reading Under the Skin for tonight's book club. And oh, how it deserves a faithful adaptation. It has themes and character development and everything! I may even get around to his new book soon.
Also, please make this happen.
Who will pay me to edit "Best Internet-Era Nonfiction 2004-2014," an anthology feat. digital & print work? I pledge to include a token man.

— ann friedman (@annfriedman) October 28, 2014
–– &c. ––
An uncomfortable read about the trial of skinniness in the New Inquiry: You're Right, I Didn't Eat That.
Canadian radio journalist Jian Ghomeshi has had some serious allegations brought against him this week. I've enjoyed his work on Q for some time. Now 8 or 9 women have come forward. One of his friends was pretty blunt about it, saying: "Jian Ghomeshi is my friend, and Jian Ghomeshi beats women".
What have you been reading this week?