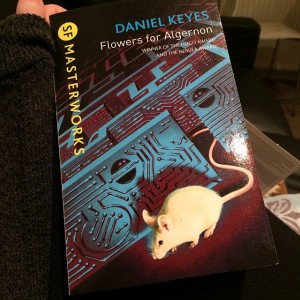 It's a day late this week, but here it is – Reading Week #4!
The holiday weekend has finally come around, and boy did I need one. Here's what I've been reading over the past week.
Sign up here to get Reading Week as a free weekly newsletter.
– ON ROBOTNIC.CO –
I finally finished my March book reviews!
– ARTS & CULTURE–
 Sadie Stein's column on the Paris Review is the best. Here she is On Knowing Things and discussing Curious Punishments.
On Internet Slang, IMHO by Teddy Wayne in the New York Times. Not a great title, but a nice look at our truncated online speech & OMG soooo much hyperbole I can even.
Brain Pickings picks out Dorothy Parker in a rare reading, An ode to the unflinching comfort of the bed.
Two more great film posts this week: Tom Shone's Guardian follow-up to Matt Zoller-Seitz's piece on whether film critics should care about film technique. They should, and they ought to call Hollywood out on its bullshit, too.
This utterly fascinating piece on the female body in 3D. File under: unattainable standards of beauty and where to find them.
— DIGITAL —
The future of Facebook is apps – mostly non-Facebook ones. Fine with me!
And Five Little-Known YouTube Features – pitched at marketers, but will be useful for some of my BookTube pals
— LONGFORM / JOURNALISM —
Molly Young, from early 2013: How Did Susan Miller Become the Go-To Astrologer for the New York Fashion Set?
— &c. —
It's still BEDA over on Tumblr.
Yesterday I finished reading Flowers for Algernon – and am rather undecided.
Currently reading: MFA vs NYC, The Man Who Could Walk Through Walls (short stories) by Marcel Aymé
Happy Easter, folks! Enjoy your weekend.