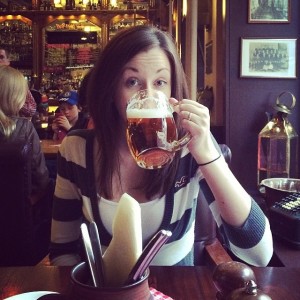 That's me enjoying a wee stein in Prague. It was a pure beaut. (Prague, not the beer… the beer was good too.)
I've had a marvellous week off, taking in the sunshine and many, many sights.
I've also had some time to write some blog posts – so enjoy the ones below and check back for more over the coming weeks!
— ON ROBOTNIC.CO —
Is X just a poor man's Y? – on niche interests going mainstream, and why critics are lazy.
I washed out hard during BEDA (Blog Every Day April), but finished strong with daily travelogues from Prague. Click to read days One, Two, Three, Four. Pictures are on my Instagram.
Did I mention that I wrote a book? Due to a publishing quirk, it's on sale now! And you can read yesterday's Twitter chat about it, #FanWeek14
— ARTS & CULTURE —
Dumb Insolence  – David Cairns on the sound in Chaplin's late "silent" movies.
"It's worth recalling that the term "slapstick" originally described a sound effects device designed to add impact to mock blows exchanged upon the stage: live dubbing. Maybe there's no Jacques Tati without Chaplin's use of sound here, and maybe there's no Fellini without his use of music, alternately smoothing over or pointing up the bold shifts in tone from comedy to pathos to melodrama."
"Anthony Lane Profiles James Franco" (or, More Reasons To Love The Hairpin)
— DIGITAL —
Meanwhile, in Sweden… This Woman Cooks Everything in a Coffee Maker. The cat eating crimped meat made me laugh. And of course she got a book deal.
Have we stopped hanging out on Twitter? Please don't.
4 Years, 10,000 Hours and My New Definition of Success – my college friend Kirsten on hitting a freelance milestone. She's great, and we've hit very similar trajectories.
& in related: Most People Want To Work On Their Own (And It's Not Just a Dream)
— LONGFORM / JOURNALISM —
Roxane Gay on The Trouble With "Women You Should be Reading Now" Lists. Hint: it's about diversity.
What happened when a journalist stopped using email for one work week. File under "no surprising results". (Except: 1. Ha – yes, people would think you're crazy; and 2. Really? Does anyone else get that many emails? I get, like, maybe 15 per day.)
— & c. —
Currently Reading: The Woman Upstairs by Claire Messaud & Behind The Beautiful Forevers by Katherine Boo
You can subscribe to Reading Week by email for free – just click here.
What's been making you happy this week?