Happy Friday! Welcome back!
Thanks for bearing with me for these past couple of weeks. It's been overwhelming. I've been calling on a lot of stored up resilience, and the existence of words like agathism, as pictured above.
The arrival in California came with a bumpy landing. Two of our suitcases didn't make the connection, and a box that I shipped arrived torn to shreds. All but one of my favourite childhood books got lost in transit, along with a bunch of my favourite and signed editions. It was rough.
But I've established a new business, put a deposit down on a car and am working on getting my new life on track here. As with all of my big life moments so far, I'd intended to journal or blog or write about the experience but, in the moment, there's so much admin and so many miniature anguishes to deal with on a moment to moment basis that I haven't succeeded on that front. Some things are better viewed in a longer lens.
All this to say, I'm back, and life is getting there, and I hope you're well too.
So, how's about some links for your weekend?

–– SUMMER'S END ––
The Guardian reports Gloom in Hollywood as reports indicate top blockbusters lost $1bn this summer. I think the massive shrink in my personal average summer cinema trips is indicative of this trend.
In related, Manhola Dargis on The Race to Save the Films We Love – covering a topic that the industry panicked about 5 years ago. I hope they're making good progress.
I sometimes wonder how much I'd charge, or how much people would be willing to pay, for my services if I were a man. Then this week I learned that the Gender Wage Gaps in the UK Arts Sector is wider than the national average. So, probably more.
On the brighter side of Scottish arts and culture, my friend Rosie covered some lovely and surprising Women's histories in Glasgow's place names.
De-Monetization began in 2012, but YouTube only began notifying creators this week. Does that make things better? Or does it make things worse? Super inside baseball, but, ooft, yeah.

–– BOOKISH DELIGHTS ––
Eimear McBride: 'Writing is painful – but it's the closest you can get to joy'.
I'm super keen to read Sons & Daughters of Ease & Plenty soon, and really enjoyed The Saturday Rumpus Interview with its author, Ramona Ausubel.
In a recent Bookends feature, Leslie Jamison and Ayana Mathis answered the question, Why Do Debut Novels Command So Much Attention?
Speaking of debuts, Katie Khan's new novel, Hold Back the Stars, is forthcoming. She wrote this charming little piece for Penguin about choosing the perfect name for a novel.

–– RECENT READS ––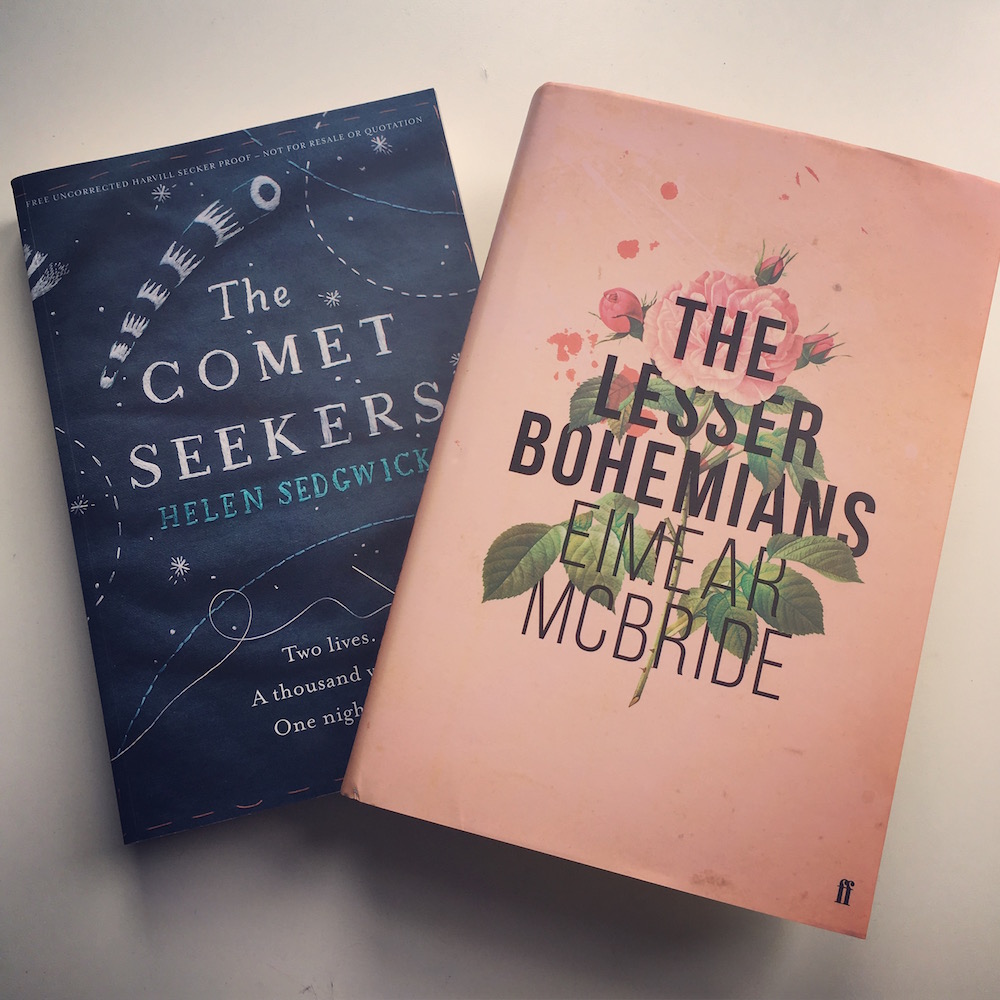 Despite almost losing one of these in the move, I've managed to finish both of these books for review: The Comet Seekers by Helen Sedgwick and The Lesser Bohemians by Eimear McBride. One was one of the most rapturous reads I've had in some time; the other was pretty good. You'll find out more in the next issue of The Big Issue ?
After that, I'm thinking Sons & Daughters of Ease & Plenty, as mentioned above, and maybe some Jenny Diski essays. You? Which books are on your nightstand?
––

Your turn! Read anything good this week? Hit reply or tweet me, won't you?
Have a lovely weekend!
Nicola x