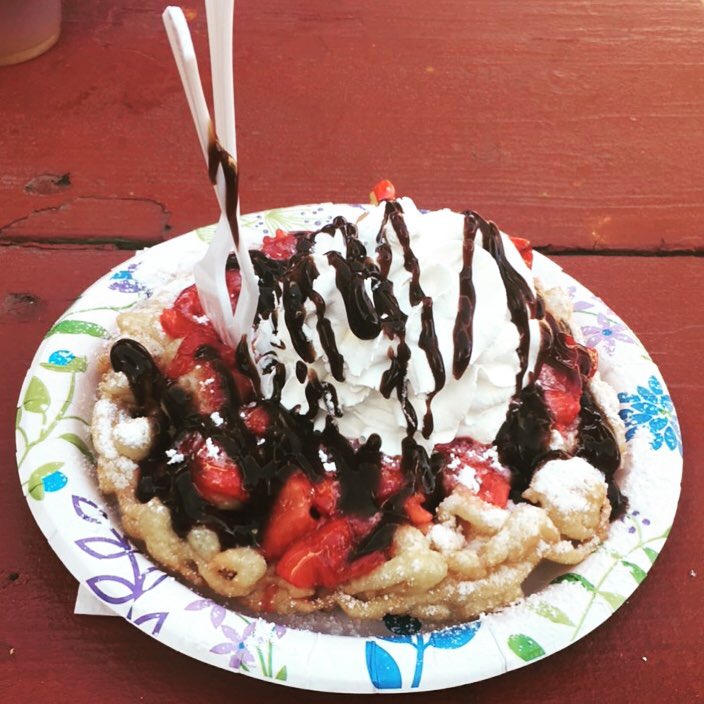 It's Friday already?! How's Autumn treating you so far? (Or Spring, antipodean friends?)
Fall hasn't quite fallen here yet, but we've had a run of days in the mid–20°s, which has been pretty perfect. I talk about the weather here a lot, don't I?
Anyway, Evan and I went to the county fair on Wednesday to take in the sights and smells and, apparently, to fatten ourselves up for winter. Tri-tip sandwiches, soft tacos, and funnel cake (pictured) were on the menu. They have competitions for all sorts, from the expected sheep and cattle shows to succulents and even rock collections. I got a bit snap happy on my Instagram stories, which will have expired by the time you read this, but you can follow me on Instagram if you want to see more moments from life in my new location.
Life hasn't quite fallen into a rhythm just yet, but this season has been all about sowing seeds. Meeting people online and off, squirrelling away ideas and draft posts, and seeking new opportunities. It takes time but has had some promising results. I'll keep you posted.
Meantime, here's yer links.
–– ON ROBOTNIC.CO ––
I updated last week's Book Haul with a companion blog post for those who prefer to read, want a bit more info, or are just passing by. What do you think?
I also posted a new video about What I Read This Summer – Book Recommendations, and belatedly updated the 52 Books page with capsule reviews of my recent reads.
–– WOMEN, WORDS & CULTURE ––
My read of the week is this piece from Ian Urbina on The Secret Life of Passwords. He's been researching passwords and asking people for their passwords and the meanings behind them for many years, and this is a culmination of those efforts. Some great stories in here.
Another lovely piece this week is also from the New York Times, this time on The Lost Culture of Whales – what happens when we lose pods of whales which share their own culture.
Amanda sent me this piece from Rebecca Solnit about the City of Women: streets in New York that you may not know were named after influential ladies.
Sometimes it's good to be reminded that Yes, Writing Is a Job (Even if it Doesn't Pay Well).
One one hand, this election season has been an absolute shit-show and a farce, an over-qualified woman being forced to compete with a buffoon. With all the recent conversations, Amanda Taub calls the threat of harassment that we feel a Special Tax on Women – one we have no choice but to pay.
These past couple of weeks, I've been getting to know my city's downtown – an area that's been left to rot since the 1980s and has recently had an influx of construction and new businesses. At the same time, I've been learning a lot about coded language in media and across micro-cultures in recent years, and Eva Wiseman has added some words and phrases to my list which are usually used in reference to up-and-coming areas, which gives me lots to think about around the conflicts inherent in "improving" the city. Beware the vibrant, emerging, misleading language of gentrification.
–– WHAT I'M READING ––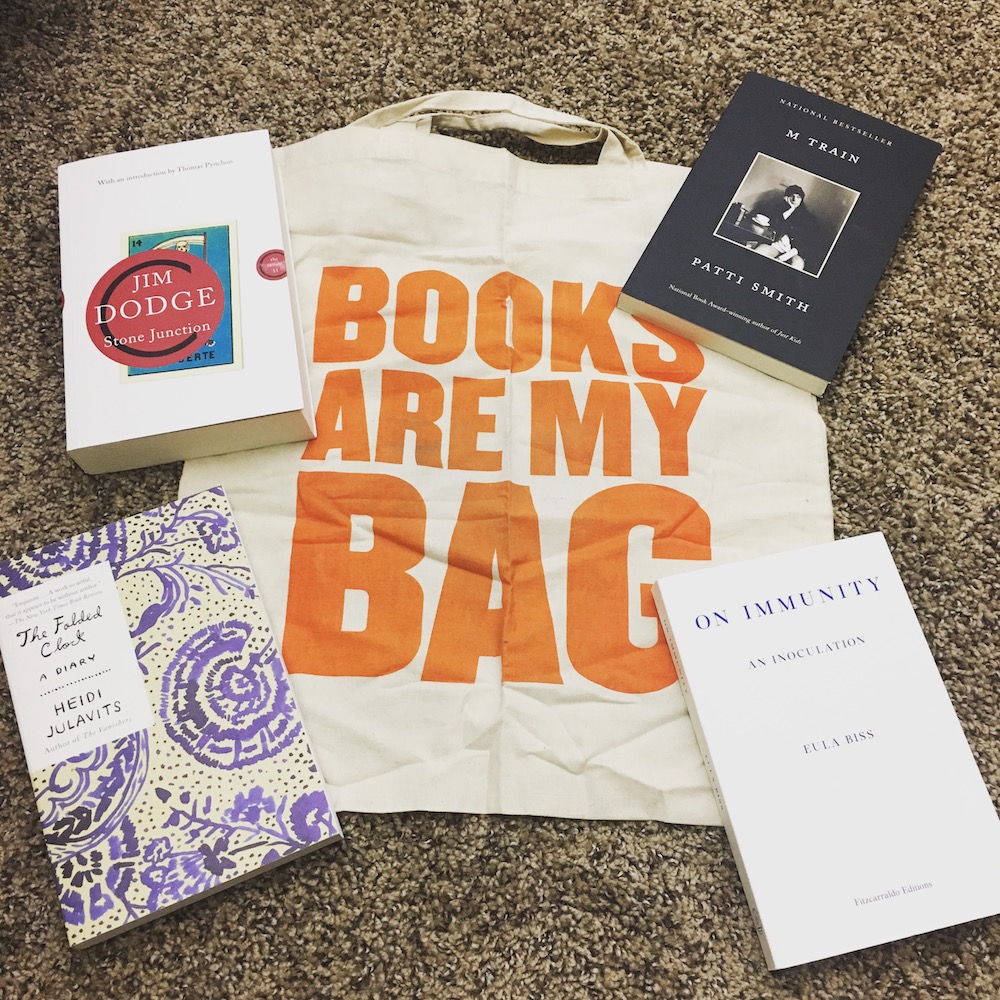 Last Saturday was Bookshop Day, part of the Books Are My Bag campaign which celebrates high street bookshops. It's a lovely campaign and a fun cause, so I threw together some of the books I most recently bought at bookstores, above.
This week I've mostly been reading I'll Tell You In Person, an excellent essay collection from Chloe Caldwell. We're about the same age – in fact, I read it at almost exactly the same age that she wrote it, so it kind of lit a fire under my ass.
I've also been gradually crawling my way through Today Will Be Different by Maria Semple. Not at all the book's fault – I've been reading it as I fall asleep – and I'd like to give it a bit more sustained attention this weekend.
Next on the list will be The Night Circus by Erin Morgenstern. It got a lot of attention when it came out, and isn't necessarily the kind of book I'd reach for, but it's the book club pick for a new group that I'm joining next week. I'll report back.
Meantime, which books are on your nightstand?

––

Your turn! Read anything good this week? Hit reply or tweet me, won't you?
Have a lovely weekend!
Nicola x