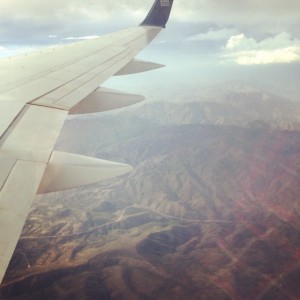 Happy Friday!
I'm finally over in California and it's gloriously, sickeningly sunny. It's 40C though – literally far too hot to even go outside.
This week I've been mostly catching up with the in-laws, blogging (natch), and getting caught up on some reading.
Surprisingly, despite loading up my phone with about 200 hours of podcasts, I didn't listen to a single one en route.
But I did find some great links for you – so here ya go!
–– ON ROBOTNIC.CO ––
Blog Every Day August is ongoing! Here's the latest: #NudgeYourWorld Part I & Part II | Book Review: Gone Girl | Letters Live at Edinburgh International Book Festival.
On my business blog, I blogged about Advanced Techniques for Content Planning.
–– ARTS & CULTURE ––
Jocelyn Glei, the awesome Director of 99U, interviewed Brainpickings' Maria Popova on Staying Present & Grounded in the Age of Information Overload. I hate headlines like that, but loved the piece. And look at that desk!!!
Mark Cousins argues in favour of hi-lo culture. He says middle-class rules deaden too many arts venues – and I tend to agree.
A piece from last year made it into my feed: (filmmaker) Nicole Holofcener Nails It. She's directed episodes of shows I enjoy but I need to get around to seeing some of her films.
Chris Guillebeau praises the humble editor, copyeditor and proofreader: Why Artistic Compromise Makes for Better Work.
The Pleasure of Reading to Impress Yourself – and keeping a reading diary. Because I'm a staunch evangelist for recording my reading. (Curious? See 2014 | 2013 | 2012 | 2011 | 2010 | 2009.)
–– DIGITAL ––
Where the Internet Goes to Be Lonely – and a related story from 2005, Anybody There?
I finished the brilliant first season of Silicon Valley last week, which has given me such great visuals and extra cringes for stories like this one: Tinder, despite being the dating app to hook women, faces sexual harassment and gender discrimination charges.
The Problem With Humans of New York:
Each subject is shot in a tightly focused frame, so we can impute meaning to every wrinkle across their faces even before we read the caption provided, which is usually, handily enough, about the ageing process (I've known plenty of older people who speak about things other than what getting older is like, at times; if Stanton has, he doesn't let on).
On an old favourite, The SIMS: The Kiss That Changed Video Games.
–– &c. ––
I kept seeing a book on the shelf called The Opposite of Loneliness and didn't think much of it. Turns out it's an essay collection by Marina Keegan – a promising young writer who died 5 years after graduating from Yale. It immediately jumped up my to-read list. Here's a piece Remembering Marina Keegan.
Amanda Hess again, this time on  The Rise of Ironic Misandry.
To Work Better, Work Less. How many times do you have to be told?
What have you been reading this week?