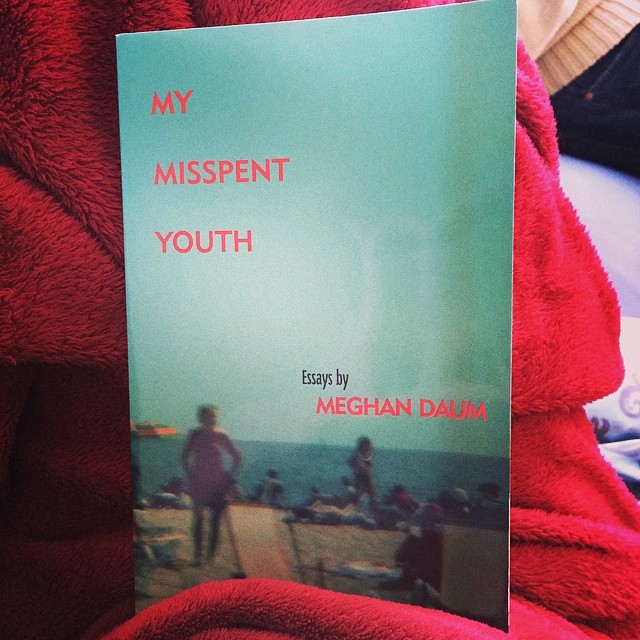 It's link list time again!
The above is a recent read – My Misspent Youth by Megan Daum. Recommended.
If you'd like to receive this by email, please sign up here and I'll begin emailing this out once 25 or so people have subscribed.
— ON ROBOTNIC.CO —
52 Books: March Reads (check back this weekend)
— ARTS & CULTURE–
"I see a lot of writing that describes what a piece of art is about, not so much about how it is about it."
— Matt Zoller Seitz. Please, critics, write about the filmmaking.
The Dollar-And-Cents Case Against Hollywood's Exclusion of Women. In which the new FiveThirtyEight is already giving me warm and fuzzy feelings.
I enjoyed these Time Out comment reviews of Under the Skin more than most of the professional ones I've read.
Gavia Baker-Whitelaw points out the inherent sexism in, like, every Captain America review ever.
Jeopardy champ & author Tom Nissley may have bombed in his Tournament of the Decades which aired this week, but then he went and bought a bookshop!
— DIGITAL —
What You Think You Know About The Web is Wrong. In which attention beats clicks. (Well, no shit.)
I blogged about measuring the success of your social media efforts — yanno, if you're interested.
— LONGFORM / JOURNALISM —
Why Doesn't America Read Anymore?  Psych!
"[We don't need] one more guy with a Jew-fro writing about Bruce Springsteen — I mean, it's a crime! It must stop! David Remnick wrote a profile about Bruce Springsteen, he assigned that to himself. How dare he! That should not have happened. I mean, I didn't read it, but I'm sure it was a terrible piece of writing."
Elizabeth Wurtzel on the Longform Podcast made me lol at work. She is also pretty insufferable.
The Current debated Lena Dunham as a feminist icon back in January. Features Roxane Gay and Kate Carraway, among others.
Speaking of Roxane Gay, she wrote a great (& true) piece in defence of unlikeable female characters: Not Here to Make Friends 
Megan Daum points out that you can't put a trigger warning on life. Kinda disappointed that my alma mater is in on this. (I should state that I'm not anti-trigger warning, just that one can't expect to be coddled from everything one finds upsetting or repulsive.)
How Not to Quit — Sarah Nicole Prinkett owes you (well, her readers) her career.
— &c. —
Turns out Glasgow thinks it's a good idea to blow up some people's former homes as an Opening Ceremony spectacle. Not cool, Glasgow 2014.
This made me want a tiny tattoo.
What were your best reads of the week? Hit me up with your links on Twitter!