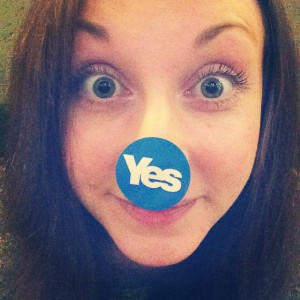 Happy Friday!
This is an odd post to write. Today we found out the fate of Scotland. Will it become an independent country? You'll know better reading this than I do writing it. Thing is, I'm having to write it ahead of time before I spend Friday out and about. So um… yay/boo?!
I'm also getting ready to head to the east coast on Monday to visit my brother in New Jersey and taking a long weekend in Toronto! Any tips? Shoot me an email!
While my feed has been inundated with #indyref this week, I found a few wee gems to share. Read on!
–– ON ROBOTNIC.CO ––
Announcing: The [Female] Essayist Project. I'd like to read more women in non-fiction, and I love essays, so here it is! I'll be aiming to post about one essay collection per month. Please share your recommendations!
Over on my business blog: Top 5 Business Podcasts, and Notebook: On Working Remotely.
–– ARTS & CULTURE ––
Inspired by my aforementioned Female Essayists Project mentioned above, a friend shared Olivia Laing in the Guardian: 'Every hour a glass of wine' – the female writers who drank. I loved the little I've read of her book on male writers who drank, called The Trip to Echo Spring, and plan to finish it soon. Marguerite Duras sounded like a badass.
In film and literature: Notes on Sontag, a new documentary about the writer.
Did you know that non-fiction books usually aren't fact-checked? It makes sense, without making sense.
–– DIGITAL ––
Susan Orlean gave an AMA on SkillShare, where she's offering an online course in writing non-fiction. I'm considering signing up. Have any of you tried it?
On the digital age and its effect on writers: I Promise to Be a Worse, More Prolific Writer by Elizabeth Spiers. She's also on FT.com with The Diary. Thanks to Jess Furseth for pointing me in her direction.
Reboot or Die Trying is another year of detox from another journalist… except this time it's well worth a read.
–– ON PAPER ––
I'm trying out and, so far, loving this little-known notebook trick from Japan. It's a nice, quick solution for indexing — which I never quite get around to.
I'm currently reading a couple of books I thought I'd mention:
1. The Amazing Adventures of Kavalier & Clay by Michael Chabon — my current fiction pick. I've intended to read this for many years. It seems to be beloved by those who've read it.
2. Bad Feminist by Roxane Gay — my non-fiction pick, and probably the first book you'll hear about as part of my Female Essayists Project.
3. Okay I lied, there's one more — California by Edan Lepucki. I requested an e-galley of this after hearing about it during the Hachette-Amazon dispute. 20 pages in and may well be hooked.
What book(s) are you currently reading?
–– &c. ––
Why The Body Diversity On 'Orange Is The New Black' Is So Important.
Leo Babauta weighs in on How to Get Motivated After a Vacation. I might be needing this after my holiday to North America…
What were your favourite reads of the week?