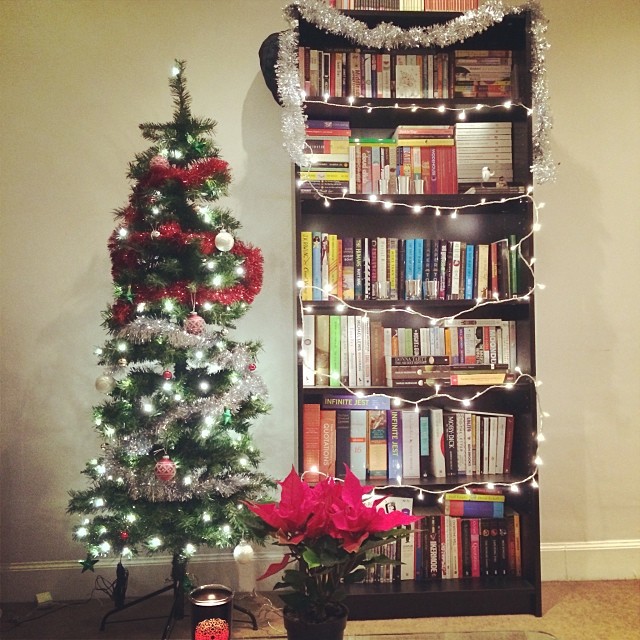 Hiya, pals!
It's December aka Pantomime Season so I had to get that one out of my system.
I've not much chat this week. Had my head down and aiming for a final workday this month of Monday 22 December. Freelancer naïvety or solid goal? We'll soon find out.
Meantime, there's plenty reading to be done.
–– ON ROBOTNIC.CO ––
Yesterday I reviewed the week's big, non Madagascar franchise releases on the BBC Culture Studio: Black Sea, St Vincent, and Men Women and Children. Click through to listen on iPlayer catch-up.

–– ARTS & CULTURE ––
In the Hollywood Reporter: Chris Rock Pens Blistering Essay on Hollywood's Race Problem: "It's a White Industry"
The reading lists are out!
NPR's Best Books of 2014 is just the most.
These lists are dime a dozen but I'll also throw in Maria Popova of Brainpickings' 2014's Best Books on Psychology, Philosophy, and How to Live Meaningfully.
Okay, one more. BUT LOOK AT THE TOP COMMENT. UGH. A Year in Reading by Emily Gould, in The Millions.
–– DIGITAL ––
Podcast: Ira Glass was the first guest on the new season of Alec Baldwin's show Here's the Thing. Quality listening.
A tweet from Jess Furseth (click for great link list) reminded me to recommend the Longform App.
Finally downloaded the Longform reader app and it's soooo clever. The combination of RSS and curation! Game-changer.

— Jess Furseth (@jessicafurseth) December 4, 2014
Hank Green says You Can't Make it On YouTube Anymore. And he would know.
People who are new to the medium are starting to think that online video is not "Just a little bit better than everything else on YouTube" but "Just a little bit worse than everything on TV."
32 Things We Need Words For In 2015.
–– LADYBITS ––
Why Mockingjay is the "End of Men" Movie of the Year. "Mansplaining jokes have reached Hollywood blockbusters."
Bondage, birth control and the suffragettes: Meet the real Wonder Woman. I have total superhero fatigue and wasn't that curious about the release of this book. After this piece, I am.
Feminist Frequency released 25 Invisible Benefits of Gaming While Male [VIDEO].
–– ON PAPER ––
In Cold Blood by Truman Capote. Again. I will finish it this time!
I also read Mongol by Uuganaa Ramsay, which I mentioned last week. Not as political as I expected but a touching, straight-forward autobiography that deftly bridges cultures.
What are you reading this holiday season?
–– &c. ––
Chris Rock again. This time he talks about Ferguson, Cosby, and What 'Racial Progress' Really Means in Vulture. Mind-blowing point: black progress isn't about black progress, it's about white progress.
Related: The Other Side of Diversity by EricaJoy on Medium.
A eulogy for RadioShack, the panicked and half-dead retail empire. Disgusting and funny and fascinating all at once.
What have you been reading this week?