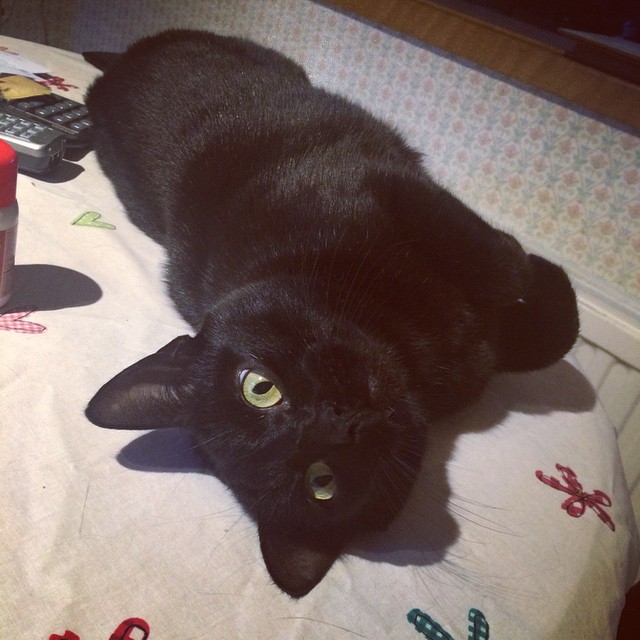 I had to take a couple of half-day mental health breaks this week, including paying a visit to the wee guy up top.
Fortunately for you, that means lots of links!
Glad tidings, indeed.
–– ON ROBOTNIC.CO ––
Nope, but I did make a video! Friday Reads.

–– ARTS & CULTURE ––
#ReadWomen2014: The Next Chapter. The Guardian ending the year as it began, with a call to action to read more women writers.
&&& 10 Female Authors That Ruled 2014.
I watched Wild this week, which came out in the US last week, due out in the UK on January. Here are two very different reviews from Richard Brody – who hated the direction, and Alison Willmore – who lauds Witherspoon's character and performance. My views? Under embargo, wump wump.
Why is American publishing so white? (Subtext subtitle: "And why are they always making it so obvious?")
The big blow-up in publishing this week was regarding big-time YouTuber Zoe Sugg's novel being ghostwritten. Quelle surprise. While the hot takes fired in, I took the time to read this remarkable little piece by a different kind of ghost writer: Ghosts are Real, At Least in Publishing.
–– DIGITAL ––
Remember the girl who interviewed Shia LeBeouf without interviewing Shia LeBeouf? She's written this smashing piece for Dazed about what it's like to have the internet take your actions out of context: Interviewing Shia wasn't that weird. What happened next was.
Generation Selfie, in which Anna Hart is the only person who can write thoughtfully about over-argued, click-bait, moral hand-wringing topics.
–– LADYBITS ––
Ayesha Siddiqi: 'We need to stop waiting for permission to write'. You heard the lady! Love her compassion here. Also, follow her on Twitter.
Shit's been making me angry this week. For example:
The UK's sexist new pornography restrictions aren't just an act of state censorship, but could be the first step towards something even worse. Can we just, not?
Speaking of awful:
Releasing private Sony e mails to hurt people is the same as releasing nude photos of Jennifer Lawrence. Why are they ok to print?

— Judd Apatow (@JuddApatow) December 11, 2014
Comparing a sex crime to someone reading your correspondence? Get fucked, Apatow.
Meanwhile! Rolling Stone threw a rape victim to the misogynist horde.
If you came for the cheery stuff, reverse on up to the Arts & Culture section.

–– ON PAPER ––
I finally finished that pesky little Truman Capote real crime classic, In Cold Blood – as promised.
Coincidentally, the case is back in the news. Harold Nye, an agent for the Kansas Bureau of Investigation had conflicting notes which are now allowed to be published. Nye hated the book so much he threw it across the room; and walked out of the movie. More on Salon.com: The new "In Cold Blood" revisionism: What if Capote's classic wasn't fully true?
Now I'm reading a wee novel called Here They Come by Yannick Murphy, listening to Poehler's Yes Please on audiobook, and ready to get another essay collection on the go. You?
–– &c. ––
Microsoft Says Goodbye to Clip Art, so NPR caught up with one of its most prolific artists.
An odd and interesting piece by Jon Ronson on Shimer College: the worst school in America? This place sounds kind of bullshit, but also kind of fascinating and misunderstood.
What have you been reading this week?