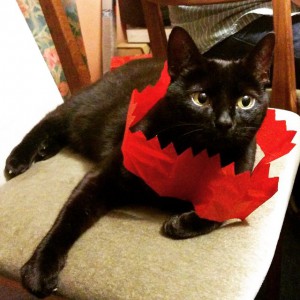 Happy New Year!
It's been a few weeks. I hope you all had a great festive holiday and spent some time with family and friends.
I spent my wedding anniversary ill in bed around the time the last Reading Week should have gone out, but then celebrated Christmas with family and spent the past week catching up with reading and friends. On balance, a pretty good end to 2014.
So, what's been happening online?
–– ON ROBOTNIC.CO ––
I only got 1 book for Christmas – but I've tons of new books laying around so I made an End-of-2014 Book Haul.
My Best of 2014 will be up shortly – subscribe to get it first.

–– ARTS & CULTURE ––
Why 2014 Was the Year of the Essay. You know I'm all about it.
Katherine Angel on Gender, blah, blah, blah in publishing and literary criticism.
Lots of Hollywood chat this season, including:
In Hollywood, It's a Men's, Men's, Men's World. Like we didn't already know that! This one is mercifully light on the Sony hack and pointing towards change.
The Birdcage, or How Hollywood's toxic (and worsening) addiction to franchises changed movies forever in 2014. Sadface.
And a couple of fun ones: A Brief History of Kissing in Movies and The Rapid Decline of Movie Quotation
I really enjoyed this profile – The Unbreakable Laura Hillenbrand – author of Seabiscuit and Unbroken (now a movie). I haven't read her books yet, but loved the notion that a reporter who can't leave the house can out-write her peers through smart thinking and elaborate work-arounds.
I also enjoyed this interview with Mara Wilson. You know, the girl who played Matilda, all grown up. She's worth a follow on Twitter and I'm looking forward to her upcoming book.
Does The Handmaid's Tale Hold Up? Hint: in all but the details of the era, yes.
–– DIGITAL ––
On Ten Years of Podcasting and the persistent limits of the medium, despite its recent surge in popularity.
I'm still totally loving Reply All – and this week the guys from Longform are on it! My podcast cup overrunneth. I 'ship your ears with this baby.
Fact-checking in journalism particularly in digital journalism, has become a big issue since the big Rolling Stone – UVA campus rape article debacle. Two good pieces I've read coming out of that:
Specifically, On Rolling Stone, Fact-Checking, and the Limits of Journalism on Feministing.
And generally, In Praise of Fact-Checking via Flavorwire.

–– AT THE INTERSECTION ––
I'm aware that calling a section of this newsletter 'ladybits' only goes so far. So let's try out a new subheading, shall we?
Written about the newsroom but probably applies to your industry, too: Diversity: Don't Talk About It, Be About It.
A Lesbian Dilemma: All My Heroes Are Men Who Hated Women. They did know how to have fun, tho.
How Feminism Conquered Pop Culture. Well, kinda. No mention of how this strong public sentiment is being immediately turned around and sold back to us. This piece is, at the very least, pretty comprehensive.
–– ON PAPER ––
I've had a good couple of weeks, reading-wise.
I finished the new hotness, Station Eleven by Emily St John Mandel and it was pretty much worth the hype.
The first book of 2015 for me is Open City by Teju Cole.
What have you been reading lately?

–– &c. ––
A piece on SAD, to which I can wholly relate: Old Man Winter Ate My Sense of Adventure
A nice wee holiday story to warm your heart: A real Good Samaritan.
What have you been reading this week?