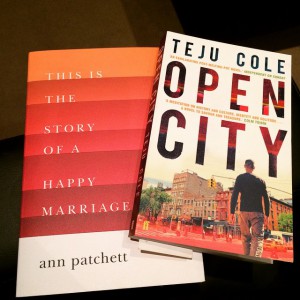 Happy Friday! How did your first week of 2015 go?
Pictured are my first 2 books of the year. This week has been part-holiday hangover and catching up with the friends I missed, part semi-manic getting back into the swing of work and things.
Anyway, here are some links for you to enjoy over the weekend.

–– ON ROBOTNIC.CO ––
My Best of 2014 will be up shortly – some books, some films.
Rounding off 2014, capsule reviews of the books I read in November and in December.
On my business blog – My 2014 in Review.
–– ARTS & CULTURE ––
How cats conquered cinema. Anne Billson's ever-wonderful articles about cats on film are always relevant to my interests. And an important public service, people!
And so Inside Llewyn Davis illustrated two universal truths – not only that cats improve every film they are in, but that their very presence can provide narrative glue, not to mention enough tension to leave cat-lovers, at least, on the edge of their seats.
Damn right.
The Guardian brings us Books in 2015: The Essential Literary Calendar. I'm looking forward to The First Bad Man by Miranda July, and umm catching up on loads from last year, frankly.
The Two Faces of Joaquin Phoenix: A Tour Through the Actor's Menagerie of Creeps, Choirboys, and Burnouts – on Grantland, a great piece about the physicality of one of the best actors working today.
On Brain Pickings, Joan Didion's Favorite Books of All Time, in a Handwritten Reading List. *prayer emoji*
–– DIGITAL ––
Some poor reporter had to hang out with Emerson Spartz, the self-proclaimed Virologist for several days. His business model conflates value with clicks and basically regurgitates and shits out and regurgitates the worst of the internet. It is awful and he sounds awful.
Podcast of the week is a repeat – You Must Remember This, written and narrated by Karina Longworth. It's my go-to cooking podcast, so now when I chop onions I think of the many loves of Howard Hughes. It also confirms my favour of Bette Davis as HHBIC (Hollywood Hot Bitch in Charge).
The Hairpin has a new contributing editor, who is interviewed in the Guardian. Jazmine Hughes: "Women are magic".
On the Awl: Some 2015 predictions. Funny. Bleak.
–– ON PAPER ––
This week is the Bout of Books readathon 12.0.
Since the idea is to set your own goals and just to read a bit more than you normally would in any given week, I've been casually taking part.
So far I've finished Open City by Teju Cole, which was an interesting look into race relations but other than that a little dense.
Currently, I'm reading This is the Story of a Happy Marriage by Ann Patchett (non-fiction) and The Maltese Falcon by Dashiel Hammet (fiction) – both of which are great so far.
What have you been reading lately?

–– &c. ––
In New York Magazine, a happy employee asks, What Do We Give Up When We Become Freedom-Seeking Entrepreneurs? A lot, sure, but secure jobs are a blip.
A lovely post from Madi: The Self-Kindness Project: A journey to self-acceptance [OFFLINE]
Austin Kleon's tip for a New Year resolution: Something small, every day.
What have you been reading this week?