Friday, at last.
Scroll forth for links.

–– ON ROBOTNIC.CO ––
Nothing new this week, but sit tight for 2 posts to come next week.
ICYMI, Bookish Blether week! Bookish Blether Episode 2 was on physical books vs ereading.
On my business blog I wrote about Small is Beautiful 2015 and why you should come along.
–– ARTS & CULTURE ––
Not the Way White Girls Do – an excellent and thoughtful review of Girlhood by Fariha Roisin in The Hairpin. Can't wait to see this one at Glasgow Film Festival next week.
Eva Wiseman asks, Why are creative women dismissed as 'Quirky'? I've been arguing the same thing re Miranda July for some time, but obviously she put it WAY better than I could have.
Ann Friedman on The Problem With Those Feminist Super Bowl Ads. Or, "Thanks, But We've Got Some Follow Up Questions".
I love Tony Zhou's Every Frame a Painting video essay series. This one on the Quadrant System in Drive made me really want to see the film again.
–– DIGITAL ––
New York Times journalist David Carr died last night. The paper wrote this tribute. I'll be spending some time this weekend revisiting his columns.
How One Stupid Tweet Blew Up Justine Sacco's Life – a great feature from Jon Ronson on bad-taste tweets going viral and the public shaming that ensues.
The Public Radio versus The Podcast has been a big topic these past few weeks. Here's Why Slate went all-in on podcasts while others focused on video and Not just about the money: Public radio veterans drawn to creative freedoms of podcasting.
Also, The New School hosted a live chat about Serial and the Podcast Explosion, chaired by David Carr with an impressive panel: Sarah Koenig, Alex Blumberg, Benjamen Walker, and Alix Spiegel. Their conflation of public radio and podcasting here is pretty telling.
–– THREE CHEERS ––
I don't know about you, but I had rough week, so I've put together a few funny and cute links to cheer you up if you're feeling down. They all happen to involve similar looking dogs.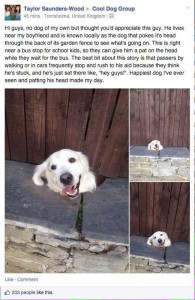 This dog is making the best of life. He sticks his head through a hole in the fence – distressingly, he looks stuck, then hilariously, he's just hanging out waiting to be petted.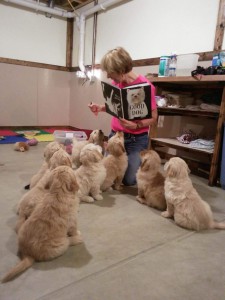 Reading Therapy dogs in training. Can I have one?
"Hello land dog, I am water dog."
That was fun. Let's do that again sometime.
–– ON PAPER ––
My brilliant friend Eva is undergoing #TBR20 – a project to read 20 books on her shelves before she buys any new ones. Here are her Thoughts at the Halfway Point of #TBR20 – which made me really think about some of my writing avoidance techniques.
I finished Giovanni's Room by James Baldwin this week – and man, this guy's prose. He's right at the top of my list of authors to buy.
Now I'm still working my way through The Immortal Life of Henrietta Lacks by Rebecca Skloot – a really tightly researched investigative non-fiction piece. I also started this month's book club pick, Ready Player One by Ernest Cline… about 3 years later than the rest of the world.
Got a suggestion for what I should read next? Tap reply and hit me up!
–– &c. ––
Avocados! Evan and I were joking about how weird it is that the coffee board was worried about coffee consumption back in the 80s… then I read this: How the "alligator pear" went from obscure delicacy to America's favourite fruit.
Why Cambodians Never Get 'Depressed'. I love hearing about how other cultures express emotion.
​Have a lovely weekend, friends!