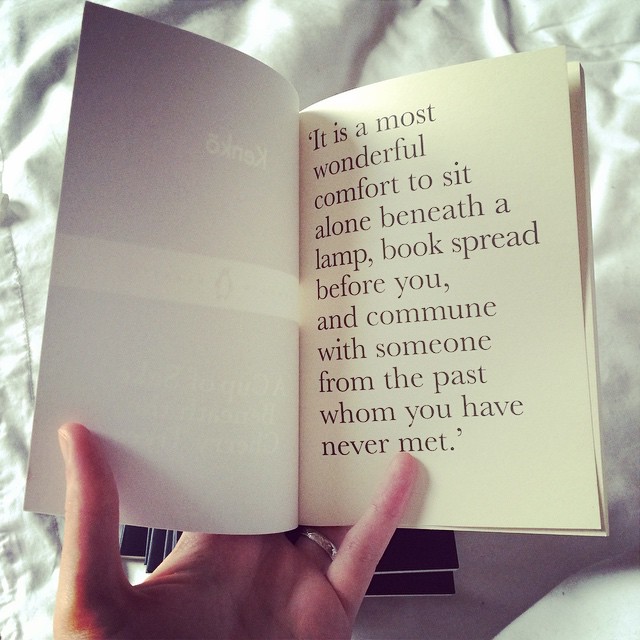 It's Reading Week #44! Can you believe it?
This week I successfully avoided jury duty for what seems like the hundredth time and have been getting back to work post-fest.
How are things in your world? Actually, tell me later, there are lots of links to be read!
–– ON ROBOTNIC.CO ––
Bookish Blether: #4 | Bookish Housekeeping – in which Holly and I discuss our collecting habits and other bookish housekeeping quirks.
On my business blog, I answer a FAQ – How Often? (as in, "How often should I post on social media?")
–– ARTS & CULTURE ––
I came, I saw, I eye-rolled. Why Do Discussions of Millennials Always Sound Like Something From a Nature Documentary? Hilarious.
Travels with My Censor – author Peter Hessler on his experiences of publishing in China.
Writing advice from Stephen King circa 1986.
Remember The Time Everyone "Corrected" the World's Smartest Woman?
A new Jezebel video series called This Broad's Life kicks off with Janet Mock: "I'm not responsible for your education."
The 1970s Feminist Who Warned Against Leaning In. Rachel Hills and guest contributors discuss Sheila Rowbotham's recently re-released feminst tome Woman's Consciousness, Man's World.
–– DIGITAL ––
From 1995: Clifford Stoll on Why the Web Won't be Nirvana. How wrong he was. Made me wonder how may people really do prefer cyber sex to physical sex in 2015.
Publishers Know You Didn't Finish "The Goldfinch" — but mass data will probably tell publishing more about how to market books, rather than how to publish differently. Makes sense.
When Your Punctuation Says It All (!) – a fun but not entirely accurate take on how we personalise punctuation in texts and online.
Let's Really Be Friends – A Defence of Online Intimacy. Does it really still need to be defended?
"Please Do Not Downvote Anyone Who's Asked for Help". The first in a new column series from Amanda Hess about the internet called Users.
Today in videos: The Teletubbies Slowed Down 500% Is Horrifying, But No More So Than Daily Life. Oh, Clickhole.
–– ON PAPER / ON SCREEN ––
Last night I finally finished The First Bad Man by Miranda July. It's a heady mix of weird and mundane and she can describe emotions you didn't realise you've had in ways you couldn't possibly thing to describe them. Recommended.
Next I'll be getting back to the sadly abandoned The Immortal Life of Henrietta Lacks by Rebecca Skloot – abandoned not through any fault of its own, but because I've not been reading much lately.
–– &c. ––
Has Success Spoiled the Crow? – This chap reckons that crows are actually really, really bored.
Mark Twain's advice for curing a cold… is kind of minging.
On Medicating Women's Feelings.
And I'll be very upset if you don't subscribe!
​Have a lovely weekend, friends!