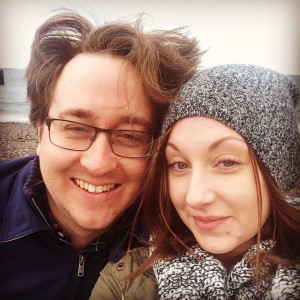 Well hello dear readers!
After a blustery seaside weekend last week I've been trying to get out of spinning-wheels mode and into DIY mode. With April comes BEDA and other spring projects. No more waiting about for other people's projects to come through the pipeline. Good? Good.
Meantime, here's some reading for your weekend. Enjoy!
–– ON ROBOTNIC.CO ––
Bookish Blether Episode 6 is up, featuring short books you can read in a day. Perfect for the Easter and May weekends!
I mentioned BEDA there which, for the uninformed, stands for Blog Every Day in April. I've done this consistently for the past 5 years to varying degrees of commitment. It's a fun thing to do, if only to have a snapshot of my year to look back on. If you're interested you can follow BEDA 2015 on my Tumblr.
Both of my sites got a refresh this week, too. Check out robotnic.co and nicolabalkind.com for a swatch. What do you think?
Oh and I posted some actual content too. Here, my March Reads.
There, a quick update on Getting Mobile Friendly in time for the new Google algorithm changes.
–– ARTS & CULTURE ––
Adam Driver and his lovely face are all over the place right now. He seems like the best-worst serious actor type.
I'm looking forward to reading Kirstin Innes' debut novel, Fishnet. In The List she writes about her research process and coming to terms with telling a story that may not be yours to tell.
Cara Delevigne on speaking up.
As is tradition, I had my monthly binge of Sadie Stein's daily Paris Review blogs this week. Some highlights: A Dance to the Music of Time | Theory & Practice | Strife in the Fast Lane.
I love Spike Jonze's Her and kinda hated Sofia Coppola's Lost in Translation (maybe time for a rewatch?) but this video essay shows their beautiful symmetry.
–– DIGITAL ––
Austin Kleon On screenshots and taking pictures of words – and Clive Thompson corroborates this idea in Wired.
On Internet Neologisms: Rage Quitting is a Thing. I follow JSTOR Daily on Twitter; really ought to click more often.
Grantland redeemed the boring chat about Tidal (Jay Z's new venture that's Spotify for twice the cost of Spotify) with this contributor post: I'd Buy That for $20 a Month.
Some things I'd buy for $20 a month are:
Weekly/monthly episodes of Broad City forever
A newsletter from Sadie Stein
The return of Miranda July's We Think Alone email project, except with just Kareem Abdul Jabar
A monthly book subscription that sends me a book I've mentioned several times & never bought/read
What about you?
An interesting piece on The Shut-in Economy (or, The New Middle Class is Riddled With Guilt).
–– ON PAPER / ON SCREEN ––
This week I'm reading a new release – Housefrau by Jill Alexander Essbaum. It's right in my wheelhouse: unlikable, unreliable, lecherous female narrator. So far it's not that exciting, though.
Non-fiction-wise, I'm in a bit of a rut. Time for a new essay collection, I reckon.
Which book is on your nightstand?

–– &c. ––
Evan & I are dog broody, so a friend forwarded on this Buzzfeed contributor who tried out Borrow My Doggy: a service that matches pet owners with pet sitters.
Amazing photos here by Hamid Sardar Afkhami who documented Dukha people, Mongolia's last nomadic reindeer herders.
In the New Yorker: O Adjunct! My Adjunct! takes on the state of university teaching, particularly in the US.
Tim Gunn's Sunday Routine sounds bloody wonderful.
A great profile on Mad Mike, the homeless blogger who became a millionaire overnight from The Guardian.
And just for fun: Helpful Spring Cleaning Advice From Gothic Novelist Shirley Jackson.
​Have a lovely weekend, friends!