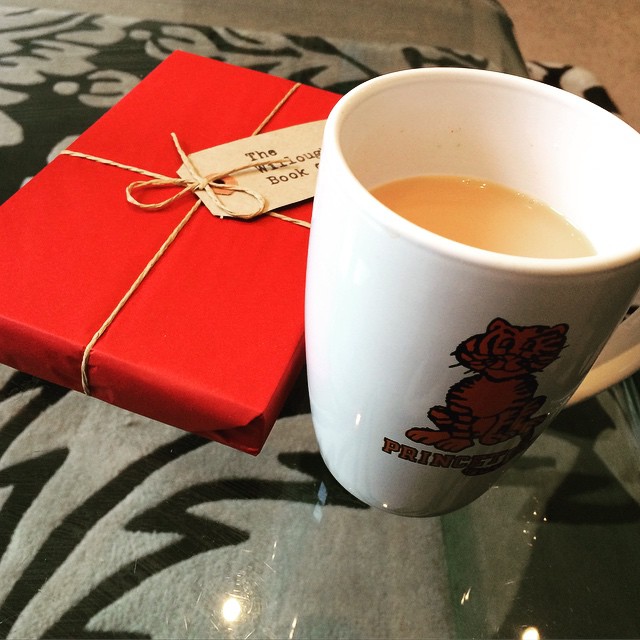 I wish this were my elevensies every day.
Yo! It's Friday! How about that?
Worry not! This is a GE free zone. Now that I've decided that I don't remember what else happened this week.
Next Friday I'll be away on holiday in Croatia. Do you fancy guest curating Reading Week? Shoot me an email.
Have some links.

–– ON ROBOTNIC.CO ––
April Reads: capsule reviews of what I read last month.
Yesterday, I was also on the BBC Culture Studio to review this week's film releases: Spooks, Rosewater, and Top Five. Listen in here.
On my business blog, I published Part 1 of 2 on how you can Spring Clean Your Content. (Will we ever tire of the word content? It feels like we say it more than we say "and".)
ICYMI last week, Bookish Blether Episode 8 is all about Book Clubs.

–– ARTS & CULTURE ––
A really well written and critical piece on How Hollywood Keeps Out Women, by Jessica P. Ogilvie at LA weekly.
This Tumblr contributed to the conversation, too.
And related, but on a more positive note: What Hollywood Can Teach us About the Future of Work – i.e. more short-term jobs, with project-based teams. Sounds good to me!
More in movies: I enjoyed the new adaptation of Far From the Madding Crowd. Stephanie Zacharek says it Means Well but Sells Its Heroine Short. I can kinda see it both ways, but this is a great read.
The national story is not just a royal one – on how royal narratives are dominating the entertainment industry. I mean, he's right, but stories about having money, not lacking it, are just more entertaining.
–– DIGITAL ––
The Business of The Onion: How America's Best Satirical News Source Makes Money. Interesting read, and a direction for lots of media companies to follow.
Anil Dash wrote about being Nobody Famous – what it's like to have half a million social media followers without actually being famous.
Reform of the Nerds, Starring Arthur Chu – a feature on the Jeopardy champion who's whipping his fellow nerds into shape.

–– ON PAPER ––
I'm still making my way through Smoke Gets In Your Eyes by Caitlin Doughty.
I've also been prepping my Kindle for my holiday next week, with a TBR including but not limited to: All My Friends are Superheroes by Andrew Kaufman; Girl Waits with Gun by Amy Stewart; The Hourglass Factory by Lucy Ribchester, and How to be both by Ali Smith.
What about you? Read anything good lately?

–– &c. ––
Something that we know but don't pay enough attention to: The Most Diverse Cities Are Often The Most Segregated, with some great analysis from Nate Silver.
Los Angeles and Its Booming Creative Class Lures New Yorkers – a frankly hilarious trend piece from the New York Times, which I saw comically billed right above a piece about how California is about to dry out and blow away. Maybe both are right in their own twisted ways.
How Exactly Do You Teach Femininity? Great article from Alex Morris about a stylist who specialises in helping men transitioning into women.
​Have a lovely weekend, friends!