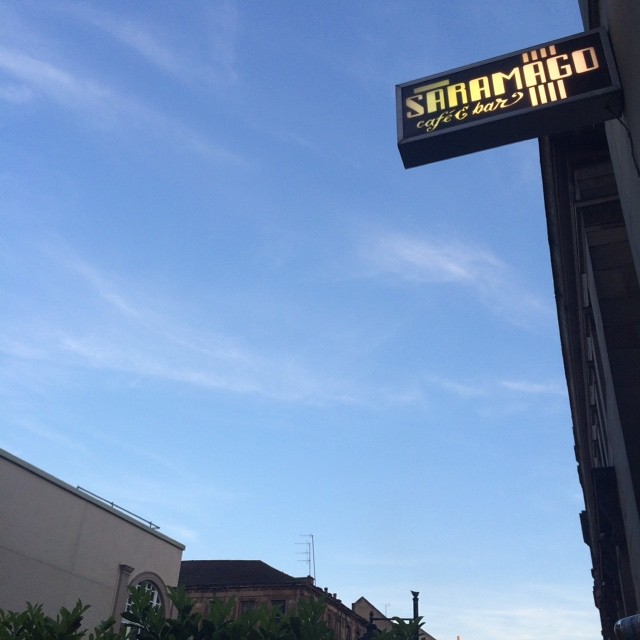 It's here! The 9pm sunshine is here! I've been taking advantage.
I had an amazing weekend in Sheffield last week, and definitely recommend you keep an eye out for my highlight of the festival, a documentary called My Beautiful Broken Brain.
This week I've been gearing up for Small is Beautiful, which I've been working on all year. After it finishes next Thursday evening, we're off to California next Friday morning. Busy, busy.
What's new with you? Here, have some links.
–– ON ROBOTNIC.CO ––
New podcast klaxon! Bookish Blether Episode 11 – Summer Reads is all about our tips for holiday reading, along with lots of recommendations.
On my business blog, a call to arms: How to Sell in the Off-Season.
–– ARTS & CULTURE ––
The wonderful Oliver Sacks on Mishearings.
I really enjoyed the latest Literary Disco podcast, in which they discussed Leslie Jamison's The Empathy Exams.
The hipster is dead, and you might not like who comes next. This is… I can't. I don't know. The worst? The most true?
I read half of this weeks ago, and (ironically?) finally got around to finishing it: Blank Space by Lauren Quinn.
–– DIGITAL ––
My working week has been characterised, as it tends to be, by intense periods of concentration contrasted against mid-afternoons of being driven to distraction. So I loved this: The Rabbit-Hole Rabbit-Hole from Kathryn Schulz.
The latest show in the Gimlet family launched recently, and it's called Mystery Show. I'm loving it so far. Here's a recent gem: Case #3 Belt Buckle.
Digital publishers are having a collective orgasm over Clickhole. Here's the latest in that series from Slate.
–– ON PAPER ––
This week I finally delved into a book I've been meaning to read for years: A Short History of Nearly Everything by Bill Bryson.
I've also been very gradually working my way through The Folded Clock by Heidi Julavits. I think I like it.
What are you reading this weekend?


–– &c. ––
An elegy for the sleeper train – a lovely wee essay from Ian Jack in the Guardian.
A very good, very short blog from Nev Pierce: Failure By Degrees.
You know I love Sadie Stein, and this made me reminisce about buying gag cards for friends in high school. My masterpiece was a New Baby card for a friend's 18th birthday, addressed to his parents with an apology for the delayed correspondence. But anyway, Remembering Irony's Awkward In-Between Stage.
Read anything good this week? Hit reply or tweet me with a link.
​Have a lovely weekend, friends!