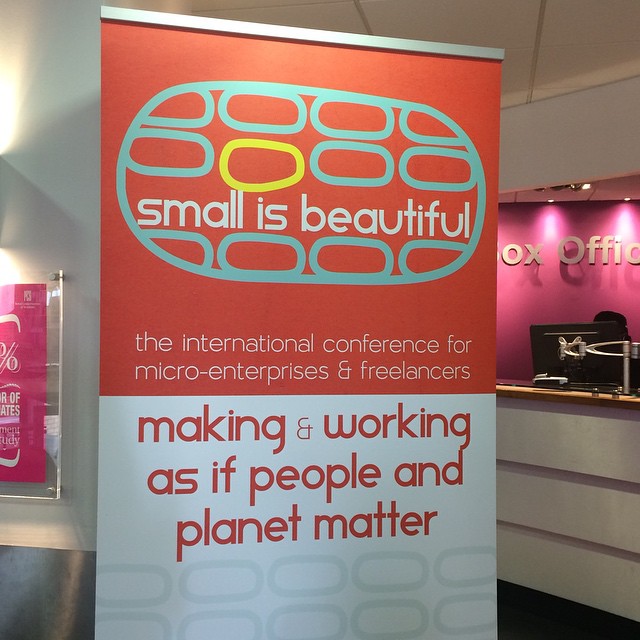 The past 2 days at Small is Beautiful have been a whirlwind of like-minded people, talks, thoughts, provocations and inspiration. It went by more quickly than any other 2 days in my life.
I'm coming to you this morning from Heathrow airport, where I'm awaiting a connecting flight to Dallas, then on to central California. We're already delayed by 40 minutes.
All this to say it'll be a brief one today, but I hope you find something worth sharing.
–– ON ROBOTNIC.CO ––
I finally caught up with my damn May Reads. It was a very good reading month indeed.
ICYMI here's Bookish Blether Episode 11 – Summer Reads which comes with a buttload of holiday reading recommendations.
On my business blog, I was all like, Let's Collaborate!.
–– ARTS & CULTURE ––
Writing, Briefly. Brilliant.
Also on writing, James Greig uploaded the slides from his brilliant Small is Beautiful talk.
Jeff Bridges has been taking tons of great panoramic photos on film sets these past 30 years.
Local film journalist Hannah McGill wrote about women in film – and film festivals – in the UK. These kinds of articles are so common now but whatevs here you go.
–– DIGITAL ––
This dude thinks that signing off emails with "Best" is actually the worst. I do, and fuck it, I won't change for no-one.
Why Start-Ups Love Moleskines. Busted. Maybe I am the worst.
Jessica Furseth on Bridging the Digital Divide. Who will pay for it?
–– ON PAPER ––
I'm still crawling on through The Folded Clock by Heidi Julavits – only about 10% to go.
On the plane, who knows? I have an entire Kindle library at my disposal. It might be time for How to be both by Ali Smith, or a novel called Valley Fever by Katherine Taylor, appropriately set where I'm headed.
What are you reading this weekend?


–– &c. ––
A lovely essay from Oliver Sacks on Mishearings.
A Manhattan Fortuneteller Cost Him Fortune After Fortune, in the New York Times. This one's a few weeks old but oooooft.
Read anything good this week? Hit reply or tweet me with a link.
​Have a lovely weekend, friends!