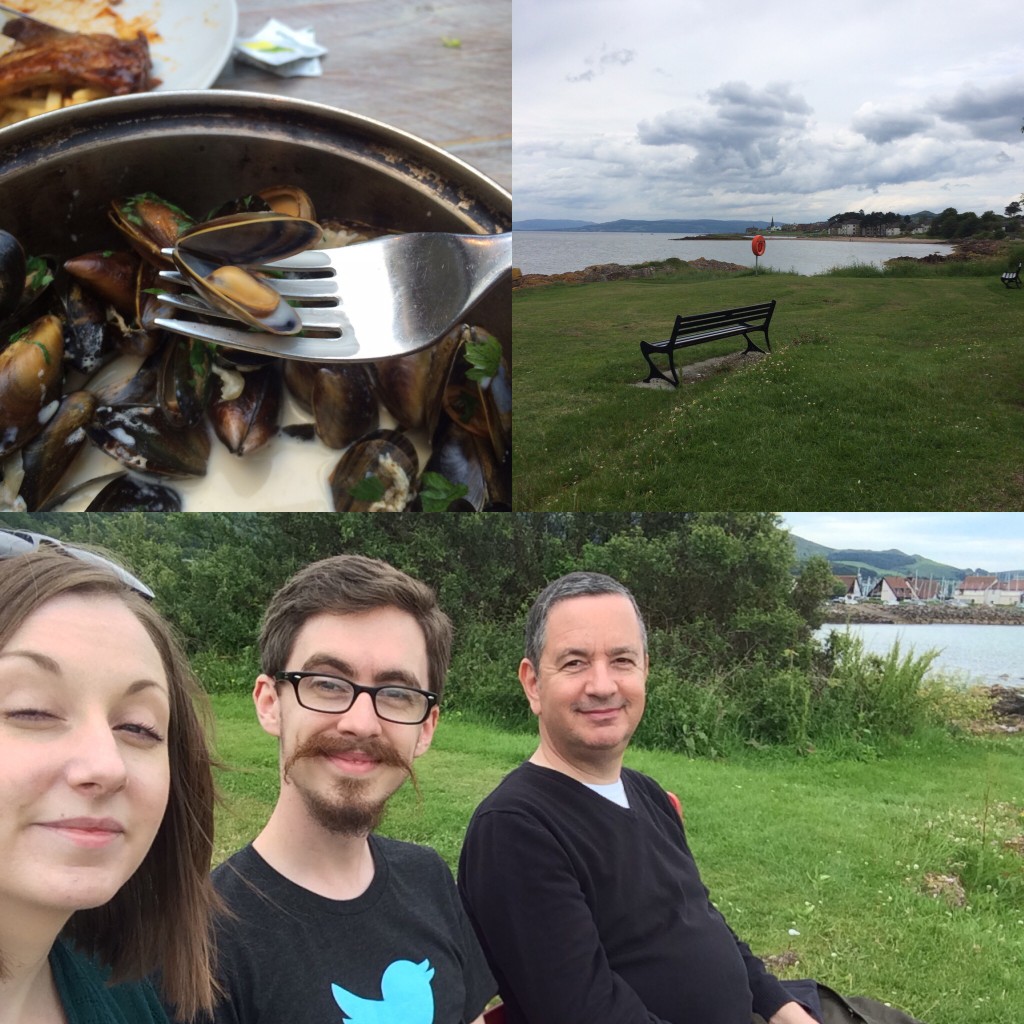 Good afternoon, reader friends! I skipped last week due to unpreparedness and more transatlantic travel – so apologies if you missed it.
This week I've been returning to Scottish treats – family, friends, pots of local mussels and fish and chips. All that good stuff. I trust you're well too?
Here's some reading for your weekend.
–– ON ROBOTNIC.CO ––
Things, Lately – some things that were on my mind, and some things that I've been particularly enjoying lately.
Bookish Blether Episode 13 is Our Best of 2015 So Far. Lots of great book recommendations coming your way.
I also made a bit of a comeback to YouTube with a wee update and more to come.
–– ARTS & CULTURE ––
You know I love Sadie Stein's Daily Correspondent pieces in The Paris Review blog by now, right? Here are some recent highlights: Expertise, Jumping Through and On the Origin—and the Modern-Day Usage—of "Sensuous". She's also great on The Difference Between Writer's Block and Burnout and The Candor of Tourists.
Mike D'Angelo sends up Tom Hanks' performance in the absolutely gutting final scene of Captain Phillips.
Clive Thompson wrote about Reading War and Peace on His iPhone, which is a pretty fun if occasionally a little too knowingly pretentious read.
How Does Paul Rudd Work? Molly Young sends up Paul Rudd and takes down Marvel's bullshit in New York Times Magazine.
Heroines Triumph at Box Office, but Has Anything Changed in Hollywood? The answer to this is easy, and A.O. Scott and Manohla Dargis both rub me up the wrong way, but it's worth reading anyway.
–– THE FUTURE ––
The Really Big One was the really big story of the week. Basically, there's a 1 in 3 chance that the Pacific Northwest crumbles within our lifetimes. This is just a fascinating and incredibly well-reported story. And yet, I still want to live there.
The Uber Economy Requires a New Category of Worker, Beyond 'Employee' and 'Contractor' – an excellent discussion on the future of work.
In Hazlitt, Navneet Alang asks, What's the Point of Handwriting? (H/T Eva for this one!)
–– LADYBITS ––
The ever-brilliant Eva Wiseman asks, Why is there always a backlash against feminist stars? By backlash she doesn't just mean poor reviews, but attacks on their character.
Can We Just, Like, Get Over the Way Women Talk? I do still think women could stand to apologise less, but Ann Friedman nails it as always.
Nora Ephron, who graduated in 1962, addressed graduates of Wellesley College in 1996. It's amazing how far things have – and haven't – come along for women since each of those dates.
Julieanne Smolinski says "Living in L.A. Made Me Get Over My Body Issues". It makes sense when you read it.
–– ON PAPER ––
I finished Valley Fever, which was average, and moved on to the wonderful Spinster by Kate Bolick. It's just ringing all of my bells right now.
After that I'm looking forward to starting Oranges Are Not the Only Fruit by Jeanette Winterson with the lovely Christopher.
I bought a couple of books I'm really looking forward to reading this past week, too. You can hear about them at the top of the podcast.
That's it for this week! Got any recommendations for me? Hit reply or tweet me with a link.
​Have a lovely weekend.