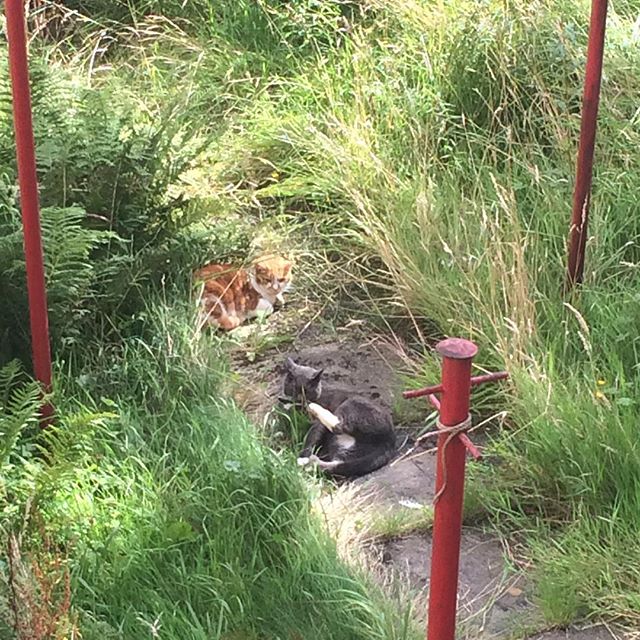 This picture of cats sunning themselves outside my back window is pretty representative of how I've spent my week.
Hope yours has been more eventful. This weekend I'm away back to the Edinburgh Book Festival for another grand day out.
Til then, here are some links to spend as you please!
–– ON ROBOTNIC.CO ––
This week in videos, I shared some Mexican and Scottish books and events I've been enjoying recently.
ICYMI, last week's Bookish Blether is about our favourite longreads resources.
–– ARTS & CULTURE ––
I was a little torn about the new Gerwig-Baumbach film, Mistress America. I'd like to see it again. Meanwhile, Richard Brody adored the film, calling it a masterwork of literary cinema (in more ways than one!). Brody is excellent as ever, by the way.
"Picture-perfect groups of friends on Instagram make me wonder whether Bridget Jones's idea of "smug marrieds" could also apply to "squads" and why "The Stepford Wives" hasn't been re-envisioned with a friendship plot."
– Female BFFs: The New Power Couples. Girlfriends are in, you guys.
Well worth a look: This Instagrammer shares pictures of life in North Korea. One of my favourite Instagram follows, National Geographic photographer David Guttenfelder, is also there frequently.
Should cinemas have switched to digital? Good question; Den of Geek strives to answer.
Stephen Colbert Shares Why He Thinks Women Should Be in Charge of Everything, in Glamour. And who are we to argue?
–– DIGITAL ––
This nostalgia project is keeping GeoCities alive. Yass! I remember having one, but not what it was about. It was probably just one of those wee animated construction dudes, endlessly chipping away at dead pixels until Yahoo pulled the plug on his server.
Estonia has a sweet e-Residency offer for those registering small businesses.
Facebook claims to be taking a stand on freebooted (stolen) video on the site. They want to keep their publishers sweet, but they only stand to gain from their fuzzy numbers.
Meanwhile, on YouTube…
So this guy called Cory Neistat hit a million subscribers and made a video about how YouTube is a democratic, egalitarian meritocracy (compared with the old days of filmmaking as an elite art form). Then Jazza John and Rosianna totally eviscerated his argument and brought up a great discussion on barriers to entry and the site's limitations on making marginalised voices heard. Rosianna's in particular is a video worth watching and reading the comments on.
–– ON PAPER ––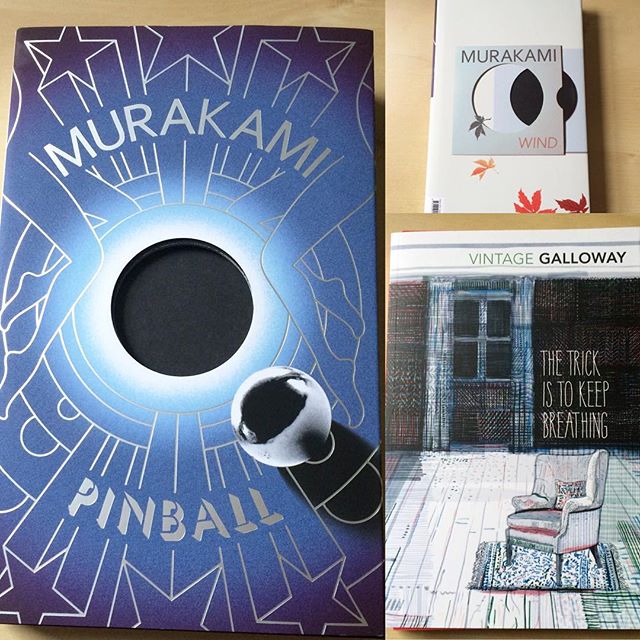 It's been a good reading week. I've been revisiting Haruki Murakami through the new English translations of his 1979 debut Hear the Wind Sing and follow-up Pinball, 1979. The first is the diary of a delectably pretentious 21 year-old writer. The second didn't quite hit the mark for me.
I also finished The Trick is To Keep Breathing by Janice Galloway – a fantastic novel which reads like an experimental mental health memoir.
This weekend I'll be continuing with Quesadillas by Juan Pablo Villalobos, as mentioned in the video linked above.
Which books are on your nightstand?


–– &c. ––
Revealed: the hidden lives of the UK's 6.5 million carers. Important work reported by the excellent Tom Seymour.
Still hungry for links? There's lots more to read in the Longform Guide to Road Trips.
––
Read anything good this week? Hit reply or tweet me about it, won't you?
​Have a lovely weekend!