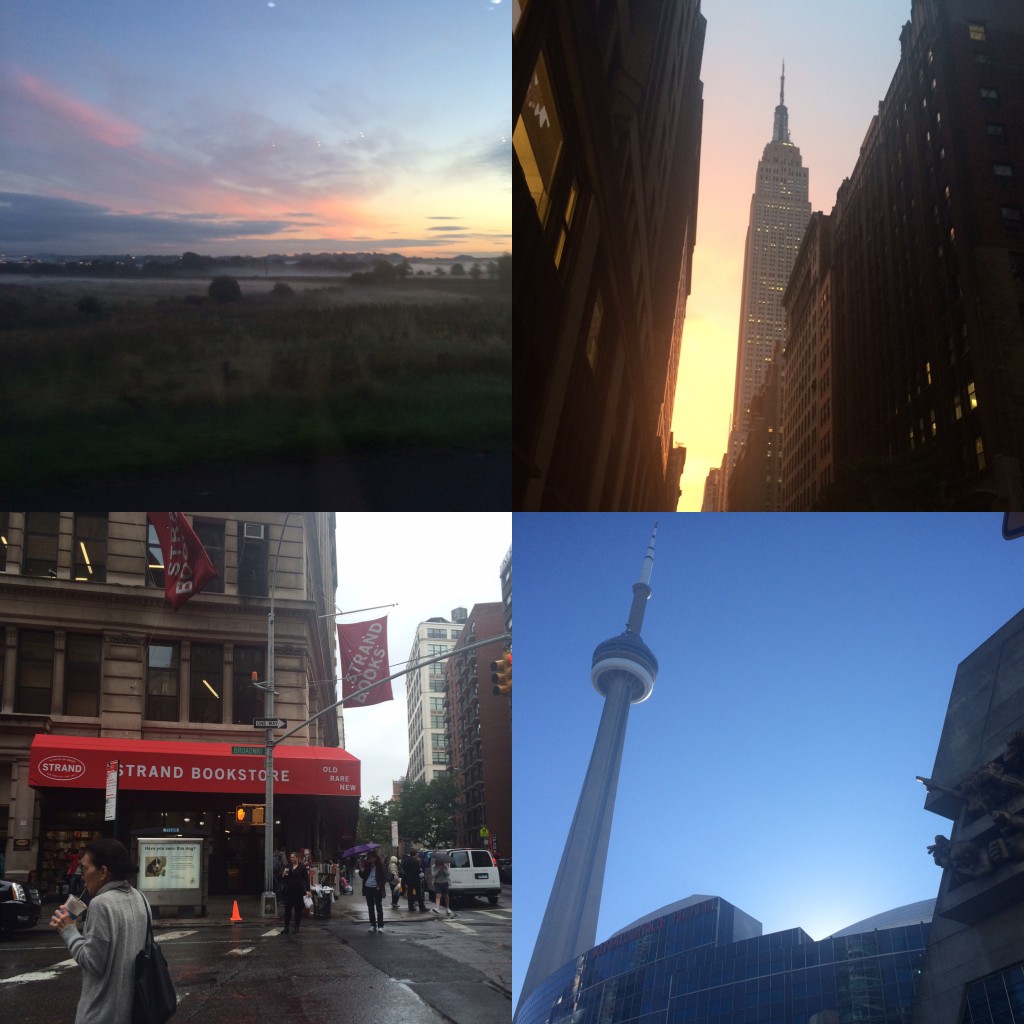 How's tricks, folks?
Around this time last year I took a trip to Princeton, Manhattan and Toronto – and I've been reminiscing. Not least because I'm heading back this time next month!
Meantime, back to school mode is finally kicking in. So how about something ridiculous to kick off your weekend? All aboard the Dog Train!
I have some slightly less silly stuff for you, too…
–– ON ROBOTNIC.CO ––
New Bookish Blether alert! This week we talked about the opposite of a reading slump, and dubbed it a Book Spree!
This week I did a wee collab video with 2 of my BookTube Besties – The Bookish Friends Tag with Jean and Vanessa.
–– ARTS & CULTURE ––
We all have this sense that growing older and not giving a fuck will be amazing, yet we rarely see representations of older women on screen. That's why Ann Friedman Wishes the Intern on The Intern Had Been a Woman.
Michael G. Donkin lifts a brow at 'The Disinterested Novelist' Tom McCarthy. His comments on and quotes from the author's novel Satin Island and essay "The Death of Writing" will save you the hassle of reading both of them.
Over on TYCI, Laura Waddell's started a great new books column called Spine.
I don't usually go in for this "look at these writers and how amazing their workspaces are" chat but this one proved that Valeria Luiselli is even cooler than I thought.

–– DIGITAL ––
Are Newsletters the Internet's New Safe Space for Women? You tell me ?
Harvard introduced a course on How to Live Wisely and it sounds… pretty great, actually.
Caitlin Dewey takes a vital look at the Sexual harassment issues plaguing YouTube and Vine.
On NPR, the Ted Radio Hour podcast explored some possible futures for our digital lives. They haven't quite realised it's a PODCAST and they don't have to REMIND YOU what you're listening to every FIVE MINUTES but apart from that and the bit with Jon Ronson it was an interesting listen. Here are Part I and Part II.
Last week I partook of a little hashtag game called #RuinaNovelWithSocialMedia. One of my tweets was featured in Time Out and Paste Magazine. So… good for them? My other one was way better by the way – it was The Man Who Was ThrowbackThursday.
–– ON PAPER ––
I got a wee reviewing assignment this week so I've been reading two new releases: Did You Ever Have a Family by Bill Clegg and Fates and Furies by Lauren Groff. Reviews to follow.
I also finished a fantastic debut short story collection called Barbara The Slut and Other People by Lauren Holmes (sorry, newsletter friends with work firewalls). More on that in the podcast, Bookish Blether #19.
What's on your nightstand?

–– &c. ––
As you'll know by now, I have a low tolerance for folk who wax lyrical about Autumn. But I'm all for a cultivating a little "hygge". (Just don't be super lame about it, okay?)
Ta-Nehisi Coates was awarded a well-deserved MacArthur Fellowship this week – and his profile video is well worth a watch.
––
Read anything good this week? Hit reply or tweet me about it, won't you?
​Have a lovely weekend!