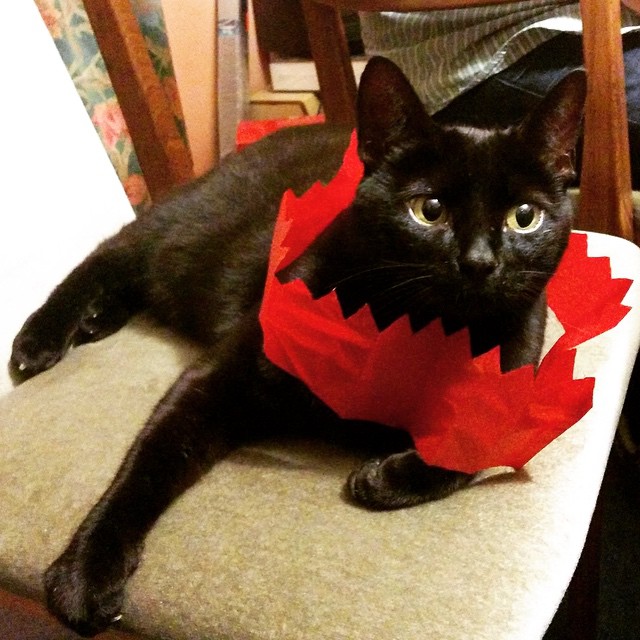 Happy one-week-til-Christmas day!
It's difficult not to check out early for the holidays right now while the weather is decent, the nights are long, and I'm ready to celebrate my wedding anniversary this weekend and veg out til 2016. I hope it's a good time for you too.
On with the links!
–– ON ROBOTNIC.CO ––
Vlogmas is still in full swing (I'm in half-swing) – here's a recap of this week's.
Day 11 – Friday Reads
Day 14 – Bookshelf Tour
Day 15 – End of Year Goals
Day 16 – On My Shelf Tag
ICYMI, the latest Bookish Blether is our Christmas Gift Guide.
–– ARTS & CULTURE ––
A sweet, seasonal story from Harper Lee: My Christmas in New York.
Rebecca Solnit followed up on her last LitHub essay about women and reading with a response to its response: Men Explain Lolita To Me.
Financial Times' interview with Elena Ferrante contains so much real talk.
I prefer for end-of-year lists to be saved for the final week of the year (what if you read the best book of your life on 27 December?!) but here are a few I've earmarked for the holidays:
Longform's Best of 2015 can always be trusted.
Longreads Best of 2015: Essays & Criticism is bound to have some good stuff too.
Poll: The Best Video Essays of 2015 from Fandor (it includes Tony Zhou's Art of the Gag so it must be legit.
While we're at it, LitHub's 25 Best Books of the Year, According to Booksellers is probably the best books of the year list I've come across so far.
–– DIGITAL / LIFE ––
Get rich or die vlogging: The sad economics of internet fame gives us a view on the "middle class" of online content creators. It's striking to hear how some people rely on regular jobs but have become too visible to keep one, how some feel they're in too deep to back out now, and the kind of economic entitlement that often comes along with having a big audience.
On the Longform podcast, Adrien Chen discusses his investigations of Russian trolls and one of the online voices behind the Westboro Baptist Church.
And just for fun, here's a 6 second video in which Ron sneezes and scares deer.

–– ON PAPER ––
This week I read Charles Dickens' classic A Christmas Carol for the very first time. Despite knowing every plot movement it was a delightful read. Between his descriptions of Scrooge and Dr Seuss' descriptions of The Grinch I'm considering a dissertation on sick villain owns in literature.
Now I'm returning to a few books I left unfinished last month, including the enlightening and surprising Notes from No Man's Land by Eula Biss, and Bill Bryson descending into dotage in The Road to Little Dribbling.
What's on your nightstand?

–– &c. ––
These photos of China's largest ghost town are absolutely engrossing.
More on why 2015 was the year of the newsletter. Lena Dunham said it so it must be true.
––
Read anything good this week? Hit reply or tweet me about it, won't you?
Next Friday is Christmas day so I'll be taking the week off from newsletter writing. Wishing you all Happy Holidays and I'll see you in 2016!
Nicola x