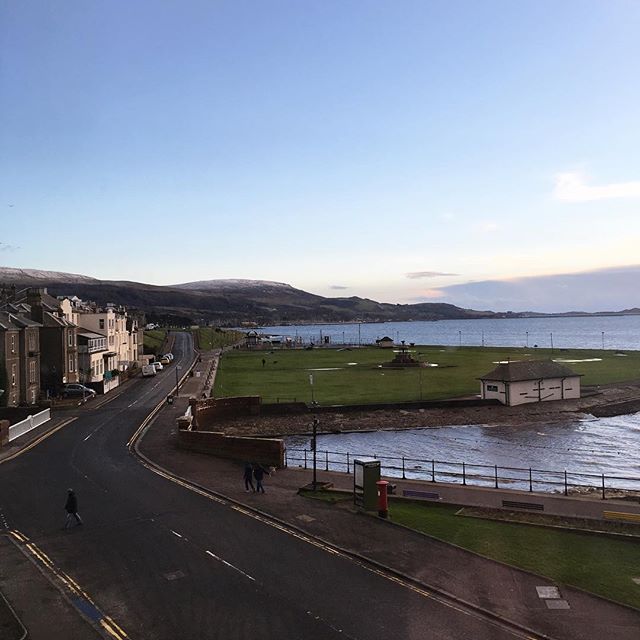 Greetings from the sunny coast of Scotland! For once that's not facetious!
We decided to take a wee break and see the seaside, and fortune has smiled. Hope your weekend is off to a good start, too.
–– ON ROBOTNIC.CO ––
Bookish Blether season 2 has begun! We kicked off with some brand new theme music and our Reading Resolutions for 2016.
I'll be experimenting over on my business blog – here's the latest.

–– ARTS & CULTURE ––
This week we sadly lost David Bowie. Independent published a list of his 100 Favourite Books and I was pleased to find one of my favourite novels, The Brief Wondrous Life of Oscar Wao by Junot Diaz, near the top.
Lots of long ones this week, including Anne Helen Petersen on how The Revenant and Hateful Eight are using Old Hollywood tricks to make movies feel new again. (Goes great with my current read, Beautiful Ruins by Jess Walter.)
Guardian takes a moment to further expose The not-so-secret history of comics drawn by women.

–– DIGITAL / LIFE ––
Loved this fascinating longform piece by Maria Konnikova on How Stories Deceive. It'll give you tingles.
An awesome Texan teen called Suraiya took a stomach selfie which caused a lot of fuss. Here, she gives an excellent interview with i-D on cultural appropriation, body positivity and online activism.
Someone reposted this great wee story from Alexander Chee called Imposter.
–– ON PAPER ––
As mentioned above, I've been reading Jess Walter's Beautiful Ruins. I'm enjoying it slightly more than I admire the writing. I kinda hate books like this – where I'm really enjoying reading but my respect or appreciation outstrips that enjoyment a bit. It's the kind of book that makes me wish I could turn my inner critic off.
Next up is this month's book club pick, a re-read of The Prime of Miss Jean Brodie by Muriel Spark. Have you read it? What did you think?
What's on your nightstand?

–– &c. ––
Love longform mysteries? The The Longform Guide to Sea Creatures will see you right. I've read and recommend 52 Blue, The Killer in the Pool and Consider the Lobster.
Have I mentioned that I'm doing Adriene's 30 Days of Yoga Camp? I feel soooo gooood, you guys.
––
Read anything good this week? Hit reply or tweet me about it, won't you?
Have a lovely week in reading,
Nicola x