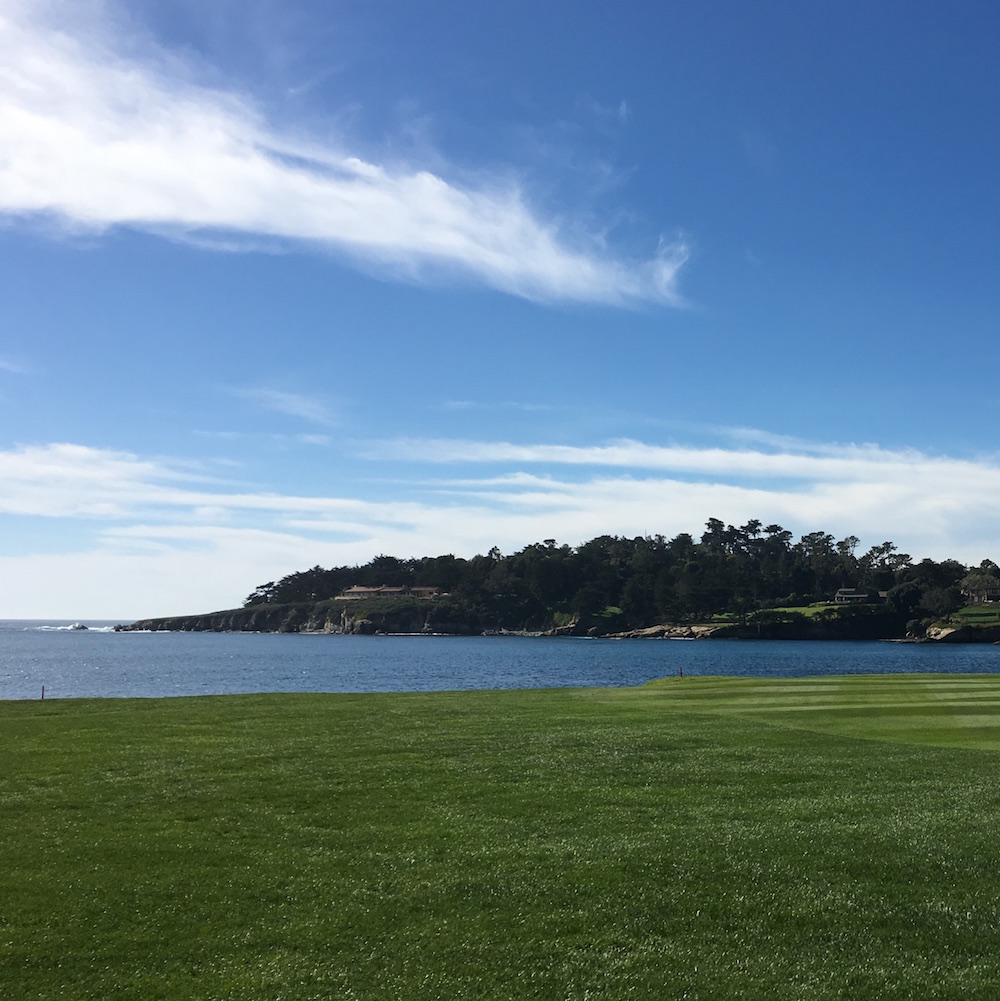 This week I found myself in gorgeous Monterey and (unexpectedly) at the practice round of a Pro-Am golf tournament. We spotted Bill Murray, Clint Eastwood and Alfonso Ribeiro (aka Carlton from The Fresh Prince of Bel-Air). Bill Murray waved but I only got a photo of his back, wump wump.
Meantime I'm enjoying the last of the California sunshine before heading home mid-next week. Hope your February has been, if not as sunny, then at least as relaxing.
Now – links!
–– ON ROBOTNIC.CO ––
A wee bideo about my current travel reads and February TBR.
On Bookish Blether this week we discussed one of my favourite topics yet – Online Book Groups. I've had dalliances with internet book clubs in the past, but lately my love and capacity for them has really grown. (TL;DL? Check out #wlclub and The Feminist Orchestra book club.)
–– ARTS & CULTURE ––
Too Busy Being Poor (To Be Creative). Ayla-monic Mckay absolutely eviscerates quaint creative classism; deserves all the prayer hands.
Here's one for the writers: Sarah Manguso discusses those familiar feelings of, "He doesn't deserve that, . . . but I might," in Green Eyed Verbs.
When Is Criticism Unfair? In a recent Bookends, two of my favourite critics, Leslie Jamison and Alice Gregory, give their answers. From Alice's response, re working as a critic at age 23:
I'm not arguing for a minimum age for writing criticism… But I am saying, to the authors of books I reviewed even just a few years ago, that I'm sorry. On the Internet, nobody knows you're a dog, and on the page, most people probably did not know that I was on my parents' health insurance and still getting carded at bars. Or maybe they did and hated me for it. I hope they just rolled their eyes.
Laura always beats me to reading books on my immediate TBR. This month, I Love Dick by Chris Kraus and American Housewife by Helen Ellis feature alongside other great titles by women authors I've really enjoyed. Here's her column for TYCI: Spine #3.
–– DIGITAL / LIFE ––
"There are increasingly powerful interests that want us to drop our phones so they can fix them and sell us new ones." Casey Johnson argues that A Big Phone Works for Everyone But You.
A Letter of Recommendation: Shiela Heti on Sick Days.
The Big Sleep. This one – on an Australian couple's suicide pact – did the round a few weeks ago. I don't really know what to do with my feelings.

–– ON PAPER ––
I'm a quarter of the way through Gone With The Wind by Margaret Mitchell and I love how ragey it is. Perhaps too much.
Yesterday I ventured to a nearby book shop and accidentally bought The Story of a New Name (Neapolitan novel #2) by Elena Ferrante – so I guess I'll be reading that on the plane home next week.
Your turn – what are you currently reading?

–– &c. ––
Rosianna Halse Rojas on The Work That We Do. [VIDEO, 13 mins]
––
Read anything good this week? Hit reply or tweet me about it, won't you?
Have a lovely week!
Nicola x