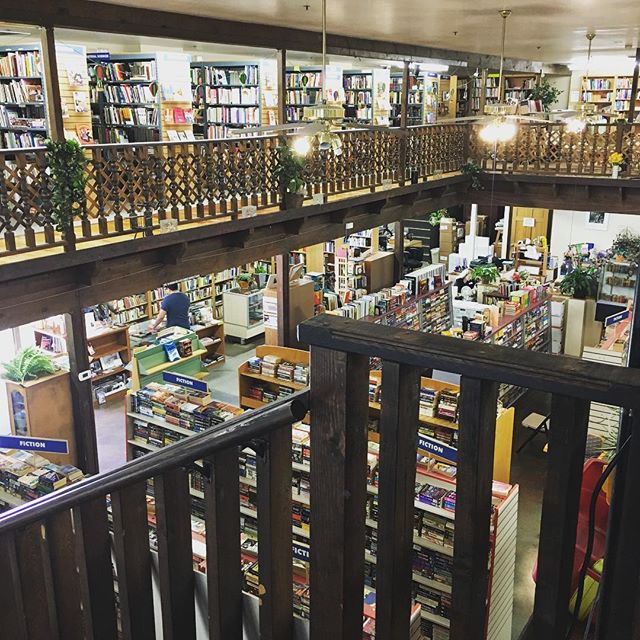 Happy Friday, friends! How are you?
I'm trying to look on the bright side. I had a lovely final week in California, then returned home last night to find my bathroom soaking wet from a leak upstairs. My reading chair is ruined but at least the books were spared.
I hope you're having better starts to the weekend. On with the links.
–– ON ROBOTNIC.CO ––
On last week's new Bookish Blether we discussed Online Book Groups and shared a few new favourites.
–– ARTS & CULTURE ––
I watched, and was torn on, Hail, Caesar! this week. Anne Helen Donoghue argues that most viewers were taken in by its simplicity and lays out How The Coens Tricked You Into Thinking "Hail, Caesar!" Is About Nothing.
One Man's Impossible Quest to Read—and Review—the World profiles a book blogger on the Brain Pickings scale of prolificacy.
I don't watch much TV but this piece on 'The X-Files' and the Problem with TV's Nostalgia Boom in Variety indicates that TV's headed in the same direction as Hollywood: existing properties or gtfo.
I finally caught up on some longreads while flying. Here's Lilith Anolik on How Joan Didion the Writer Became Joan Didion the Legend.
A call to arms: Let's Start With Shitty First Drafts.
–– DIGITAL / LIFE ––
Are you struggling with "idea debt"? Jessica Abel says that Imagining Your Future Projects Is Holding You Back.
Caroline O'donoghue On the sad inevitability of the grown man and the teenage girl gave me the shivers.
Chris Guillebeau wrote about a topic he's been hinting on for some time: The New, New Economy: How the World of Online Publishing Is Changing, and Why You Should Care.
In similar news, on a larger scale, here's an interesting long read on How the Content Explosion will Invert the Media Industry.

–– ON PAPER ––
Half-way through Gone With The Wind and I don't think I like what Scarlett is up to!
What are you reading?

–– &c. ––
A well-researched piece on What we're missing when we buy into the 'millennial' myth.
Jo Nesbø's Perfect Writing Room (That He Never Uses).
Megan Hine: the woman who helps keep Bear Grylls safe.
––
Read anything good this week? Hit reply or tweet me about it, won't you?
Have a lovely week!
Nicola x