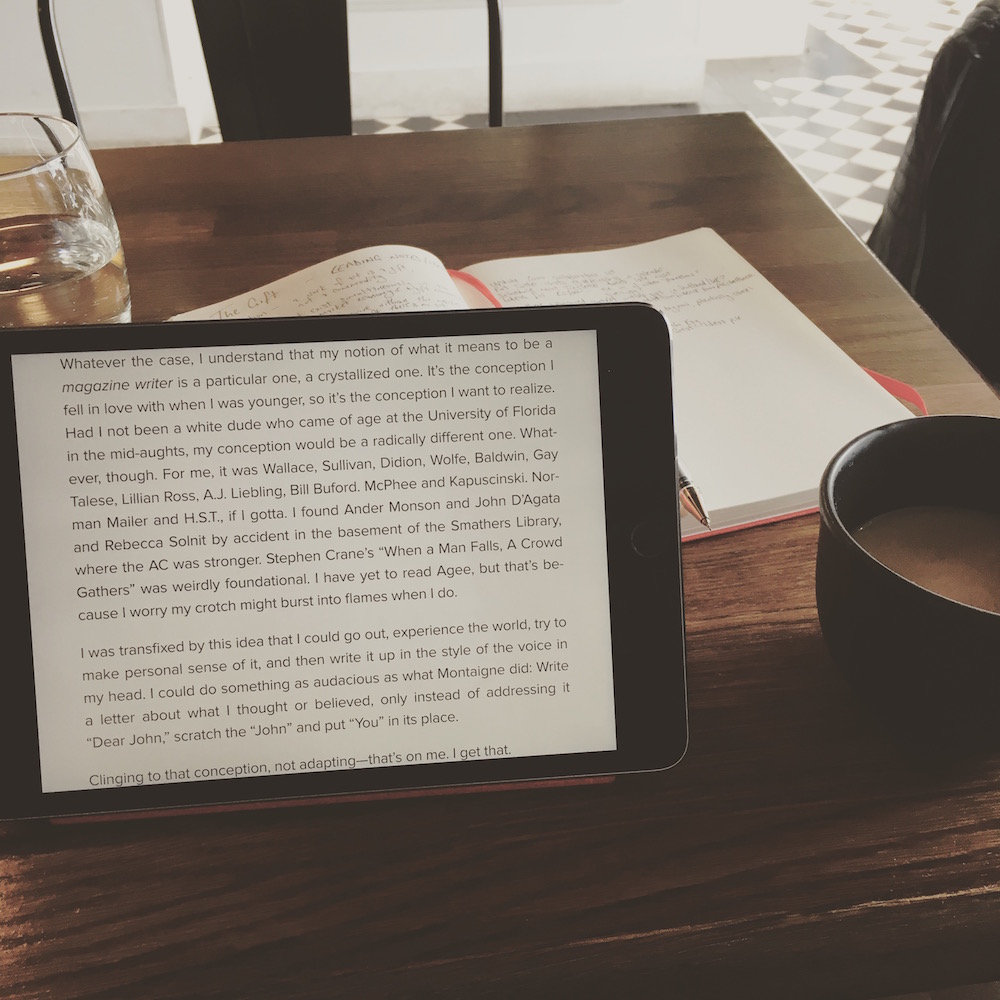 Happy Friday!
Loaded with allergies today, have nothing to say for self. Hope you had a good week and have a lovely weekend.
So, links, right?
–– ON ROBOTNIC.CO ––
ICYMI, last week's Bookish Blether was – fittingly – all about having bookish conversations. [AUDIO, 36 mins]
–– ARTS & CULTURE ––
Hanah Anderson and Matt Daniels graphed Film Dialogue from 2,000 screenplays, Broken Down by Gender and Age. Guess what they found?
GQ asked 21 authors to champion 21 Brilliant Books You've Never Heard Of. I'm into John Jeremiah Sullivan and Zadie Smith's picks.
I was fascinated by this piece on Fiction vs Nonfiction and how we native English speakers tend to be a lot more stringent about this divide than our pals in other countries.
I'm planning to read the new Annie Dillard collection, The Abundance, very soon. In preparation I read a couple of pieces on her: Annie Dillard's Impossible Pages in the New York Times, and Ex Post by the author herself.
Millennials Are Out-Reading Older Generations. Surprise! Just kidding, that's not surprising.
–– DIGITAL / LIFE ––
On Teaching Men to Be Emotionally Honest. Props to Andrew Reiner on this one, and for avoiding false gendered equivalences.
Last week I recommended the Letter of Recommendation for segmented sleep. This week I loved this one on Looking Out the Window. Surprising, honest, funny.
Letting them die: parents refuse medical help for children in the name of Christ. Chilling.
Ask Polly: How Can I Make My Marriage Last? I Pocketed this one ages ago and finally got around to reading it all. Definitely one to keep on hand.
Why Learning To Code Won't Save Your Job.
–– ON PAPER ––
I'm almost finished book one of 1Q84 by Haruki Murakami. It's good, but dude is obsessed with boobs. I don't think he goes 5 pages without mentioning some "swelling chest" or other.
Next I'll be reading Ancillary Justice by Ann Leckie for book club.
What's on your nightstand?

–– &c. ––
The Guardian looked at the dark side of its own comments sections and found that of the 10 most abused writers eight are women, and the two men are black.
The writer targeted most was Jessica Valenti – so she wrote about it.
––
Your turn! Read anything good this week? Hit reply or tweet me about it, won't you?
Have a lovely weekend!
Nicola x