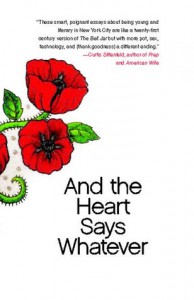 I never can decide how much – or if – I like Emily Gould.
I became aware of her work later than most; not during her days at Gawker but after reading her essay for the Chad Harbach-edited collection MFA vs NYC. There, she writes about the experience of writing her first novel (and simultaneously squandering a six-figure advance).
This essay collection came before the novel (Friendship, released earlier this year) and largely covers the period of Emily's college years up until her mid-twenties stint at Gawker.
Like the character of Emily Gould – i.e. the figure as portrayed through endless literary darling style New York magazine profiles – I couldn't get a grasp on who this girl is or what she's really about. There's some charm and seeming wisdom about the nature of workmates, some angst over undercooked relationships, twinges of a tension between money troubles and wanting to have nice things… and, appealingly, a bald admittance of feeling exceptional.
While a few of the pieces in this collection feel decidedly aimless, they do hang together loosely around its main conceit – the title. And The Heart Says Whatever. But can it keep doing so forever?
Its ties to the novel Friendship are quickly clear as she introduces the Gawker office's laptop brigade and an artsy boyfriend she's coolly ambivalent about. Much is made of her job being to pinpoint stuff she hates comes up twice but doesn't really come to anything. There's something about these essays in which there's never a fine enough point put on its conclusion.
The Introduction is a perfect example. It makes a lot of sense in relation to the book's title, but otherwise it makes not much sense at all. Like many of the other essays here, it reads like a blog post with a learned essay morality tale tacked on to try to make it something more. Something a little more timeless, maybe?
It's in the piece The Koi Pond that Gould speaks of feeling "somehow extraordinary".
"Free-floating ambition is toxic because it means that anyone who has accomplished anything in any realm of human endeavor is the enemy because she might be your competition. So you hate everyone a little bit, but behind this wall of hatred you still feel vulnerable. And you are vulnerable, but not because of the competition. You're vulnerable because if anyone points you in anything that seems like a direction, that's where you'll go."
That targeted, nameless need becomes the most genuine sounding thing she writes in 100 pages or so, amidst conflicting personal histories about which university she went to and why.
But, at her best when she just tells stories – day to day stuff – without trying to make it metaphorical. Dunno, they're just published blog posts with better descriptive prose, really.
Maybe the next one will be better.
More in The Essayist Project:
Click through to read more articles from The Essayist Project series.
Buy the book:
To support The Essayist Project, please consider purchasing And the Heart Says Whatever using these links:
Amazon | Book Depository