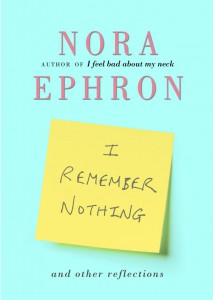 I first read I Remember Nothing mid-2012, shortly after learning about Nora Ephron's death.
In hindsight, it probably went some way to spur my interest in reading essay collections.
Late last year, a friend made this her book club selection and I took the opportunity to re-read it. Newsflash: It's still delightful.
There was lots I didn't remember after reading this – mostly because I read it and I Feel Bad About My Neck over the course of a weekend and didn't make notes. To my surprise, I found that the little things that stuck with me from the first reading were all small, almost throwaway conclusions. I wouldn't say that she buries the lede, but there are definitely some small revelations that make for big life lessons in here.
I like to say that Nora prepared me for getting older. Having re-read, I'd credit that statement more to I Feel Bad…, but I think this one does, too – just in closer and more subtle ways.
I love the ways in which she writes about people's flaws. She hones in the tiniest part of a overarching stories to reveal what makes people tick. But in doing so, she forgives her subjects for being human, even through some of their ugliest tendencies. Refreshingly, she affords the same forgiveness to herself, too, persisting in her own worst traits – practically revels in them.
Nora's upfront in life and in writing, exposing her own silly neuroses and ridiculous correlations. One is in her essay about a meatloaf named after her in a friend's restaurant and how it came to personify her. She also outlines some opportunities she takes to mine self-pity and how one either gets over or gives in to such irks. There is much to learn from her experience.
There are also some shorter pieces in the book, almost like blog posts – What I Won't Miss, What I Will Miss, 25 Things People Have a Shocking Capacity to Be Surprised by Over and Over Again. They're all so great and were, unfortunately, so poorly mimicked by Lena Dunham in Not That Kind of Girl.
She also speaks a lot about identity, the things we cling to and how they tend not to matter for long. In one example, she comments on how much divorce used to be part of her identity, then how quickly it is shed. There aren't many voices offering this long view of life (or if there are, I haven't found them yet.)
Plus, you've got to love a woman who knows her shit when it comes to the use of egg yolks.
Read more from The Essayist Project:
Click through to read more articles as part of The Essayist Project series.
Buy the book:
To support The Essayist Project, please consider purchasing I Remember Nothing using these links: Amazon | Book Depository.
You can also buy I Feel Bad About My Neck at these links:
Amazon | Book Depository.
And if essays aren't your thing (and you're lost or something?!) I also recommend her novel, Heartburn.
Links: Amazon | Book Depository.
AND if you're feeling sassy you can turn it up and go for The Most of Nora Ephron:
Amazon | Book Depository. You won't regret it. Promise!